Traditional Food of Mexico: Top 20 Dishes
Do you want to know why Mexican food is loved in the world?
Do you want to discover the most popular Mexican food?
Do you want to know about the ingredients of Mexican food?
Keep reading this article to know more about the traditional food of Mexico top 20!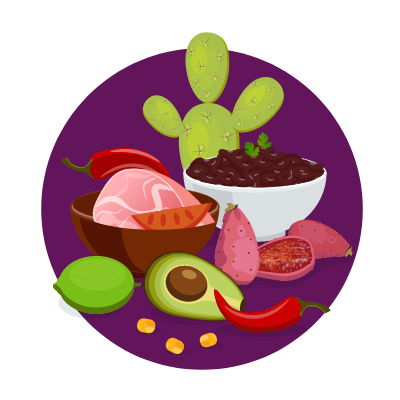 Why is Mexican food loved by people around the world?
In 2010, UNESCO declared Mexican food as an Intangible Cultural Heritage of Humanity. Definitely, this is a big win for Mexican gastronomy.
Check out: Food & Drinks Tasting
Indeed, Mexican food conveys cultural aspects of every region of the country.
Generation after generation, the traditional food of Mexico remains faithful to its pre-Hispanic roots. Even more, it reinvents itself without losing its personal touch.
In fact, this makes the world fall in love with its great variety of colors, textures, and, of course, flavors. Definitely, Mexico is at the top of Latin American cuisine.
---
Check out our list of the top 20 Mexican dishes that will make you want to taste immediately the magnificence of Mexican gastronomy:
1. Barbacoa
This exquisite ancient dish has a long tradition in Mexico: Hidalgo, the State of Mexico, Tlaxcala, Puebla, and Mexico City.
"The barbacoa of the center of the country, used since pre-Hispanic times, finds its origins in the pib, the Maya earth oven. When Spaniards introduced animals such as sheep and goats into the country, barbacoa is now as we know it today". Info by Larousse cocina
In Mexico, the term barbacoa refers mainly to the traditional method used to prepare meat from sheep, lamb, and goat.
These ones are the most traditional, although there are also rabbit, venison, chicken, and fish barbacoa. The traditional food of Mexico is full of mixtures and flavors that definitely will blow your mind.
Check out our tour: Food Tour Mexico: Enjoy Grutas, Delicious Pulque, and Mexican Dishes (3 Days)
2. Peneques
They consist of preparation very similar to that of a quesadilla. The ingredient is dough, with padding, and it can have at the top caldillo (kind of soup) or mole.
In fact, they are very famous, especially in the markets of Mexico City.
3. Gorditas
Generally, gorditas have chopped lettuce, shredded cheese, cream, and sauce, which can not be missing in Mexican snacks.
Since ancient times, gorditas are one of the most important dishes that characterize Mexican culture and tradition.
In fact, there are gorditas in different regions of Mexico. All of them, have their own personal touch of sauces, type of filling, etc.
You can prepare a gordita with corn or wheat dough, with a simple dough mixture, or a complex dough with several ingredients. In fact, it can be salty or sweet, prepared on a comal, fried or baked.
Check out our post: Meet the 8 gastronomic regions of Mexico.
4. Tlayudas
The tlayuda is that huge tortilla, almost toasted, covered with black beans, tasajo (Oaxacan meat), chorizo (Toluca meat), chapulines (insects), cheese, cecina (type of meat), and avocado. It is traditional from the beautiful state of Oaxaca.
Nowadays, in contemporary Oaxaca restaurants, people serve pieces of tlayuda as if they were bread. Old tlayudas are also for preparing chilaquiles (see below).
5. Aguachile
Missing some seafood here? The aguachile is a dish of Mexican origin, from the Sinaloa state, to be exact. The main characteristic of this dish is that is very spicy. However, Mexicans love its flavor when they eat it with a delicious cold beer.
This is a typical dish from the west coast of Mexico, mainly consumed in the northwest, in an area that includes the states of Sinaloa, Nayarit, Jalisco, Sonora, and Baja California.
The main ingredients are shrimp, fresh or dried chilies, lime, onion strips, and cucumber strips. For the sauce, the habanero (very spicy chili) is a must in this dish.
6. Tamales
In most of Latin America, there are varieties of tamales or very similar dishes. However, the tamal tradition in Mexico is extremely sacred.
This delicacy is of indigenous origin and is generally prepared with cooked corn dough wrapped in corn husks or leaves of the same corn plant, banana, maguey, avocado, etc.
They may or may not have a filling, which may contain meat, vegetables, chili, fruits, and salsa. They can also be sweet or salty flavored.
Check out our post: Christmas Food in Mexico: Festive Flavors and Traditions
7. Carnitas
In the beautiful state of Michoacan, in the municipality of Quiroga, this dish is the specialty of the house.
This dish was born when the Spaniards brought pork to Aztec lands. From then on, carnitas (especially carnitas tacos) are a delicacy that all Mexicans love.
8. Pozole
Like the tamal, pozole has an ancestral antecedent. Wherever you go in Mexico, pozole is a must-try. Synonymous with greatness and tradition, pozole is a dish that, like tacos, you must try at least once in your life.
Every September 15, in Mexico, every house in the country is filled with entire families. The main dish of this special day for all Mexicans is nothing more and nothing less than the wonderful and delicious pozole.
It can come in three colors: red, green, or white. The meat can be chicken, pork, or vegetarian (only lettuce). However, the favorite of almost all the population will always be the traditional pozole with pork.
Check out our post: Preserving Incredible Heritage: Mexican Food Traditions Explored
9. Cochinita Pibil
The state of Yucatan has one of the greatest dishes that all Mexicans love. This delicacy has its origins in pre-Hispanic times in the Maya lands.
In fact, deer meat was the main ingredient at that time. Currently, pork is the main ingredient of this Mexican gastronomic jewel.
Check out our post: The Mayan Food and the Ancient Secrets of its Gastronomy
10. Corundas
The corunda is a variety of tamal, although almost always triangular in shape, and sometimes even with several points. Originally from the state of Michoacan, this dish is little known, but it is one of the best dishes you will taste in Mexico.
In its preparation, the cooked corn dough is evenly mixed and wrapped in the reed leaves. They can be filled with chicken, meat, cheese, and chili. On top of these, they can have cream or sauces typical of the region.
Check out our tour: Mexico Monarch Butterfly: Sierra Chincua and Tlapujahua Magic Town Tour (14 h)
11. Pancita
Beef stomachs are sold in popular markets raw or cooked. The belly is used to prepare 'menudo' and 'pancita'. It receives different names, depending on the part of the stomach of the beef in question.
It is a little bit spicy and it is very popular in Mexico City markets.
12. Torta ahogada
In the state of Guadalajara, this dish is very famous and is a favorite of many for its mixture of flavors. A simple dish, but extremely delicious!
The 'birote' is the traditional bread that is used to prepare this tasty dish. It is crunchier on the outer layer, and in its interior, has a slightly sour taste due to a slightly longer fermentation, which allows it to be dipped in different sauces without losing its consistency.
Inside the birote, you can add carnitas in slices, cubes, or chunks, then dip in 'chile de arbol', which has special characteristics of flavor, aroma, and spiciness.
The traditional tortas ahogadas (literally in English drowned tortas) were so named because they were dipped in chili until bubbles came out. Info by El origen de la torta ahogada.
Check out our post: Jalisco Mexican Food: 5 Dishes That Will Enchant You
13. Picaditas
It is a traditional Mexican dish that is prepared on the coast of the Gulf of Mexico. Of the so-called antojitos, in various parts of the Mexican Republic, they are known as "sopes".
They are 'picadas' because the tortilla is chopped or pinched on the edges to lift them a little, which prevents the ingredients that cover it from spilling.
Unlike the traditional 'sopes' there are no beans, no sour cream, no lettuce, not even chicken or chorizo.
In fact, the traditional ones are simply salsa with onion and cheese. The magical touches that these little delicacies have are their sauces and their soft and delicious dough.
Check out our tour: Veracruz Tour: Travel Mountains, Enchanting Cascades and Know the Coast Culture (15 Days)
14. Mole
If we are talking about the traditional food of Mexico, of course, the mole has to be here. This delicacy of the gods has a long but very interesting history.
Full of history and tradition and straight from the state of Puebla, this delicious dish is also a must-try to get to know the magic of Mexican food.
The ingredients of mole poblano include chocolate or cocoa, tomato, garlic, onion, almonds, walnuts, raisins, and spices such as cloves, pepper, and parsley, as well as four types of chilies: 'ancho', 'mulato', 'pasilla', and 'chipotle'.
Check out our tour: Oaxaca Food Tour: A Truly Feast From Monte Alban to Huatulco Dishes (10 Days)
15. Chiles en nogada
Most Mexican food has its origins in legends and stories that reflect Mexican tradition and culture in a spectacular way.
'Chiles en nogada' (nogada chili) history, like other Mexican dishes, is very extensive and interesting. Another proof of why Mexican food is a World Heritage Site.
They are a culinary preparation made up of poblano peppers (hot or not) stuffed with pork mince, bathed with 'nogada sauce', and garnished with parsley and red pomegranate. This gives patriotic colors to this interesting recipe.
The filling is complemented with apple, peach, plantain, almonds, pine nuts, tomato, raisins, onion, parsley, cloves, cinnamon, corn starch, and other ingredients.
Regarding the nogada sauce, it is composed of fresh walnuts, water, or milk, as well as fresh goat cheese and even almonds. Although this may vary according to the version used.
In fact, many restaurants in Mexico have their 'personal touch' on how to prepare this popular Mexican masterpiece.
16. Pambazos
The pambazo is a Mexican sandwich, whose filling varies according to the region where it is consumed, the traditional fillings being potato and potato with chorizo.
17. Chilaquiles
Corn is the main base of Mexican cuisine. Corn, chili, and beans were the "holy trinity" of food for Mesoamerican civilizations.
In fact, corn is the source of great Mexican dishes such as 'enchiladas', 'huaraches', 'machetes', 'tlacoyos', 'sopes', 'molotes' and 'quesadillas'. In fact, in the ancient Maya cuisine, corn is so important that even in sacred Maya scripts, it is referred to as the place where we humans come from.
This is why a great part of Mexican dishes include corn, but always with a varied presentation, as is the case with chilaquiles. In Mexico City, it is pretty common to eat chilaquiles inside bread.
It is very famous to eat in the morning with some atole (hot beverage with different flavors). Would you like to try them?
18. Tacos
We could not make a top 20 without the well-known and beloved tacos. In Mexico, there is a great variety of them, 'tacos de guisado' (stew tacos), 'tacos dorados' (also known as flautas), tacos de canasta (basket tacos), 'tacos de pastor', and 'tacos de cabeza', among other magnificent jewels.
Check out our post: Street Mexican Food: The Ultimate Guide
19. Cabrito
'Cabrito' is very well known and special in the north of Mexico, in the state of Monterrey to be more specific. In the north of the Mexican Republic, meat is a very special, exquisite, and very important food.
In fact, it is on par with international beef trimmings found in Brazil and Argentina. Cabrito is an important reference for the people of Monterrey, and no wonder, as it is wonderfully juicy and delicious.
If you are a meat person and you are looking for an amazing experience with the traditional food of Mexico, Sonora, Monterrey, Chihuahua, and Coahuila are must-visit places for you!
20. Churros
This delicious and worldwide known dessert has antecedents from China. The Portuguese were great navigators, and in their passage through China, they saw Chinese people eating a strip of dough at breakfast.
With the passing of time, the Spanish conquistadors brought this delicacy with the touch of sugar that characterizes this dessert. For sure, this was an important dessert in Spanish cuisine.
Nowadays, in Mexico, they can be enjoyed with delicious coffee or chocolate, and can also be filled with cajeta (condensed milk candy), lechera (milkmaid), or chocolate.
Bonus: List of famous drinks in Mexico