Food of Oaxaca: 8 Authentic Options
Mexican food is an incredible gastronomical experience. Oaxaca is one of the Mexican states that may be one of the greatest examples of this.
Do you know the importance of the food of Oaxaca?
Want to know some of the best dishes in Oaxaca?
Are you looking for some interesting facts about each Oaxaca's dishes?
The food of Oaxaca is totally a way to appreciate the wonderful flavors of Mexican food. Stay with us and enjoy some of these delicacies, you will have to try them someday!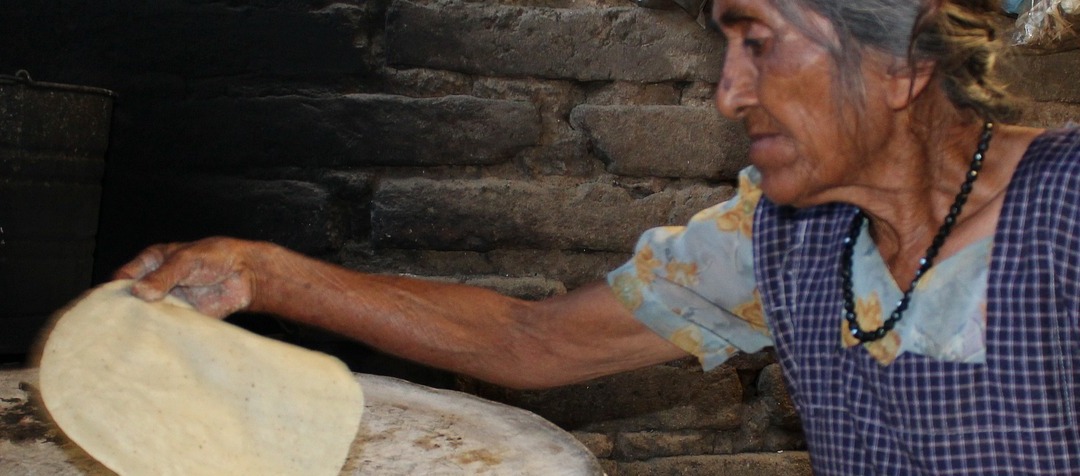 This is a complete list of some of the most important and well-known food in Oaxaca. In addition, you will find the importance of the food of Oaxaca in Mexico and in all over the world!
So if you're looking to know more about the food of Oaxaca, check out what we have for you:
So, if you are ready to taste the delicious food of Oaxaca, let's get started. Buen provecho!
Importance of the food of Oaxaca
Mexico has a wide variety of places that will blow your mind just by exploring its gastronomy. This is why we have made posts about the different Mexican dishes that can be found in Mexico.
However, the food in Oaxaca is pretty special as it is excellent and very varied. We find pre-Hispanic mixtures with viceroyalty touches that will linger on our palate as history lingers in its streets.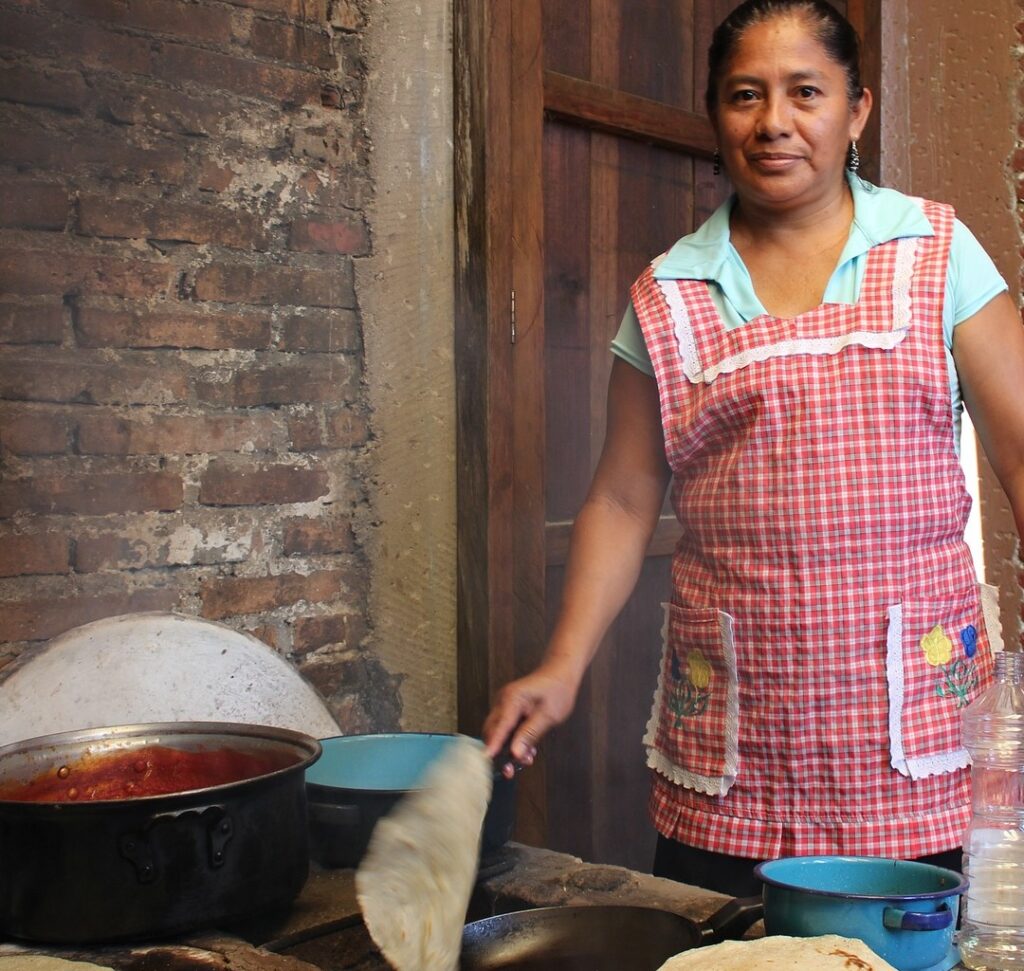 Definitely, the food of Oaxaca is a way to know Mexico. Indeed, It is important to know and preserve each Oaxaca dish since they are part of the traditions, festivities, and culture of Oaxaca and Mexico.
Oaxaca is cultural richness as well as gastronomical for Mexico.
Its ingredients show all the wonders that this state has, for example, it shows the unique flavor of the sea, the ancestral flavor of corn, and the seasoning of its land and its people.
In fact, with this, we can see that Mexican food is worthy of being a world heritage since Mexican identity is formed through its traditions and customs.
For sure, the food of Oaxaca will make you want to explore Mexico and especially the state of Oaxaca.
Top 8 food of Oaxaca
Below are some of the very best food of Oaxaca. Enjoy it!
Mole
The black mole is the most outstanding since it is the typical dish for the Day of the Dead and more than 30 ingredients are needed to cook it.
From roasted chilies, plantains, and many seeds to avocado leaves. Most importantly, if you want to obtain more intense flavors, you have to fry all the ingredients.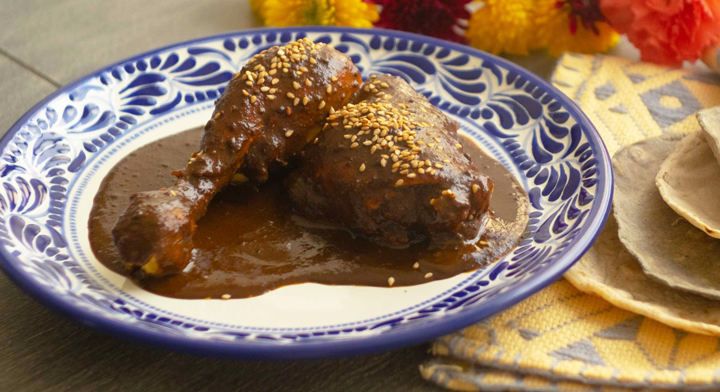 Since a mole is an intense-flavored food of Oaxaca, it is usually accompanied by simple red or white rice and beans.
The ingredients of mole poblano include chocolate or cocoa, tomato, garlic, onion, almonds, walnuts, raisins, and spices such as cloves, pepper, and parsley, as well as different types of chilies.
Oaxaca cheese
People usually know this food of Oaxaca as "Quesillo" which can is similar to string cheese.
Its elaboration is based on fresh cow's milk, it has a thick paste consistency that is usually divided into strands. To clarify, it is a variety of Mexican soft cheese.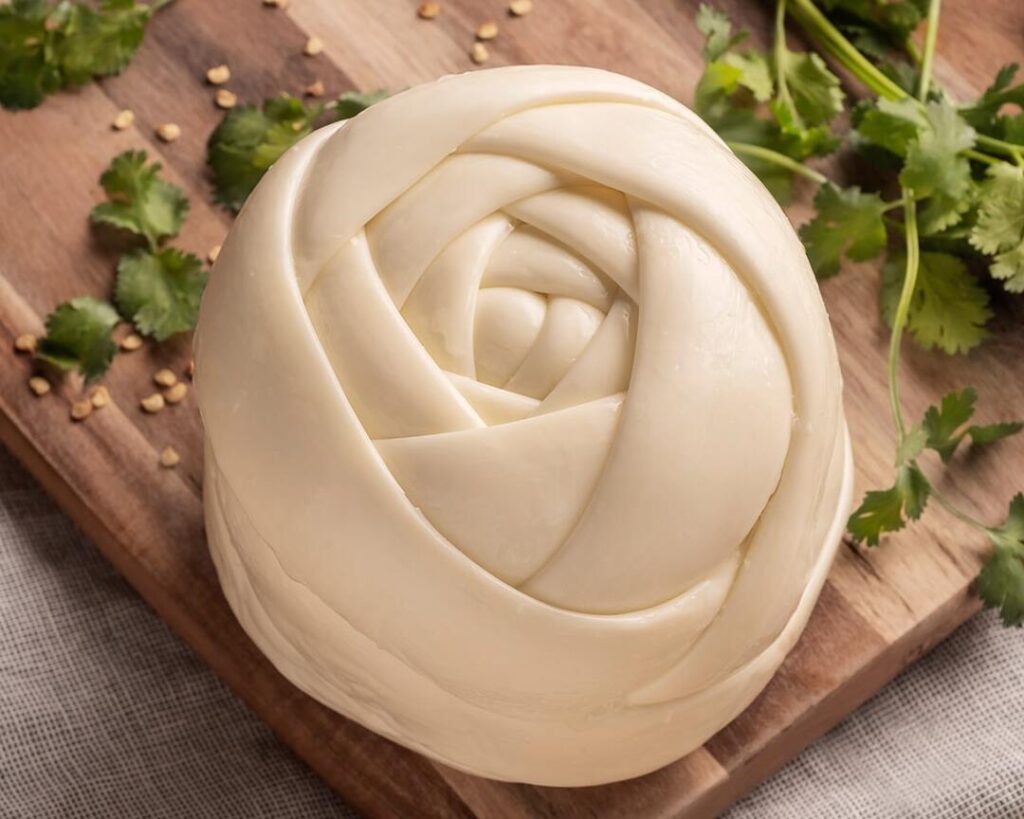 Around the world, there are more than 2000 varieties of cheese, and above all, Oaxaca's is one of the most delicious.
As a matter of fact, in 2019 it was awarded the World Cheese Awards, which rewards the richest and best quality. Consequently, this food of Oaxaca is one of the state's highest productions.
More than 24 thousand tons in a year are produced in Mexico, which can be translated as 300 million quesadillas!
Check out our Oaxaca Food Tour (Monte Alban, Miahuatlan, Huatulco / Private or Small Group / 10 Days)
Chapulines
This food of Oaxaca is an exotic dish, with a unique and delicious flavor. For some others, it is a strange dish with an unpleasant appearance.
The truth is that these crunchy insects are food in Oaxaca's cuisine with a high source of protein.
They come in different presentations, with chili and lemon, salty, with garlic, or simply toasted. Moreover, they are even usually the perfect ingredient for "Antojitos" such as tlayudas, tacos, and memelas.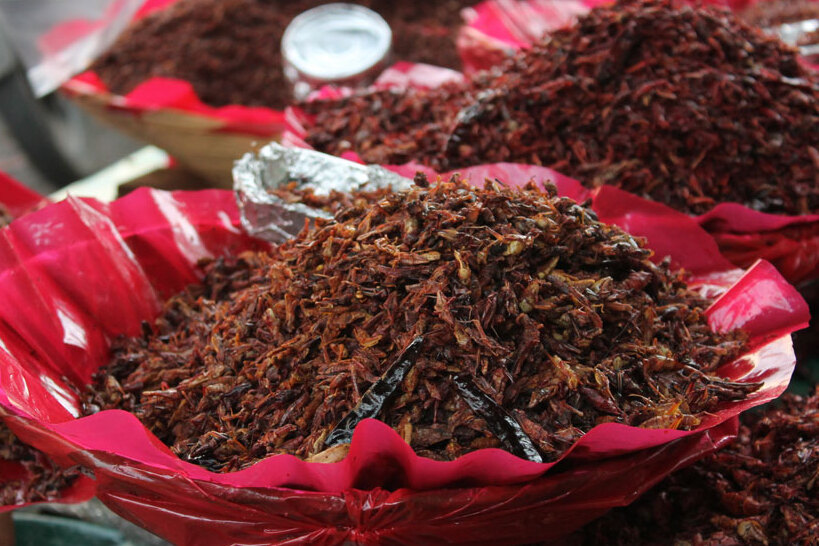 There are several ways to capture these insects. In Oaxaca and the State of Mexico, they use nets or sacks; The hunters go into the cornfields making the insects enter the trap when they jump.
Subsequently, they submerge them in salt water or sometimes they put them in a plastic bag to remove the air.
Additionally, this food of Oaxaca has antibacterial properties, provides energy, and maintains the health of the nervous system.
Coloradito
Similar to mole, this food in Mexico contains over 20 ingredients. It is an intense red color paste made mainly from chili and spices, with a sweet and spicy flavor and a characteristic smell.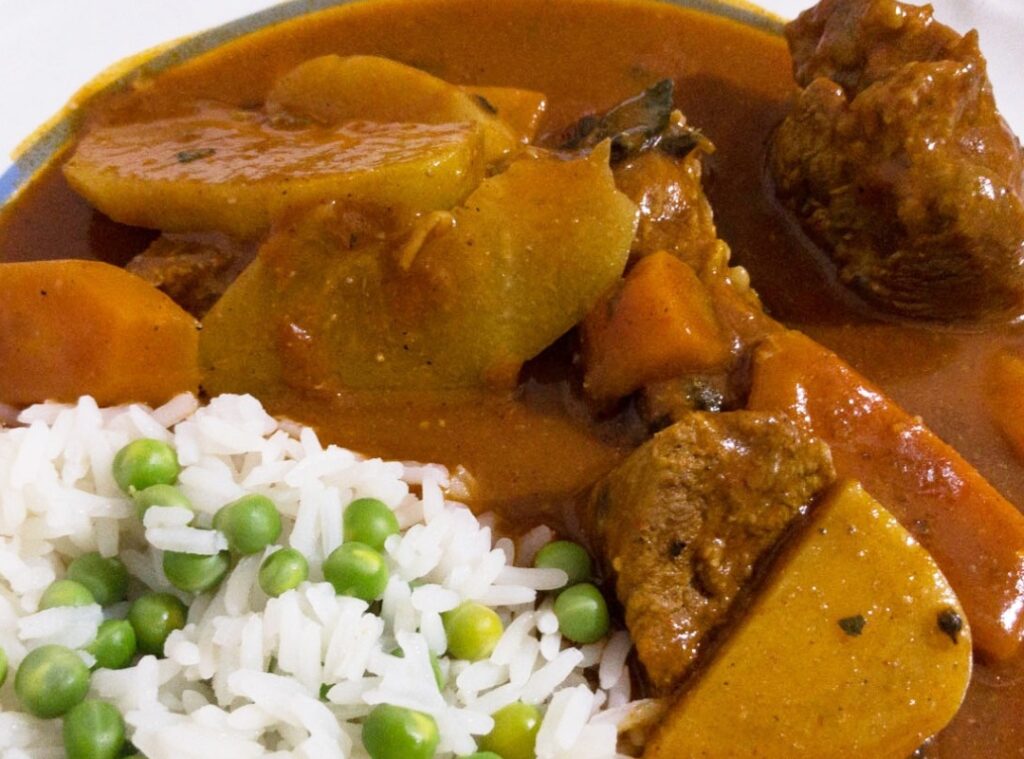 It is traditionally served over previously cooked chicken or pork. In addition, the dish comes with white rice and corn tortillas.
Tlayudas
This is one of Mexican's favorite food in Oaxaca and around the whole country. Tlayuda is a type of tortilla from the central region of Oaxaca.
Traditionally, they are prepared with Oaxaca cheese, chopped cabbage or lettuce, jerky, and molcajete sauce.
This classic "Mexican antojito" is part of the food of Oaxaca dishes that was declared an Intangible Cultural Heritage by UNESCO. Furthermore, it was recognized as the favorite dish in all of Latin America.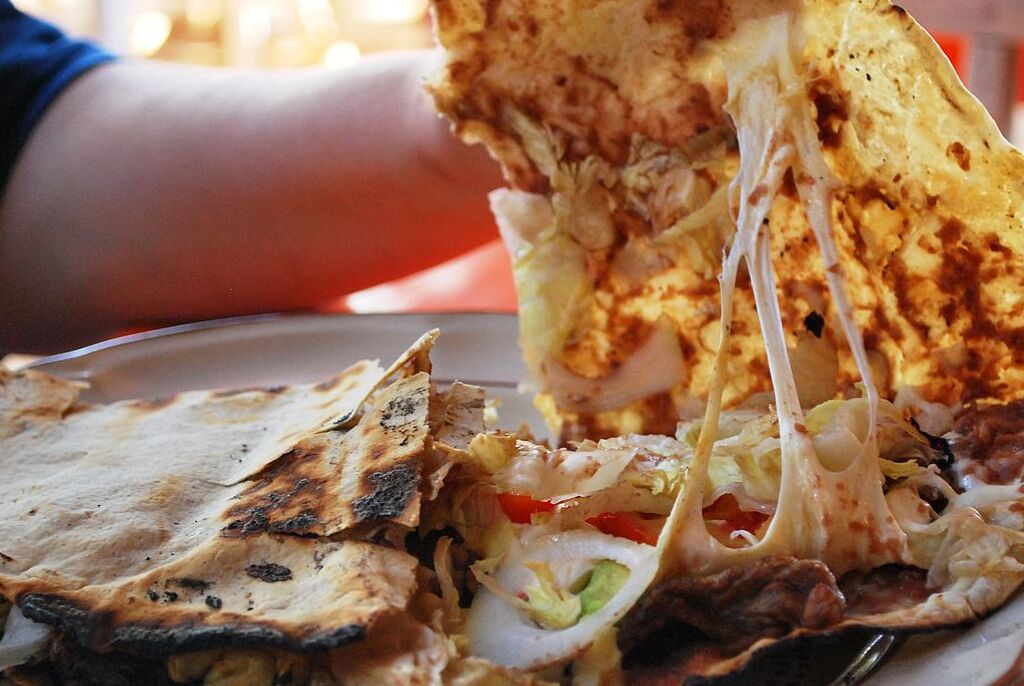 This dish is made with thin corn tortillas that are four times larger than conventional tortillas.
Currently, the consumption of tlayudas inside and outside of Oaxaca shows a reinterpretation of heritage. It is also a gastronomic variety in that region and throughout the country.
Buñuelos
Buñuelos are a tradition in the city of Oaxaca. This food of Oaxaca has a sweet tasty flavor due to the honey and sugar it has made in piloncillo. It is a recipe that has been passed from generation to generation.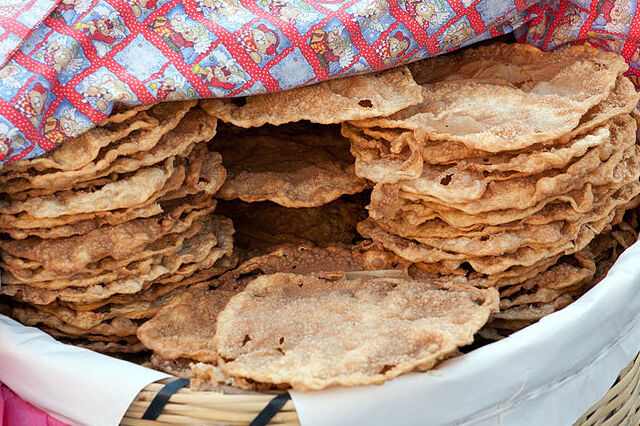 Certainly, these are an inheritance of Moorish cuisine that during the Christmas season, everyone adores. Buñuelos are a fundamental element in the traditional cuisine of the region.
Tamales
Last but certainly not least, here are the famous tamales oaxaqueños. This food is a typical Mexican dish, of Pre-Hispanic origin.
Tamales are composed of corn dough, filled with sauce, and usually some type of meat and/or vegetables.
On the other hand, archaeological evidence shows them as part of the daily life of some cultures in Mexico in Pre-Hispanic times. They were used for religious rituals, offerings, and tombs.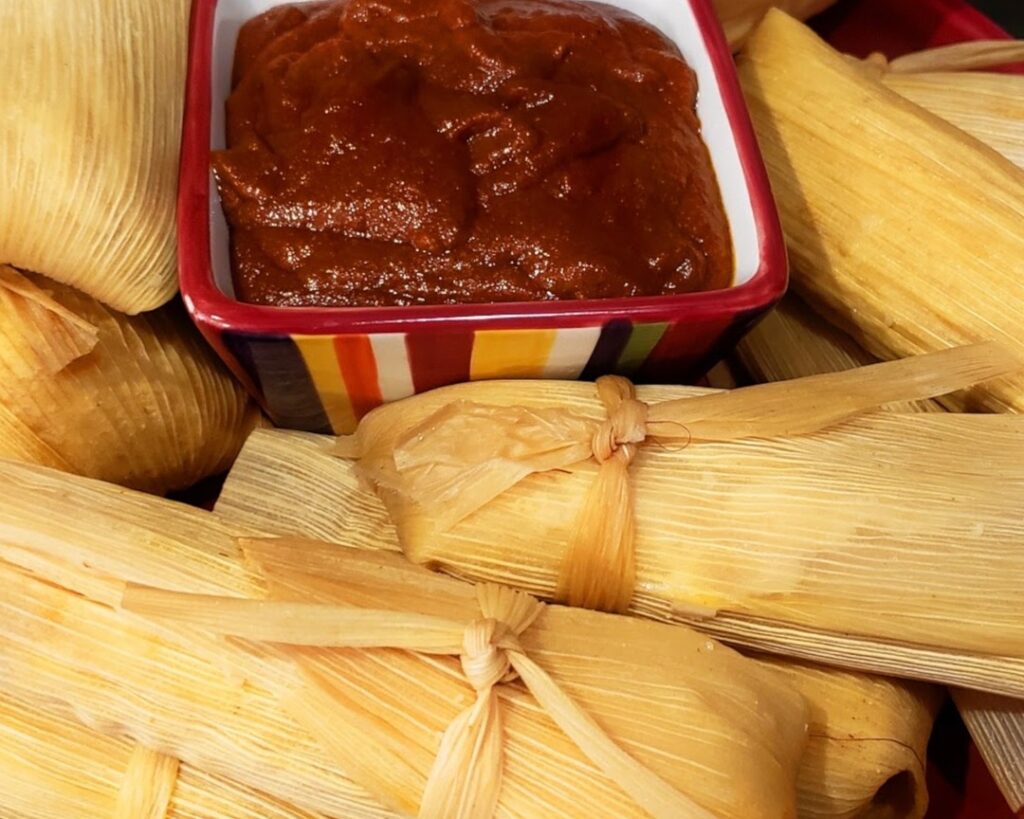 However, this evidence is very recent, for example, from the Classic Maya period.
Tamales are a classic in Mexican cuisine that for many years are continuing to enchant everyone who tastes them. This Mexican food will surely continue to evolve and delight the palate of those who try them.
Mezcal
This is not food, but for sure, it is an essential part of their gastronomy. It is an alcoholic beverage from the distillation of juice fermentation of various species of agave.
Santiago Matatlan is one of the municipalities of Oaxaca that promotes this drink not only in the entity but in different states and countries.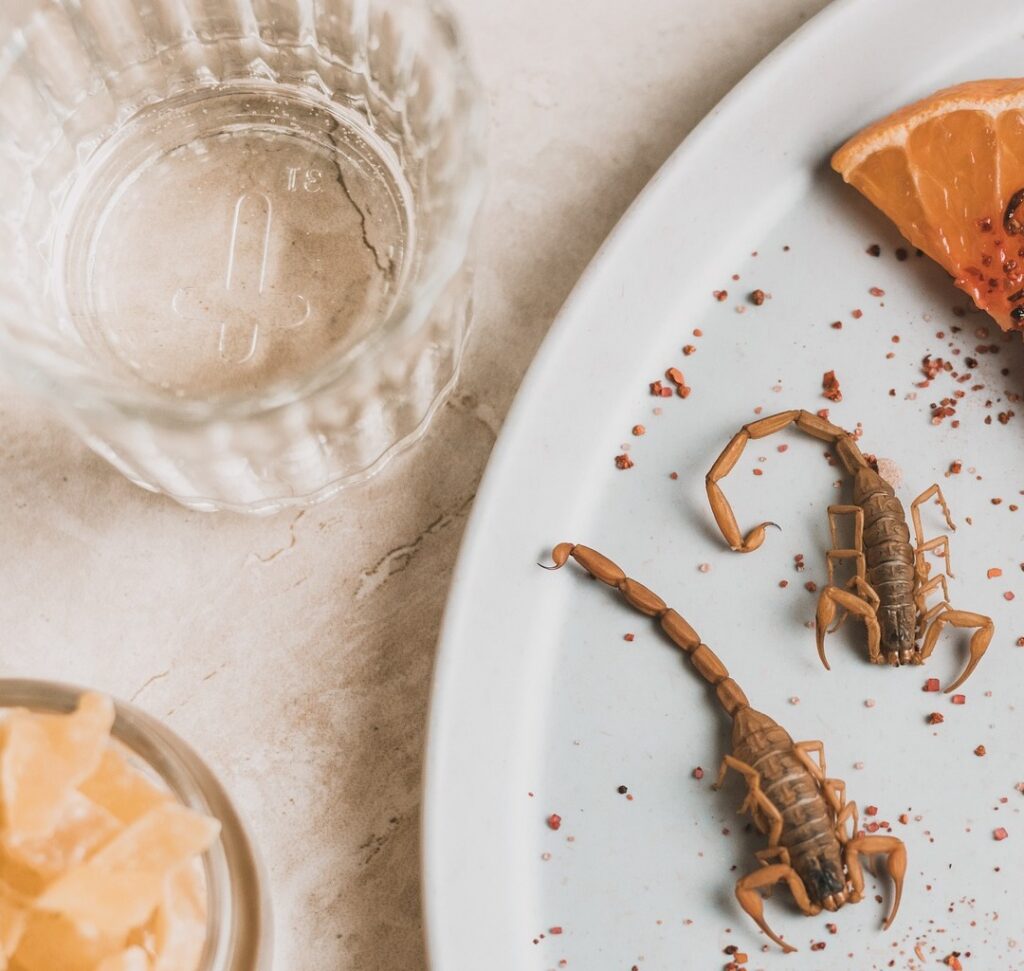 90% of the mezcal produced in Mexico is handcrafted by families. They often use their own homes and farms to produce this distillate.
In traditional medicine, mezcal is useful for sprinkling, rubbing, and cleaning. Something pretty curious is that cornfields, buildings, and crosses were blessed with mezcal instead of holy water.
Honorable Mention
Tejate
The tejate is a typical Oaxaca drink that shows the pre-Hispanic side in its delicious flavor. This is one of the gems of beverages in Mexico.
This drink had a great ceremonial value, as it was only drunk when the planting or harvesting of corn began. It is made from corn, cocoa, mamey bone, and cocoa flower.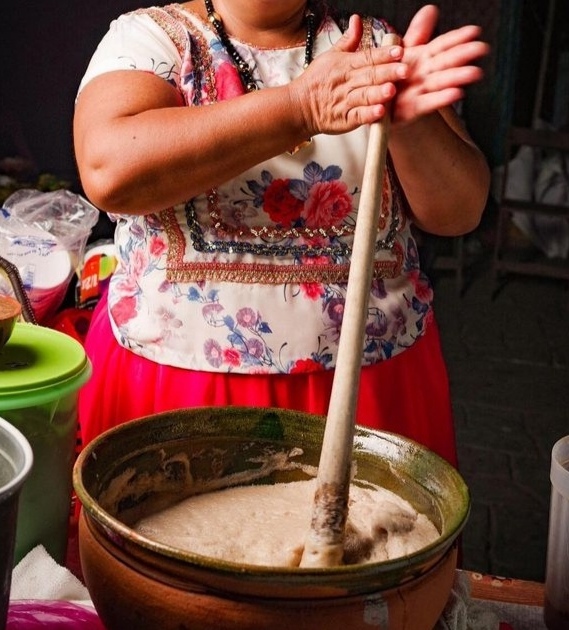 In fact, it has a white and lumpy foam that gives it a special flavor due to the cocoa flower.
Its elaboration varies from generation to generation, however, women have always been the ones who made tejate a masterpiece. In fact, they were called "tejateras".
Conclusion
In conclusion, the food of Oaxaca is a tantalizing journey into the heart of Mexican culinary traditions.
With its rich flavors, diverse ingredients, and ancient techniques, Oaxaca's cuisine stands as a true testament to the region's cultural heritage.
From the iconic mole to the mouthwatering tlayudas, each dish tells a story and carries the essence of Oaxaca's identity.
Exploring the food of Oaxaca is like uncovering a treasure trove of gastronomic delights. The markets bustle with beautiful colors and flavors, offering a bunch of herbs, spices, and handmade delicacies.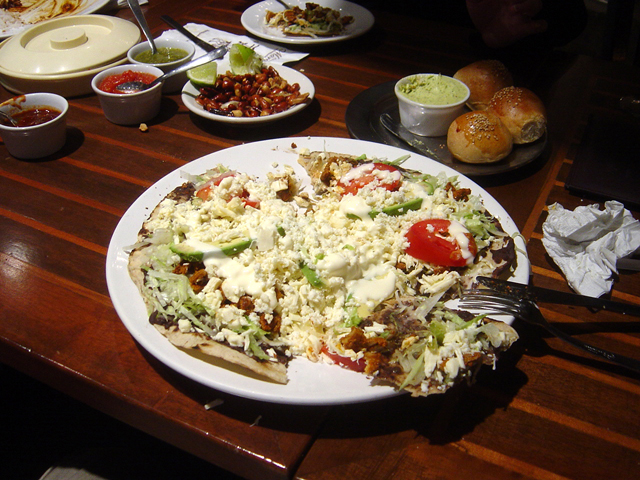 Oaxaca's cuisine…
embraces the use of indigenous ingredients such as corn, chocolate, tlayudas, chapulines (grasshoppers), and mezcal, creating a unique culinary experience.
The food culture of Oaxaca extends beyond just the flavors. It is a way of life, deeply rooted in community, tradition, and celebration.
Indeed, the people of Oaxaca take immense pride in sharing their culinary heritage with the world.
To truly experience the food of Oaxaca…
is to embark on a sensory adventure, immersing oneself in the rich magic of its flavors, textures, and aromas.
So, whether you're strolling through the streets of Oaxaca City, exploring the indigenous villages, or indulging in the local markets, be prepared to be enchanted by the unparalleled gastronomic wonders that await you.
The food of Oaxaca is a celebration of history, culture and a testament to the culinary prowess of this extraordinary region.
Check out our Oaxaca Tour (Chacahua National Park, Puerto Escondido, Mazunte / Private or Small Group / 15 Days)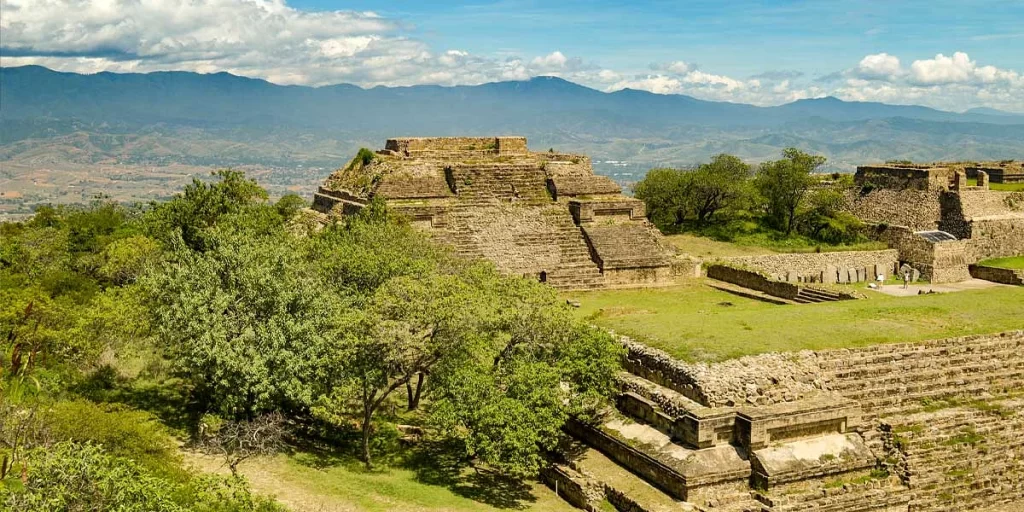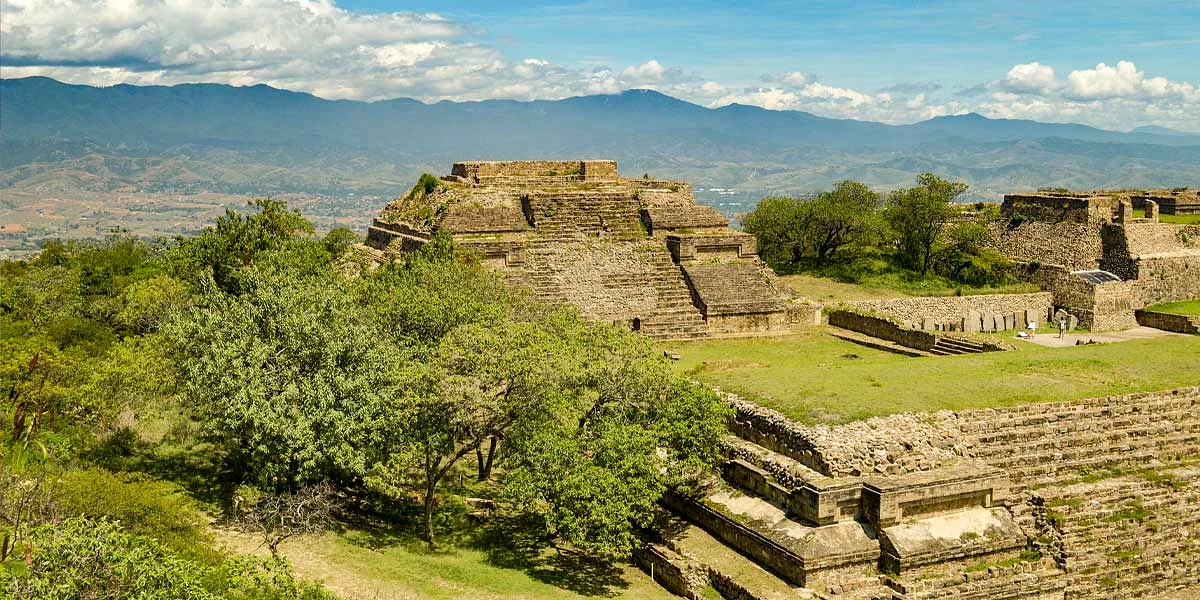 Food of Oaxaca Informative Video