Overview
Join our Food Tour Puebla to get acquainted with the aromas and flavors of the State of Puebla in Mexico. The history and culture of this state are one of the world's treasures and its capital is currently on the UNESCO World Heritage List. This designation also applies to the state's exquisite cuisine which combines indigenous, Spanish, and Arab influences. Puebla is nationwide famous for its diverse regional dishes and is also one of the main gastronomic regions of the country. Guided visits to local mezcal, market food, cider, beer, or pulque producers, walking tours and visits to local museums – all this and even more is waiting for you!
Highlights
Enjoy the beauty of the UNESCO-listed Historic Center of Puebla.
Feel appealing smells & flavors of Pueblas's food markets.
Try some of the best regional specialties - mole poblano, chiles en nogada, chalupas, molotes, and others.
Learn about the history, ingredients & production techniques of 4 regional drinks - mezcal, pulque, cider & artisanal beer.
Get under the charm of 2 Magical Towns - Cholula and Atlixco.
How is this tour different?
Read more
Itinerary
Day 1: Mexico City - Cholula - Puebla
Bienvenidos a Ciudad de Mexico – the largest city in Latin America where ancient and modern coexist in harmony. Arrive at any time before meeting your group and Tour Leader at 9 am. Following a short welcome meeting, go to discover a "Magical Town" of Cholula. Situated near Puebla City, this place is best known for its Great Pyramid, with the Iglesia de Nuestra Señora de Los Remedios sanctuary on top. Once there, we will visit a local archeological zone and have a walking tour of the historic center. Then, we will have a look at a local cider museum & explore the tastes of regional specialties in the municipal market.
Afterward, we will go to the state's capital Puebla. There we will visit the monastery that is considered the birthplace of the most famous regional dish – mole poblano. Also, we will get acquainted with another emblematic tradition of the state – talavera. This pottery technique represents a local type of majolica and is considered one of the most distinguished artisan traditions in the country.
In the evening, after check-in and some rest, opt to join your group & Tour Leader for an optional dinner & get-together in one of the local restaurants/bars.
Accommodation

: conveniently located, locally-own hotel/B&B in Puebla

Activities

:

walking tours in Puebla and Cholula;
guided visits to Zona Arqueológica de Cholula (Cholula), Museo de la Sidra Copa de Oro (Cholula), Museo de Arte Religioso de Santa Mónica (Puebla), Museo Casa de Alfeñique (Puebla);
eating in a market in Cholula.
Day 2: Puebla - Atlixco
In the morning, after breakfast, continue exploring Puebla getting lost in its colorful streets & lanes. Afterward, visit its famous food market to learn the history & try some of the best local specialties. Later, we will go south to visit a family palenque whose owner has been producing mezcal for over 70 years. After walking around its agave fields, learning about the main difference between mezcal & tequila, and trying some of the best local varieties of this smoky drink, we will to Atlixco. In this "Magical Town" situated almost at the bottom of the Popocatepetl volcano, we will first go to a  local artisanal beer company. There we will have a tour of the brewery and try some of the best local varieties of artisanal beers.  We will finish the afternoon on the hill enjoying beautiful sunset and views of Popacateptl volcano.
In the evening, after check-in and some rest, join your group & Tour Leader for an orientation walk of the historic center of Atlixco. Then,  opt for an optional dinner & get-together in one of the local restaurants/bars.
Accommodation

: conveniently located, locally-own hotel/B&B in Atlixco

Meals

: breakfast

Activities

:

walking tours in Puebla and Atlixco;

Food in a market in Puebla

; brewery tour in Atlixco

.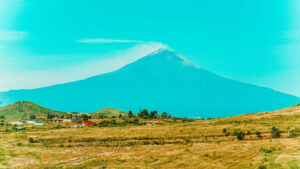 Day 3: Atlixco - Mexico City
First, have a breakfast food experience in the local market followed by a visit to some of the most famous artisanal ice cream shops in the town. Afterward, go north to a local farm to see the production of pulque – ancient fermented beverage from the sap of agave. There we will join a tlachiquero to see him (and try ourselves if you want)  extracting the sap of agave ("aguamiel") that would later become pulque. Thereafter, for lunch, we will try some regional specialties with the larva of chinicuil ("maguey worm"). All this will be accompanied by fresh pulque and followed by pan de pulque ("pulque bread") for dessert. Finally, once ready with our meal, we will go to Mexico City. End of tour.
Meals

: breakfast (eating in a market in Atlixco), lunch (local specialties in pulque farm)

Activities

:

walking tour in Atlixco;

pulque tour

.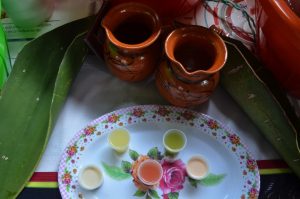 Prices
This tour is private: only your group will participate.
The price per person is variable and depends on the size of your group (please choose the number of participants in the booking calendar ➡️ to see the final price).
Inclusions
Included
Local Expert Guides
English/Spanish Tour Leader service
Accommodation
2x nights in conveniently located, locally-owned hotels/B&Bs
Transportation
private vehicle
Meals
1x breakfast; 3x experiences eating in a market
Activities
Walking tours, guided visits & activities as per itinerary
Excluded
Personal expenses
Insurance
Travel insurance is not included: find insurance tailored for you.
Tips
Details
Minimum number of participants

Automatic confirmation (your departure is automatically confirmed and 100% guaranteed).

Meeting Point
The tour starts with a welcome meeting in the lobby of your hotel (exact name and location to be provided in trip notes before the tour).
Departure Time
09:00 AM (can be adjusted on request)
Languages
Suitability

Couples 🫶
Kid-friendly 👨‍👩‍👧‍👦
LGBT+ 🏳️‍🌈
Senior 👩‍🦳
Solo 🎒
Women Only 🧘‍♀️
Youth 🎉

What to take with you?

Comfortable clothes and (preferably hiking) shoes; swimming suit and slippers; a smaller backpack for daily tours; hat/cap, sunglasses and sunscreen; travel insurance, personal ID, some cash; good mood and curiosity.

Accesibility
🛑 Not wheelchair accessible.
Pets
🛑 Not permitted.
Things to know before booking

ACCOMMODATIONS: An exact list of accommodations is sent together with trip notes 2 weeks before the departure date. All accommodations are centrally located, tourist-class, locally-owned properties with private facilities in each room. We can arrange pre- & post-tour accommodations but not earlier than 2 weeks before the departure when we send you final trip notes.
ROOM TYPES:

Shared Twin Room: Single bed in a twin room shared with another co-traveler of the same gender. This option is specifically designed for solo travelers and applies just to group departures.
Double/Twin Room: Private room for 2 people. You can choose between 1 double bed or 2 single beds.
Triple Room: Private room for 3 people. It normally has 1 double bed for 2 people and 1 single bed for 1 person.
Quad Room: Private room for 4 people. It normally has 2 double beds for 2 people each.

If none of the room types above fits you, please contact us and we will send you a personalized quote.

TRANSPORT: The type of vehicle depends on the size of the group and may include car, 7-seater, minivan.
PHYSICAL CONDITION: This tour involves a decent amount of hiking & walking. Therefore, travelers should have at least moderate physical fitness condition.
PRICING: * The price of the tour/person depends on the number of travelers & room option you choose.
FOOD: Food & drinks included in the tour (be it breakfasts at our accommodations, food in the market, lunches, or dinners) can normally meet most of the common dietary restrictions. However, due to the active program of the tour and different menus in each place, satisfying a special diet or food preferences of a particular traveler will depend on circumstances and cannot be fully guaranteed. Eating in markets normally involves live commentary about local gastronomic traditions & tasting of the most representative regional dishes.

GROUP VS. PRIVATE

: Our multi-day tours offer both group and private departures (see pricing at checkout). Group tour – take a scheduled trip with other travelers. Private tour – take a trip on your own, with friends or family. Private tours are customizable (you can depart any day and we can add additional stops and activities on your request) and thus may cost more than group tours.

VISA: All foreign visitors, regardless of their nationality, traveling to Mexico for tourism, business, or in transit to another destination, are exempt from presenting a Mexican visa as long as they have a valid visa issued by any of the following countries: Canada, Japan, the United States of America, the United Kingdom or any of the countries comprising the Schengen Area (more info).
Cancellations
Most of our 1-day tours can be canceled up to 48 hours prior to the departure.
Please see our Cancellation Policy for more info.
Frequently Asked Questions:
| | |
| --- | --- |
| How to book? | To reserve the tour, please choose the date and complete the booking form. Once finished, you will receive a booking confirmation in your email. |
| How can I contact the tour organizer? | You can find the contact phone number and email of the tour organizer in the confirmation email. |
| What are the booking terms? | Except for the information on this page, you can see full terms & conditions from each tour organizer before completing your booking. |
| Liability | Unless expressly stated otherwise, the tour and activity providers ("Organizers") listed on vibeadventures.com are independent third parties and are not agents or affiliates of Vibe Adventures. Therefore, Vibe Adventures shall not be held liable for any injuries, sickness, accidents, delays, neglect, fraud, poor weather conditions, negative consequences, or expenses arising from or associated with the Organizers, their tours and activities, or those of their affiliates. If the tour does not include insurance, the travelers are responsible for obtaining travel insurance, as well as passports, appropriate visas, and necessary vaccinations. |
| Cancellations & Modifications | To cancel or modify your booking, please contact the Organizer directly using the email or phone number provided in the booking confirmation. Cancellations and modifications are subject to availability and the approval of the Organizer in accordance with their booking terms and conditions, which are made available to you during the booking process. |
If you have any other questions please contact us.