Destination Video
Understand
Are you looking for things to do in Puebla? You have found a complete guide with us! There are a thousand things to do in Puebla. For instance, don't miss trying the renowned "mole poblano." This unique dish, known for its blend of chili and chocolate flavors, is a local culinary gem that's a must-try during your visit and a must-try at least once in a lifetime if you are a foodie traveler.
Take a leisurely stroll through the "Barrio del Artista" in the city center, a place art enthusiasts cherish a lot. Here, you'll find art shops and studios where local artists display their creations. You can get a portrait, purchase original art, or take painting lessons. In the evenings, the Barrio del Artista comes alive with bars offering outdoor seating and live music.
Beyond the city, you'll find the impressive Cholula Pyramid, the world's largest pyramid by volume. Explore the Iztaccihuatl-Popocatepetl National Park for hiking and to experience its natural beauty. Puebla also is ready to show you stunning Baroque architecture, which has a truly rich heritage. Visit churches and get into Novo-Hispanic painting, including a trip to the International Museum of the Baroque. Puebla warmly welcomes you, and as you explore this delightful state, you'll discover its artistic treasures, traditions, beautiful magical towns, and natural wonders, and create unforgettable memories.
Getting there &amp around in Puebla
Get in: by plane
The closest airport to Puebla is Hermanos Serdán International Airport (IATA: PBC). It's located in the city of Puebla and serves as the primary airport for the region. This airport offers domestic flights to various destinations within Mexico.
You can get to the city by:
Taxi 🚕:  You can book an airport transfer here.
Get in: b
y bus
Traveling to Puebla from Mexico City is simple by bus due to the proximity of both cities. Buses operate regularly between the two cities throughout the day and night. You can catch a bus from TAPO Terminal or Benito Juarez International Airport (Mexico City). Tickets cost around MXN $190 for standard service and MXN $212 for more comfortable first-class seats. Buses depart roughly every half hour from both locations, taking about 2 hours to reach Puebla's main bus terminal, CAPU. There's also a 4 Poniente terminal in downtown Puebla for Estrella Roja buses. For those new to Puebla, taking a bus from the 4 Poniente terminal is a convenient choice. It's a safe way to reach your destination, and you can catch city buses to the historic center from CAPU by crossing the bridge and taking bus number 44.
Get around
Getting around Puebla is quite straightforward. You can use city buses, and Moovit which is a handy app to find bus connections, displaying bus line numbers and allowing you to filter for direct routes. The fare is typically MXN $8.50 (Nov 2021), paid in cash, as there's no public transport card. Buses generally operate from about 07:00 to 22:00.
Alternatively, e-hailing services like Uber, Cabify, and Didi are available for convenient transportation. Taxis are a safe option as well, with fares usually ranging from MXN $60 to MXN $120 (Sept 2021). It's customary to negotiate the fare with the taxi driver since taxis in Puebla don't use meters. If the offered fare isn't agreeable, you can simply wait for the next taxi.
Places to visit by foot:
Puebla's Historic Center
Zócalo (Main Square)
Church of Santo Domingo
Amparo Museum
El Parían Market
Barrio del Artista
Mercado de Sabores Poblanos (Puebla Falvors Market)
Where to stay in Puebla
Budget
Mid-range
Splurge
Attractions in Puebla
Take a stroll through the Barrio del Artista
Barrio del Artista is an art neighborhood where you can find fun things to do in Puebla. Take a walk on its pretty-as-a-picture streets and explore art shops and studios. Local artists show their work here, and you can even get your portrait drawn, buy art, or try a painting class. In the evening, it's a great place to sit outside at bars with live music. Barrio del Artista is full of creativity and culture, making it a wonderful part of Puebla to visit.
Related tours: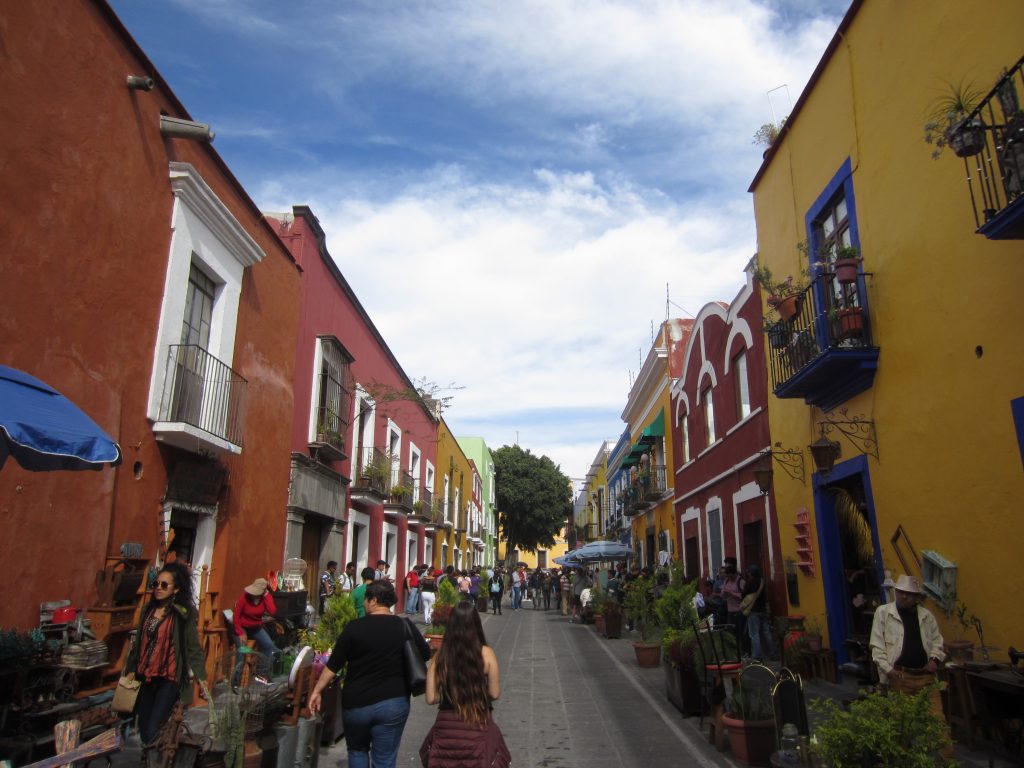 Visit the Shrine of Our Lady of Remedies
The Shrine of Our Lady of Remedies is a beautiful place to visit and one a must of the best things to do in Puebla. This church sits on top of what looks like a hill, but it's actually an ancient Aztec pyramid covered in soil layers. You can climb to the top and enjoy fantastic views of Puebla and the surrounding area. The shrine has a rich history, and it's a peaceful and spiritual spot to explore. Whether you're interested in history, art, or religion, or simply want a lovely view, this shrine is a must-visit for you.
Related tours: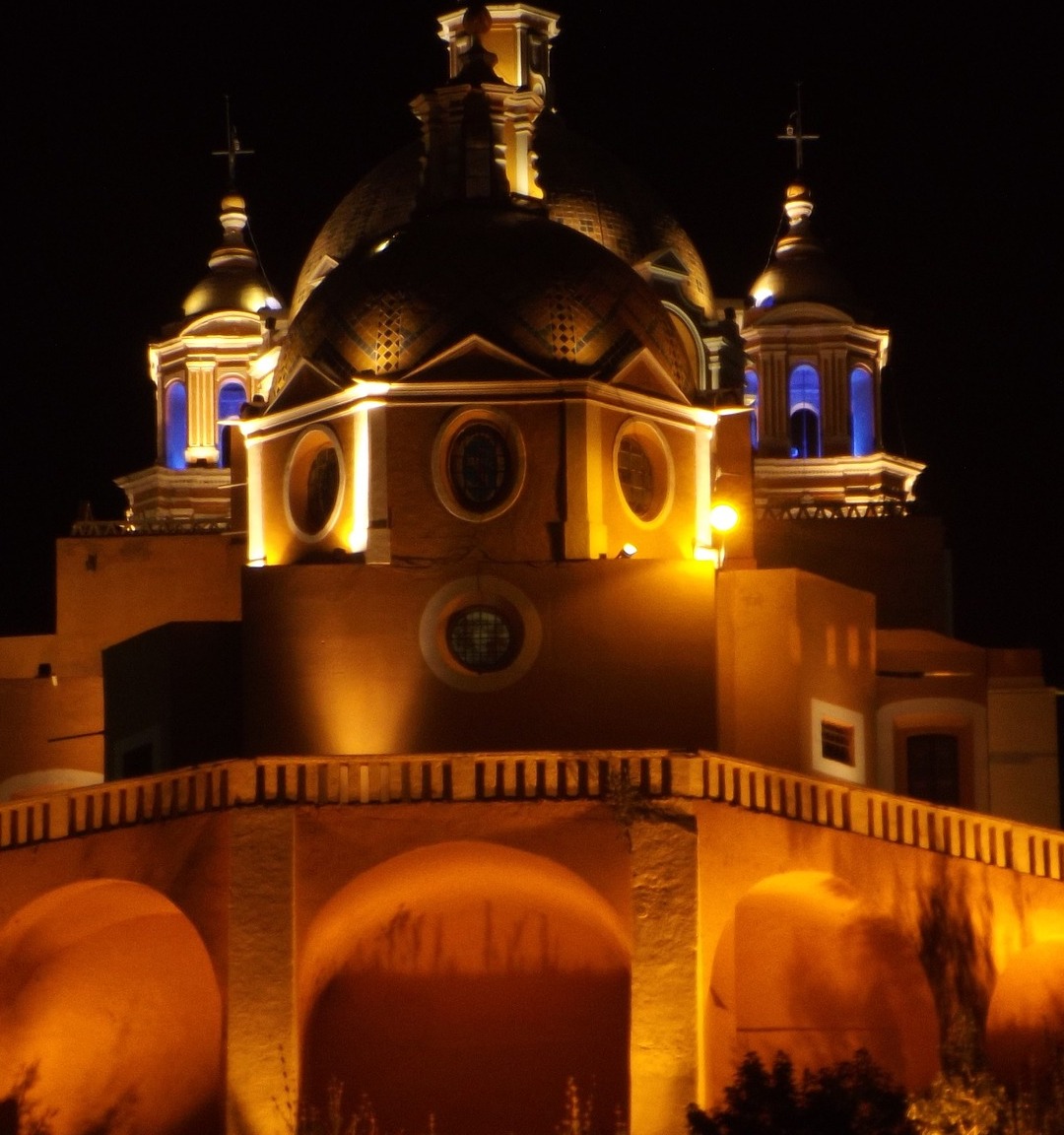 Discover the Iztaccihuatl-Popocatepetl National Park
This place is a fantastic natural area and one of the top things to do in Puebla. This park is one of Mexico's oldest protected regions, and it covers a vast area of diverse landscapes. You can go hiking here, exploring its various ecosystems and enjoying the stunning Sierra Nevada scenery. It's a treasure for nature lovers like you, which offers an unforgettable adventure to enjoy Puebla's natural wonders. If you're looking to connect with nature and explore Mexico's stunning outdoors, this park is the perfect choice for you.
Related tours: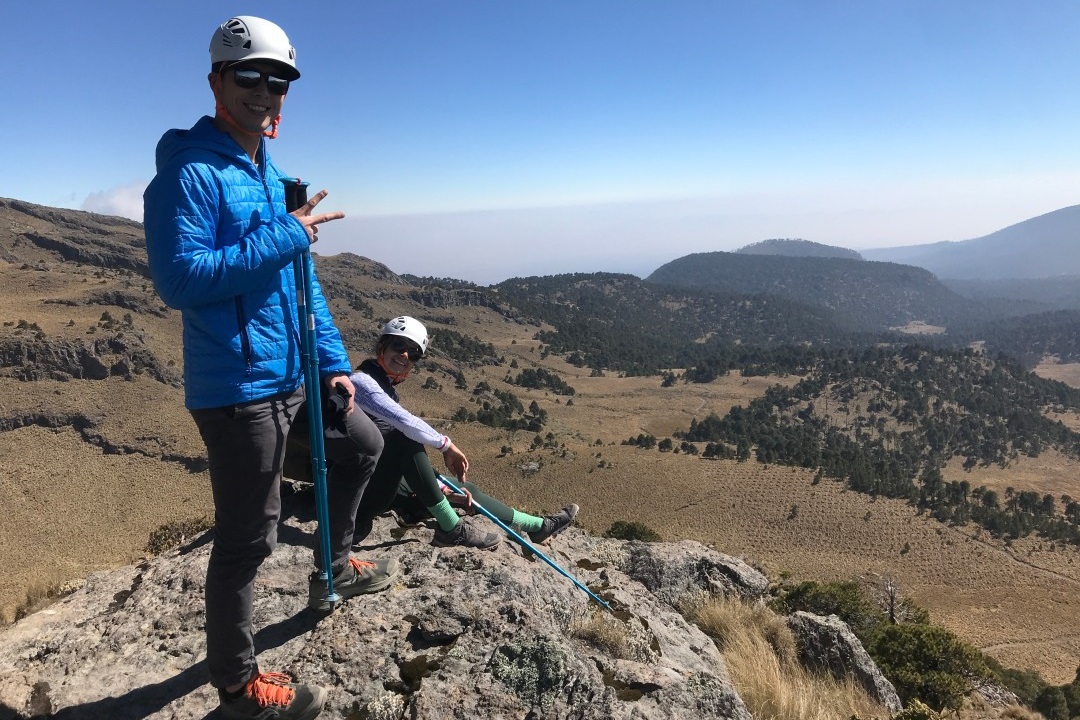 Explore the Magical Town of Atlixco
Atlixco is a precious town that offers you a great experience of local life and culture. It's a great place to visit in Puebla if you're looking for a more relaxed atmosphere. You can explore its colorful streets, visit local markets, and enjoy a leisurely day. Additionally, Atlixco is famous for its stunning flower fields, especially marigolds. These blooms are used in various traditional celebrations, creating a colorful and unique atmosphere. In addition, this place has the biggest Christmas Museum in Mexico, which is another reason to visit this enchanting place. It's a lovely destination for a day trip or a weekend getaway.
Related tour: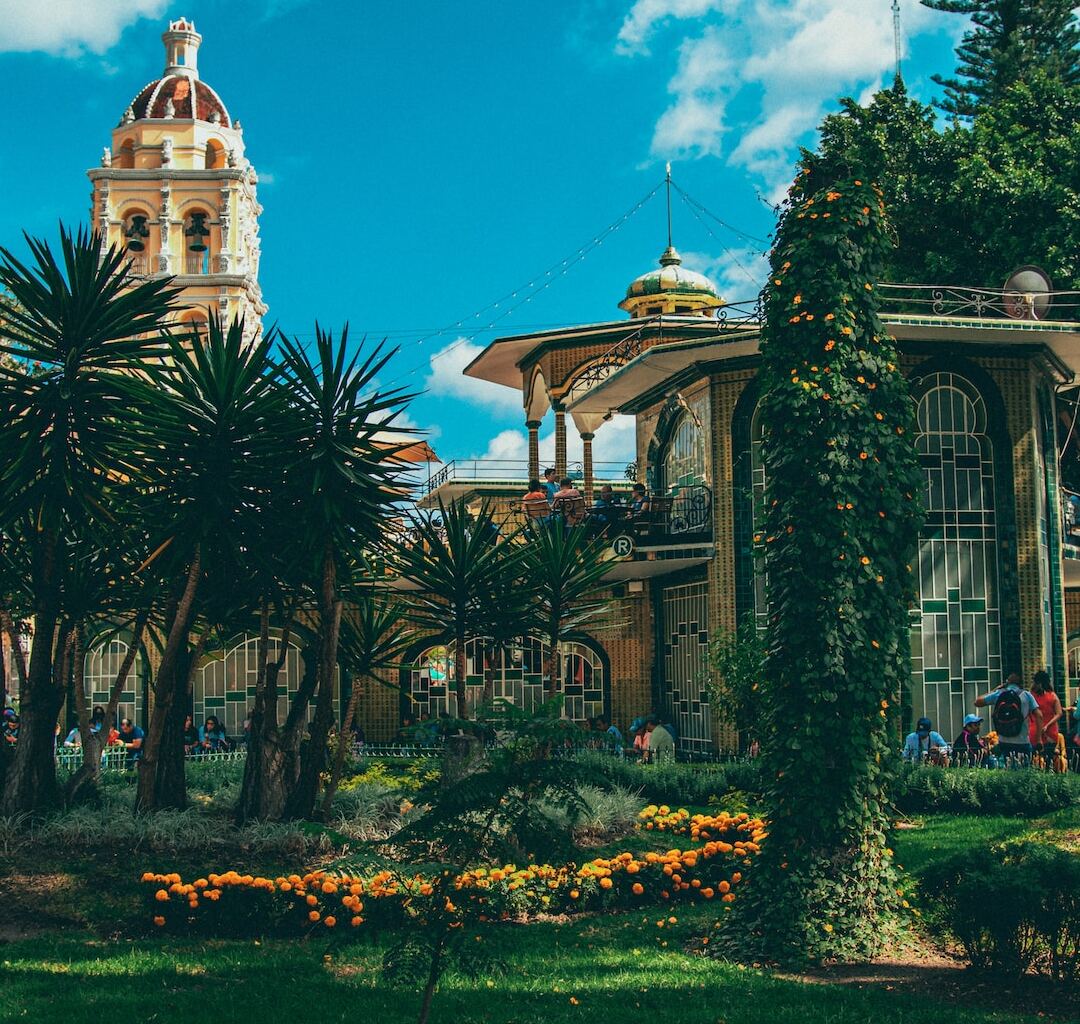 Have a hiking experience at La Malinche Volcano
La Malinche Volcano, also known as Matlalcueye or Malintzin, is an impressive stratovolcano in Mexico. It's located near the city of Puebla and Tlaxcala. With a height of approximately 4,461 meters (14,636 feet) above sea level, it's a popular destination for hikers and nature enthusiasts. The volcano offers you different hiking trails suitable for different skill levels, making it an accessible adventure for many. If you reach its summit, the reward is wonderful panoramic views of the surrounding landscapes. La Malinche Volcano is an ideal place for an outdoor adventure and a memorable experience for things to do in Puebla.
Related tours: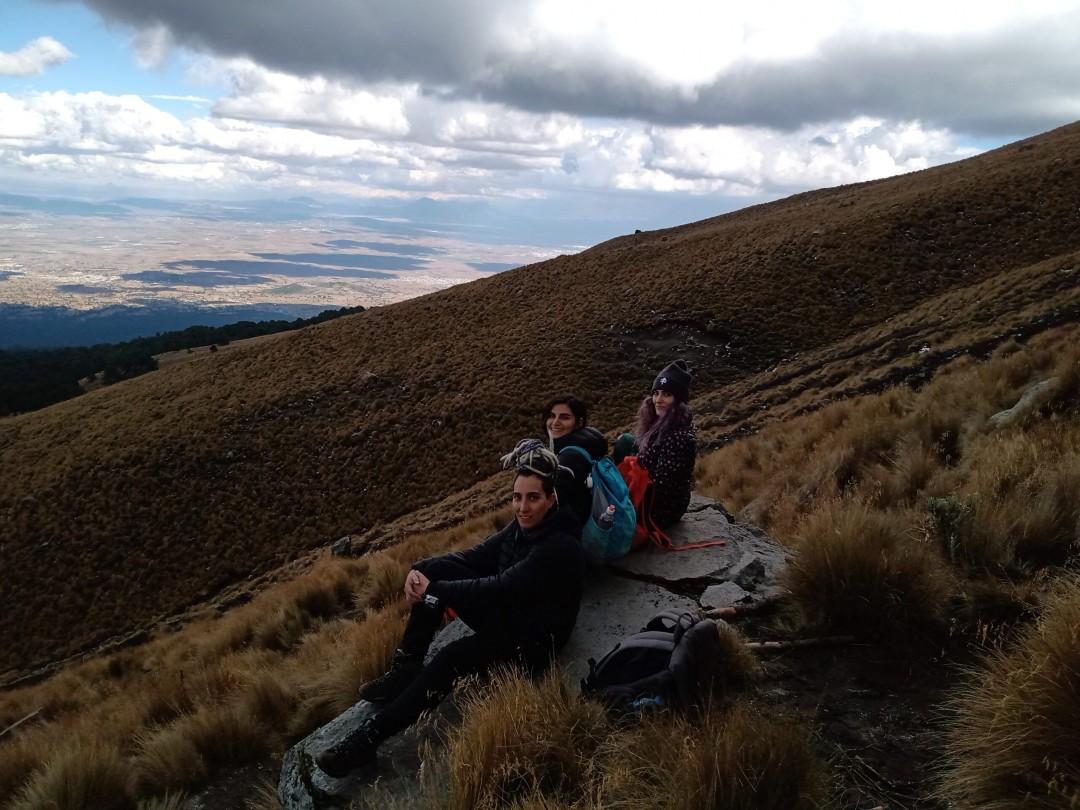 Tours &amp activities in Puebla
Food &amp cuisine in Puebla
It is a local market where you can discover and admire the city's culture. You'll find colorful stalls selling fresh produce, local crafts, and traditional street food. It's a great place to try authentic Mexican dishes and interact with friendly locals. This market offers you a genuine taste of Puebla's daily life and is an excellent spot for exploring the city's rich culinary heritage and local street scenes.
This restaurant is a welcoming option in Puebla for you to try local dishes. It is perfect for a meal with friends or a romantic evening. The menu has a variety of Mexican and international dishes, prepared with care and quality ingredients. The friendly staff adds to the inviting ambiance, making Áttico 303 a great choice to taste delicious cuisine while enjoying beautiful views of the city's main square.
This restaurant is a must-visit spot for things to do in Puebla. This charming restaurant specializes in traditional Mexican cuisine. For example, you can try the "mole rosa" (pink mole) with salmon. Trust us, you and your family will love it! There are gourmet tamales, tacos, and much more on their delicious menu. This is a must if you want to eat some of the best Mexican food in Puebla.
Shopping in Puebla
Discover traditional Mexican artistry at Handicrafts Market El Parián, one of the top things to do in Puebla. Located in the heart of the city, this market is a treasure trove of local crafts. Here, you can explore colorful stalls filled with handcrafted textiles, pottery, jewelry, and more. It's an excellent place to find unique souvenirs and admire Puebla's rich culture. Don't miss the chance to witness talented artisans at work, creating pieces of art that reflect Mexico's heritage.
Explore Puebla's charm at Paseo San Francisco, a must-visit for things to do in Puebla. This historic promenade has lovely architecture, shops, cafes, and an incredible atmosphere. Take a leisurely stroll, try local treats, and enjoy the city's ambiance. Don't forget to admire the magnificent San Francisco Church that graces the area. It's an ideal spot to appreciate Puebla's cultural and architectural beauty.
Trip Ideas &amp Stories in Puebla
FAQ's about Puebla
Where is Puebla located?
Puebla is a state in Mexico, located in the central region of the country, southeast of Mexico City, and pretty close to this city.
Is it safe to travel to Puebla?
Puebla is generally a safe city for tourists. Like any destination, it's essential to take standard safety precautions, such as avoiding poorly lit areas at night and keeping an eye on your belongings. It's advisable to stay informed about the current local conditions and follow travel advisories.
Avoid unforeseen events and take with you an insurance policy that covers any problem on your trip. 
What to pack?
When packing for Puebla, consider the local climate and your planned activities. Bring lightweight clothing for the city's mild weather, but pack some warmer layers for cooler evenings. Comfortable walking shoes are a must for exploring the historic city center. Don't forget sun protection like hats and sunscreen. If you plan to visit churches or religious sites, modest clothing is essential, covering shoulders and knees. Finally, remember essential items like travel documents, medication, and any personal items you may need.
Are there any kid-friendly activities and entertainment in Puebla?
Yes, Puebla offers several kid-friendly activities. You can visit Africam Safari, a wildlife park where children can see animals from around the world. Puebla also has museums like the Amparo Museum with interesting exhibits for kids. Exploring the historic city center is enjoyable for families. You can try local sweets and traditional dishes at the food markets. There are also nearby natural areas like the Cuexcomate volcano, which is fascinating for kids. Enjoying Mexican culture through music, dance, and festivals is another fun experience for children.
Are there any dress codes and cultural norms to follow in Puebla?
In Puebla, it's best to dress modestly, covering shoulders and knees, especially when visiting churches or traditional areas. When entering a church, it's respectful to remove hats and sunglasses. Politeness and saying "por favor" (please) and "gracias" (thank you) are valued. While tipping is customary, 10-15% in restaurants is typical. Overall, being polite and respectful is appreciated in Puebla.
Are there any sustainable travel initiatives in Puebla?
Yes, Puebla has taken steps towards sustainable tourism. Many hotels and businesses focus on eco-friendly practices, like reducing water and energy consumption. Some offer recycling programs and use local, organic products. Additionally, there are efforts to preserve cultural heritage and protect natural sites. By supporting these initiatives, visitors can contribute to sustainable travel in Puebla.
Is there any internet and mobile phone access in Puebla?
Yes, Puebla generally has good internet and mobile phone access. You'll find free Wi-Fi in many hotels, cafes, and public spaces. Mobile networks like Telcel, Movistar, and AT&T have good coverage. It's easy to stay connected while visiting Puebla.
What's the best time to visit Puebla?
The best time to visit Puebla is during the dry season, which typically spans from November to April. The weather is pleasant, and you'll avoid the heavy rains that occur during the wet season. However, if you're interested in seeing the vibrant Day of the Dead celebrations, plan your trip in late October and early November. This is a unique cultural experience in Puebla. Be sure to check local event calendars to align your visit with any festivals or events you'd like to attend.
What cultural events and festivals are celebrated in Puebla?
Puebla has a variety of cultural events and festivals throughout the year, making it an exciting destination for travelers. Cinco de Mayo, celebrated on May 5th, is marked with parades, reenactments, and traditional Mexican music, commemorating the Mexican victory over the French in 1862. In November, the Festival Internacional de Jazz y Blues features renowned national and international musicians. May brings the Festival Internacional de Teatro Avant Garde (FITA), showcasing cutting-edge theater performances. The state fair, La Feria de Puebla, with concerts and carnival rides, usually takes place from late April to early May. Semana Santa, the Holy Week, features religious ceremonies, and Diá de los Muertos brings vibrant celebrations in late October and early November.
Which is the most commonly spoken language in Puebla?
The most commonly spoken language in Puebla is Spanish, given that it is the official language of Mexico, and it's widely used for communication in the region.
What is the currency and exchange in Puebla?
The currency used in Puebla and throughout Mexico is the Mexican Peso, often abbreviated as MXN. It's essential to note that credit cards are commonly accepted in urban areas and major tourist destinations, but having some cash on hand is useful for smaller businesses or markets. You can exchange your money at local banks or exchange offices, and ATMs are widely available for convenient currency withdrawal. It's wise to keep some small denomination pesos for purchases in places where credit cards might not be accepted.