Regions of Mexico Food: Everything You Need To Know
Regions of Mexico food: This is a complete list of 8 fabulous gastronomic regions of this amazing country that every foodie should visit once in a lifetime.
In this article, you'll find famous dishes of each region, their stats-popularity, and curious facts about them. Yummy! Let's get started!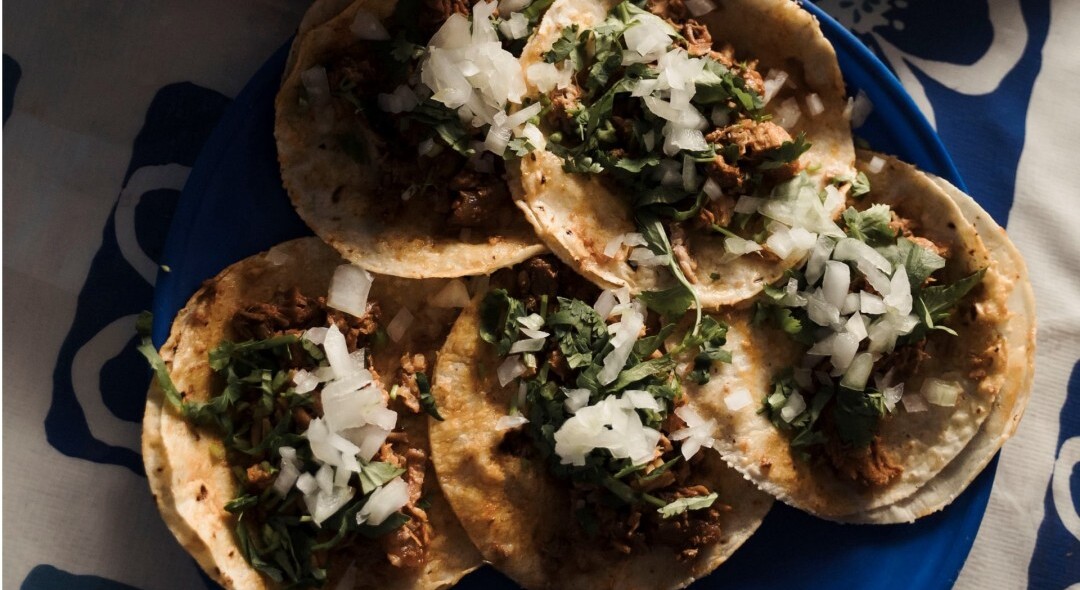 Since 2010 Mexico's food has been protected by UNESCO as part of the Intangible Heritage of Humanity for preserving its pre-Hispanic gastronomic traditions and a wide variety of regional dishes.
Accordingly, it is considered cultural heritage due to its antiquity and biodiversity, its history, and its ceremonial character.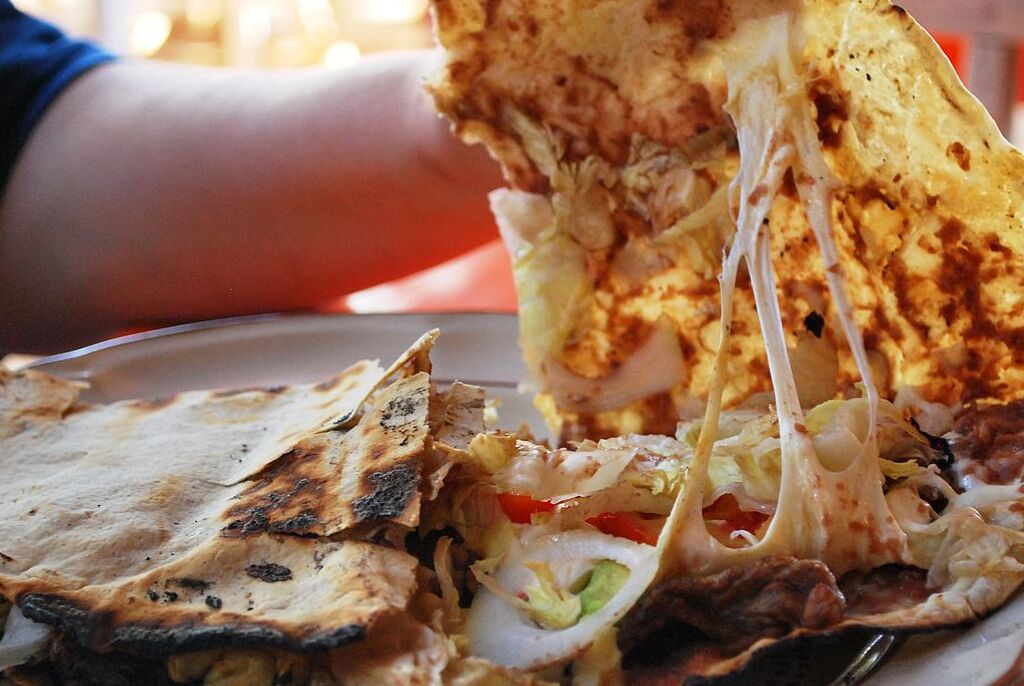 The mixture of ingredients and the difference in their preparations is what has divided into several gastronomic regions in Mexico.
This article will introduce you to each of them and is going to let you know how popular each meal is in those regions. Enjoy it!
1. Northeast region
Throughout the northeast, three elements are characteristic of its gastronomy: laurel, oregano… and the famous cumin. From the Northeastern cortadillo, to ribs in sauce, roast pork, and more, cumin brings a lot to this wonderful meat-loving region.
One curious fact is that the consumption of meat among the upper middle and upper class in Nuevo León can reach up to 95 kilos per capita per year.
However, when there is a Rayados or Tigres (Mexican teams from the North of Mexico) soccer game, or in the Clasico (Barcelona vs Real Madrid), the general population buys all types of cuts and the large butcher shops sell out of all meat products.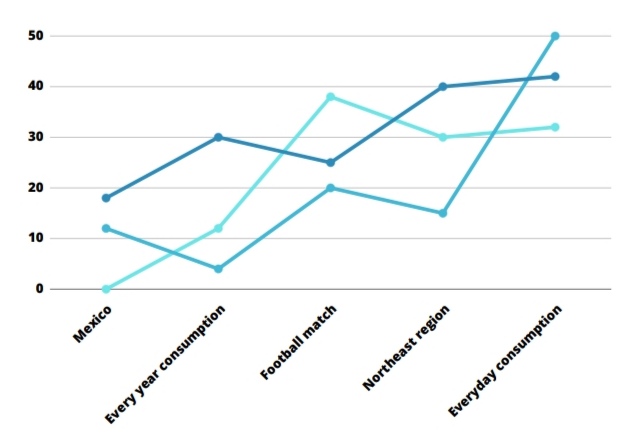 Check out our tour: Copper Canyon Tour by train (Los Mochis, Mirador del Cerro, Chihuahua / Group / 9 days)
2. Northwest region
This gastronomic region offers fish- and seafood-based dishes as well as chili and wine. Those influences are mainly found in Baja California, Baja California Sur, Sonora, and Sinaloa.
Chihuahua and Durango in their turn add fine cuts of beef, pork, and dried meats. The shrimp and fish tacos are representative of this region, as are the clams and lobster.
Pork stews, made with pasilla chili, garlic, cumin, oregano, and salt are also classics. In the gastronomy of the northwest, we can find a great variety of meat consumption, especially grilled.
Likewise, we can find a great consumption of wheat and corn. If we are talking about gastronomic regions in Mexico, the North foodie experience is a must-try for every meat lover in the world.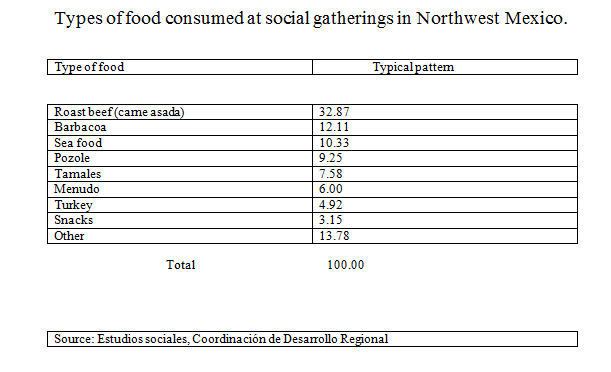 Check out our tour: Los Cabos Arch Tour (& Playa del Amor by Glass Bottom Kayak / Group / 3h)
3. Northcentral region
This gastronomic region of Mexico includes Zacatecas, San Luis Potosi, Aguascalientes, Guanajuato, and Queretaro.
Those are entities that combine indigenous and Spanish influence, so there are many dishes that are based on corn, beef, pork, chicken, and goat meat.
It is worth mentioning the strawberry from Irapuato, Guanajuato, and the antojitos ( Mexican snacks) from Aguascalientes.
Among the groups of vegetables in this area, there is also coffee, mango, papaya, tamarind, nopal, potato, green tomato, agave, avocado, barley, and vine, among others.
In terms of fauna and edible species, in this region, we find a great variety of fish such as mojarra (type fish), oysters, snappers, and animals such as cows, pigs, deer, and rabbits.
Check out our post: Traditional Food of Mexico (Top 20 Dishes)
4. Western region
This is a great example of an amazing gastronomic region in Mexico. The cuisine of western Mexico varies a lot due to its huge geographical area which includes Nayarit, Jalisco, Colima, and Michoacan.
As a result, it is possible to encounter dishes with shellfish as well as famous carnitas and birria, without leaving behind corn, wheat, and beans.
Birria is a Mexican dish, in some regions it is prepared with goat meat, and in some northern parts, with beef, marinated with a base of some types of chili peppers, seasonings, and salt.
Check out our post: Jalisco Mexican Food (Dishes that Will Enchant You)
5. Southcentral region
Compared to other regions, the cuisine of the State of Mexico, Morelos, and Mexico City is more of a fusion. Due to its central location, it organically incorporated and adopted dishes from almost all over the country.
Among the main ingredients here can find beef, pork, chicken, fish, seafood, fruits, and vegetables.
The great variety of restaurants and flavors in Mexico City is due to the fact that many people from the Mexican Republic move to the metropolitan capital and bring with them the best recipes from their homeland.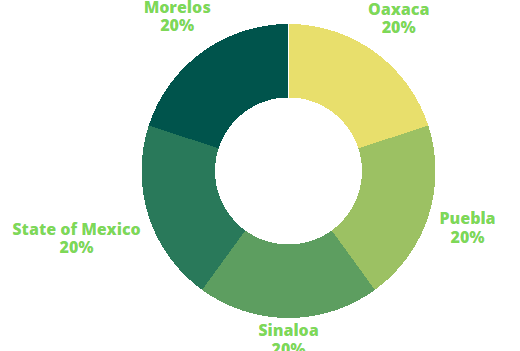 Above, is a small graphic about the places where most of the people from different parts of the republic come to Mexico City.
All of this is in order to have restaurants and places full of flavor and tradition all concentrated in one place.
One curious fact is that Tacos al Pastor were invented by Lebanese immigrants. Nowadays, they are one of the most iconic dishes from Mexico City.
Check out our page about: Food Tours Mexico City
6. East region
The entities that make up this region have substantial mestizo, Spanish and pre-Hispanic influences. Among the most typical dishes are mole poblano, chiles en nogada (nogada chili), barbacoa, pasta, and products of corn, and maguey.
This region includes the states of Hidalgo, Tlaxcala, Puebla, and Veracruz. The latter of them stands out for its variety of fish and seafood dishes.
Many of the dishes in this ancient gastronomy retain their original names today, such as the case of the mixiote (a bag of steamed maguey skin stuffed with chicken, beef, or rabbit meat and seasoned with chili peppers and spices).
The flavor of the aromatic herbs that exist in this region gives all the personality to simple dishes, turning into an explosion of the senses.
Check out our tour: Gastronomic Adventure (Grutas de Tolantongo, Ocampo, Pachuca / Group / 3Days)
7. Southeast region
Another incredible gastronomic region in Mexico. This region's cuisine is a mixture of Mayan, Spanish, and European dishes, and includes the states of Tabasco, Campeche, Yucatan, and Quintana Roo. All those states are famous for their seafood, pork soups, rice, tomatoes, achiote, sour orange, and chili.
Because this region is surrounded by water, the typical gastronomy in these states is seafood.
Visitors to the southeast coasts cannot leave without trying a shrimp cocktail or a ceviche (a Latin American dish typically made from fresh raw fish cured in fresh citrus juices, most commonly lime or lemon) while they cool off from the heat on the beach.
Furthermore, stuffed cheese is one of the typical foods in Mexico that you can definitely only enjoy in the southeast.
Some believe that its origin was in Yucatan and others in Quintana Roo. The truth is that this dish is recognized internationally and has caused a sensation around the world.
Check out our post: The Mayan Food and the ancient secrets of Its Gastronomy
8. Southwest region
This region consists of the states of Guerrero, Oaxaca, and Chiapas. Among its gastronomy, we find mestizo, Spanish, French, pre-Hispanic, and colonial influences.
The tamales, beans, chili, seafood, corn, mole, and exotic meats such as iguana and armadillo stand out.
Diversity is an essential characteristic of Mexican cuisine. Almost every state has its own recipes and culinary traditions, But these are certain gastronomic dishes that arose locally and you can not miss.
Check out our tour: Oaxaca Food Tour (Monte Alban, Miahuatlan, Huatulco / Group / 10 Days)