Jalisco Mexican Food: Dishes that Will Enchant You
If you are here, maybe you love Mexican food. Therefore, do you want to discover Jalisco Mexican food's importance?
Are you fancy some birria, tortas ahogadas, or pozole Jalisciense but you don't know what they are?
If you are into Mexican food, we are sure you are going to adore these typical dishes from the famous state of tequila. Even more, we are going to tell you their ingredients and a brief historical context about them.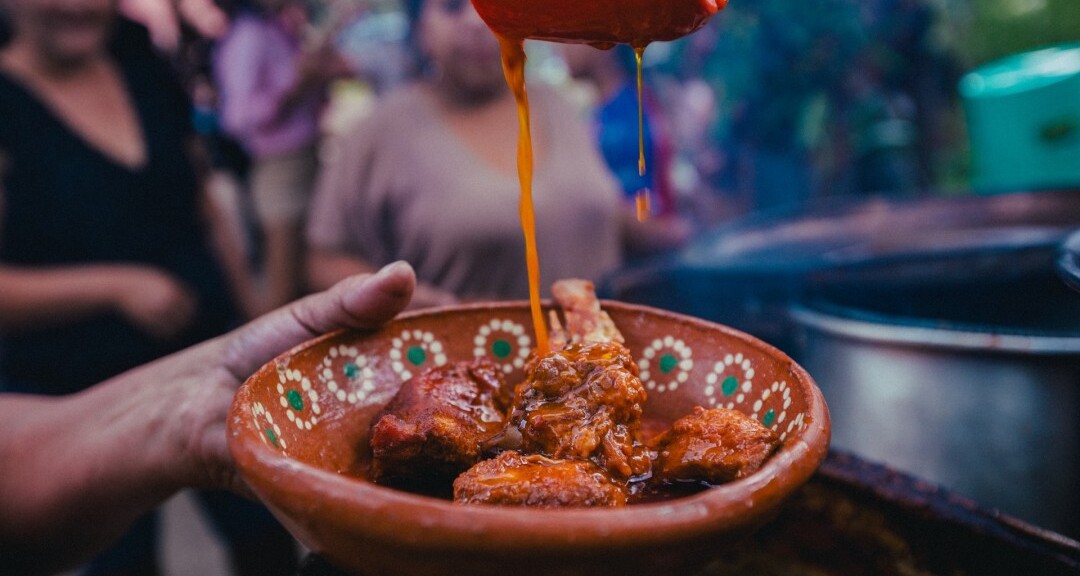 Welcome to our post about Jalisco Mexican Food! Hopefully, by seeing these delicacies, you can be encouraged to visit the beautiful state of Guadalajara, Jalisco:
Importance of Jalisco Mexican Food
Jalisco, like the other states of the Mexican Republic, has its own ways of cooking food, and over time has formed gastronomy, both traditional and popular.
Popular gastronomy is different from traditional cuisine since the latter has been developed since pre-Hispanic times, continued during the three hundred years of the Viceroyalty, and continues to this day.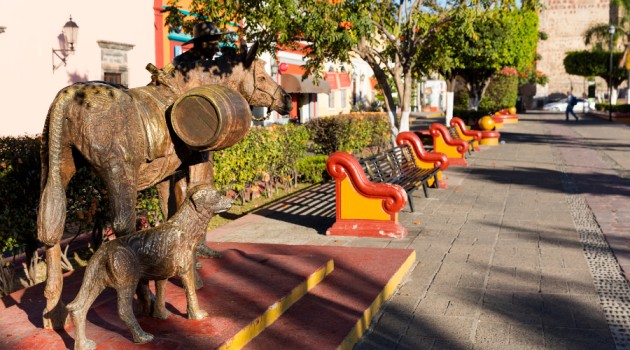 Therefore, Jalisco is a place where there is a lot of Colonial and pre-Hispanic tradition in every single piece of its gastronomy. Every time you hear Jalisco, it may come to your mind tequila. Nevertheless, all over Jalisco, there is taste, tradition, culture, and passion for the food of Mexico.
Saying this, we are going to share with you some of the most iconic dishes from Jalisco.
Birria
This delicious broth is one of the most popular dishes in Jalisco. It consists of meat submerged in abundant sauce, accompanied by typical side dishes of the state.
Check out our post: Traditional Food of Mexico Top 20 Dishes
It was specifically in the town of Cocula, where this dish was born; a result of the cultural exchange between the indigenous and Spanish civilizations in the 16th century.
Nowadays, people prepare birria with goat meat and in the same vein with lamb, pork, beef, and chicken. Certainly, birria is a synonym of Jalisco culture and Mexican gastronomy, that is to say, a must-try once in a lifetime.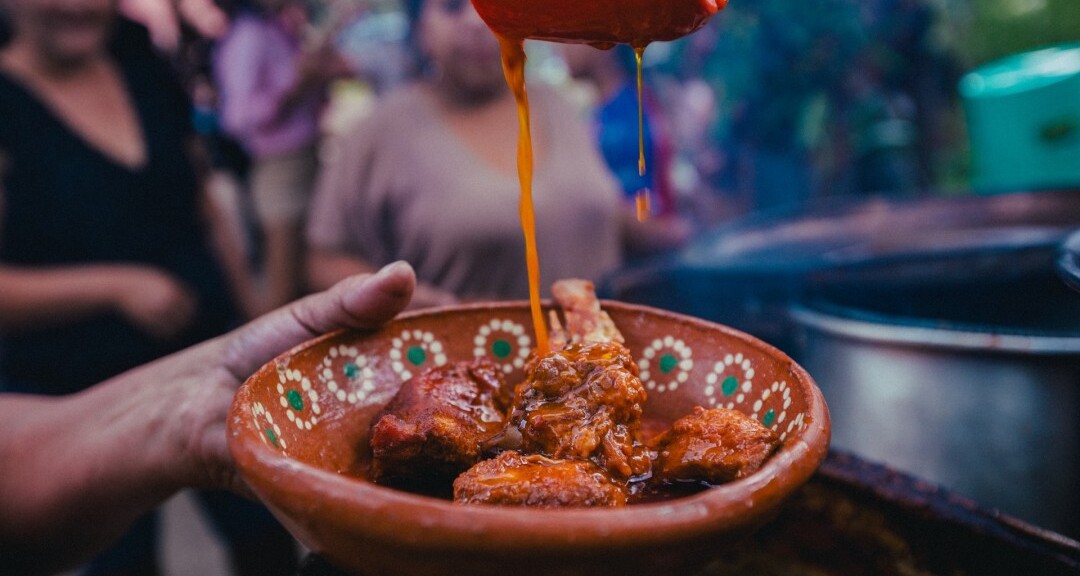 Tortas ahogadas
The 'drowned torta' consists of salty bread stuffed with carnitas, onion, beans, and lemon and bathed in the hottest chili. Many people agree that what makes this dish an authentic masterpiece is its mixed flavors.
Check out: Food Tours Mexico City
The origin of this dish dates from 1930. The original recipe involves pork carnitas, bathed in three chilies, and tomatoes.
If you want to feel part of this beautiful state, you have to try this delicacy. Want to taste it?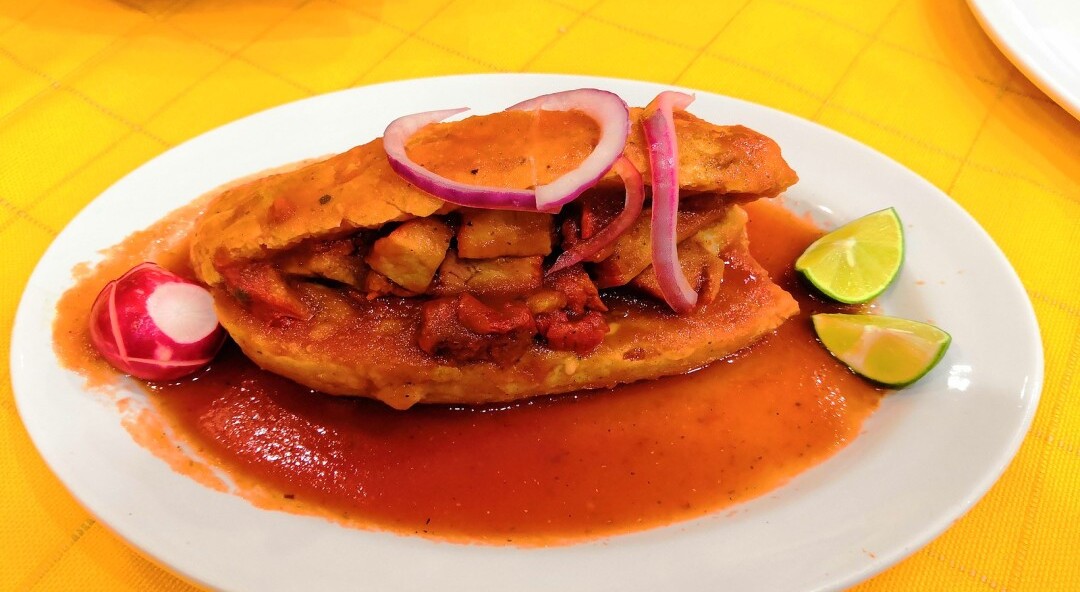 Meat in its juice (Carne en su jugo)
As you can see, Jalisco's gastronomy is proof that people there are meat lovers. This dish is a beef consommé served with beans, meat, and bacon, seasoned with chopped onion, cilantro, salt, and lemon juice.
This is a representative recipe of the gastronomy of Jalisco. For some years, its popularity has spread to other states, influencing the cuisine of places like Aguascalientes and Guanajuato.
Check out our tour: Colonial Tour (Around Mexico).
This dish is very recent since it dates only from the late '60s or early '70s. It has its origins in the San Juan de Dios market, in the Historic Center of Guadalajara.
Moreover, it is said that people began to come here because it was one of the few places that remained in late-night hours.
May interest you: Markets in Mexico Top 5
Jericalla
Yes, we know you were missing something sweet on this list, and well, good news, there is something sweet.
The story says that 'jericalla' comes from the name Jérica (a region of one of the nuns that made this dessert), which is a town in the province of Castellón (Spain).
In the 19th century, in the old San Juan de Dios neighborhood it was pretty common to see orphans from Cabañas Hospice eating a tiny little dish made of milk, eggs, vanilla, cinnamon, and sugar.
Nuns of that place used to make Jericalla for the children and once you taste it, for sure we can understand why they loved it.
Pregnant Shrimp
Jalisco's gastronomy enjoys great biodiversity due to its climate and the Pacific coastline. Puerto Vallarta has become a place where gastronomy is the cornerstone of tourism.
For example, "Pregnant shrimp" is a traditional food option, it is usually served as a snack and comes on a skewer. If you wonder why the "pregnant" name, well, thanks to a Mexican pun: you put a stick and grill the shrimp…well, one day you will get it.
The marinade is key: its preparation includes orange juice, pasilla chili (type of chili), and tomato. After marinating them, you can put them on the grill or charcoal; They are perfect to have a beer on a very hot day.
Pozole Jalisciense
Pozole is one of the most outstanding dishes in Mexican gastronomy. Perhaps, it's one of the most consumed in the country since ancient times. Around the Mexican Republic, there are several variations of this dish, and definitely, one of the most outstanding is the Jalisco style.
Something important to highlight about this dish is that in Mexico, it is usually consumed much more during the September season since it is much more assimilated with the national holidays, as it is one of the traditional Mexican recipes.
It is prepared with corn grain, pork meat, and in some versions, chicken or even cauliflower.
The last one is a great option for those who are not fond of eating animal protein.
Yes, in Mexico there are different options to eat something healthy and veggie. If the weather in your country is cloudy and cold, you will surely love this extremely tasty dish.
Tacos of Birria
Something that people can't resist is the authenticity of Mexican tacos. Something important about Jalisco is that it has a whole variety of Taquerias where you can eat tacos of birria, pastor, and fish.
In fact, in Jalisco, birria and barbacoa are very different from what is customary in Hidalgo and Mexico City. Therefore, some people say that birria and barbacoa are better in Jalisco. Why don't you try it and tell us in the comments? 🙊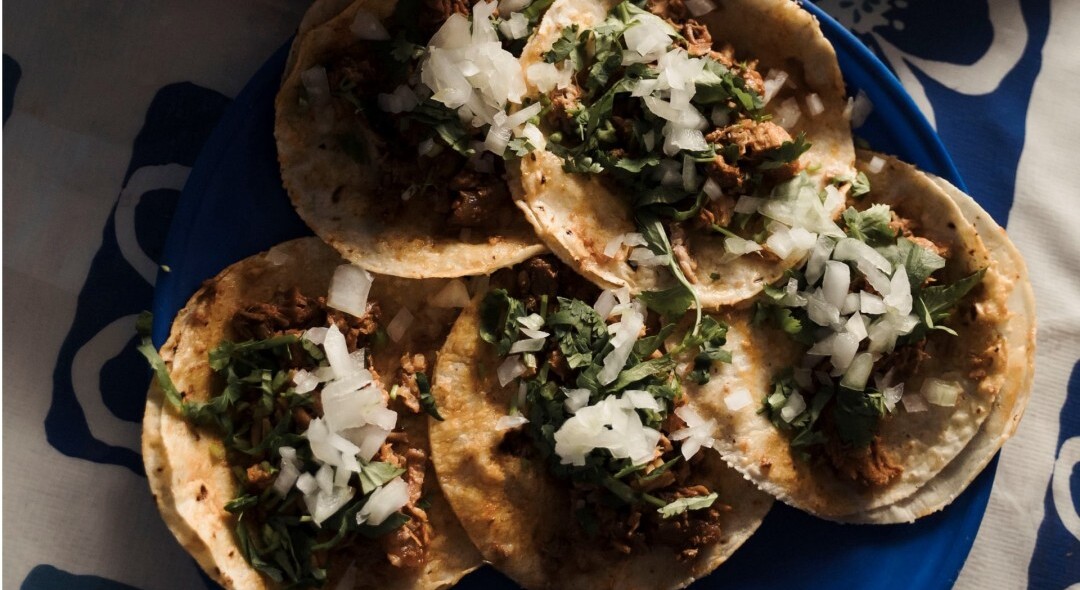 Cocadas
As its name says (coconut), this typical dessert is made with grated coconut, milk, cinnamon, and sugar.
The history of this dessert comes from the time of the Spanish civil war when there were not enough seeds to feed the soldiers, so coconut began to be eaten but in small pieces (grated).
The nuns of that time prepared this delicious dessert with a cinnamon mixture. Yummy!
They were made with egg yolk, which gave them their characteristic yellow color. There are also different varieties of cocadas: soft (unbaked), with a little bit of chocolate, fresh coconut, firm with ripe coconut, and those that are baked with an egg that has a more rustic texture.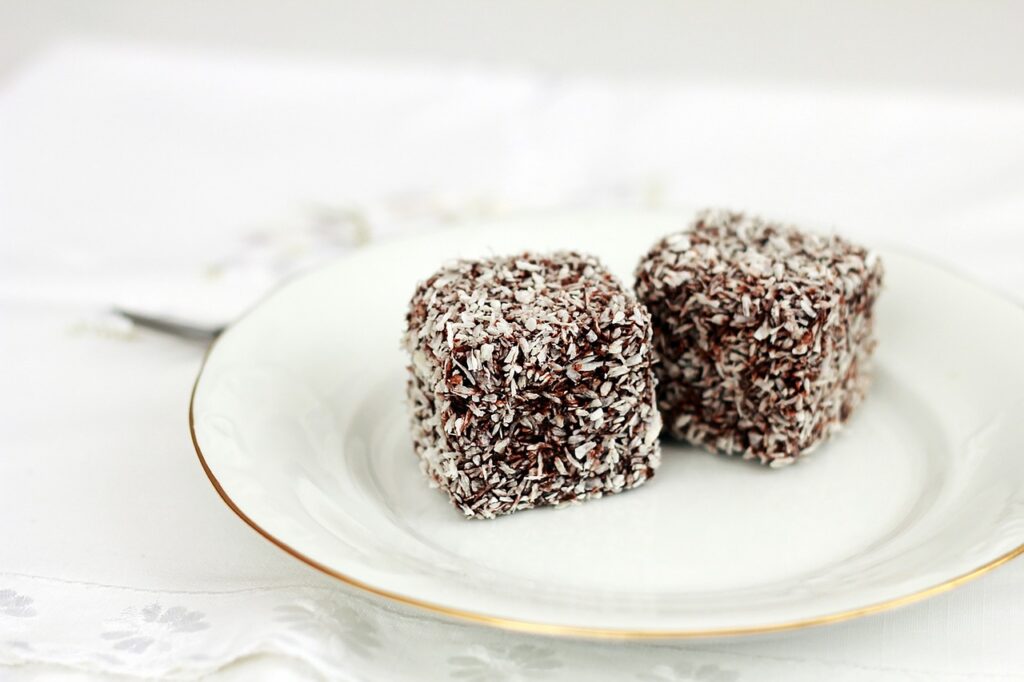 Borrego al pastor de Tapalpa (Tapalpa sheep)
In the magical town (Pueblo Magico in Spanish) of Tapalpa, there is the famous and delicious lamb al pastor. The history of this dish comes from the time of the Cristero War (civil war between the Mexican government and Catholic religious militias) in Mexico.
When the cristeros (soldiers that fought for the Catholic Church) were hiding from the persecutions of the army, this was a dish they used to eat in order to survive a long time without food and persecution.
When they took refuge in the mountains, sheep and wood were the main things they found for cooking and eating. Later, until 1950, this dish began to be popularized in all the restaurants of Jalisco, making this delicacy a jewel in the gastronomy of Jalisco.
Pachola
This dish is very popular in central Mexico, that is, Jalisco, Zacatecas, Guanajuato, and San Luis Potosi. Pacholas are a piece of steak made with different spices.
However, the original 'pacholas' are ground in a 'metate' (a type or variety of quern, a ground stone tool used for processing grain and seeds) along with seasonings, chilies, and bread, fried and shaped like an oval steak.
Each family in Jalisco has its own way of making this dish, as many times instead of adding chili for the children to eat, cinnamon is added. In the states mentioned above, the process varies. Even so, it is a dish that everyone loves and always enjoys as a family.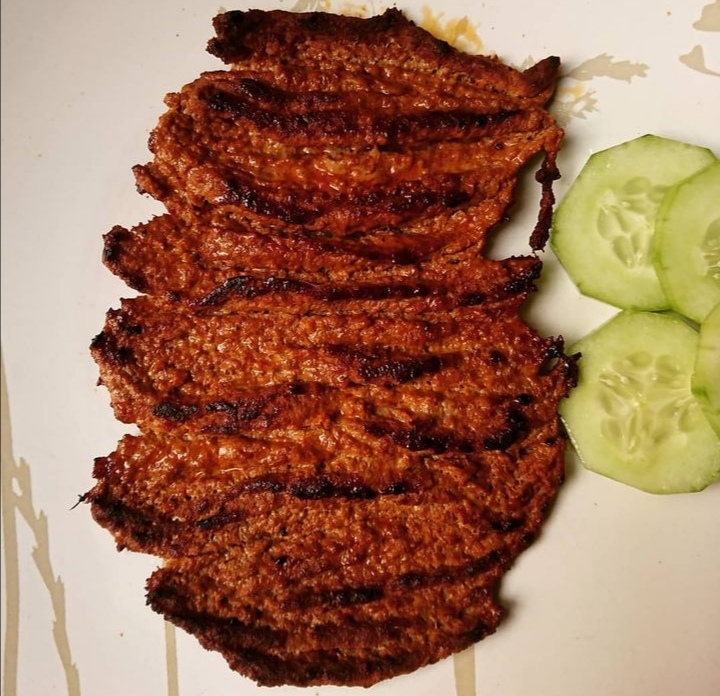 Menudo
Some historians affirm that this dish dates back to before the Spaniards arrived in Aztec lands. However, the legend in Jalisco, Michoacan, and Guanajuato is that it comes from a story that happened during the Viceroyalty.
A man of Spanish origin who sold meat did not sell meat to the Indigenous people, arguing that the meat was only for "white" people. Only the Indigenous bought 'legs' (patas in Spanish) and 'belly'.
Nevertheless, one day a servant indigenous went to the butcher to buy only belly and legs, and the butcher was impressed and asked him: what for?
The servant replied that it was to prepare 'menudo'. From then on, it became very popular among the inhabitants of the viceregal era.
The menudo is prepared with garlic, onion, chili, and avocado leaves.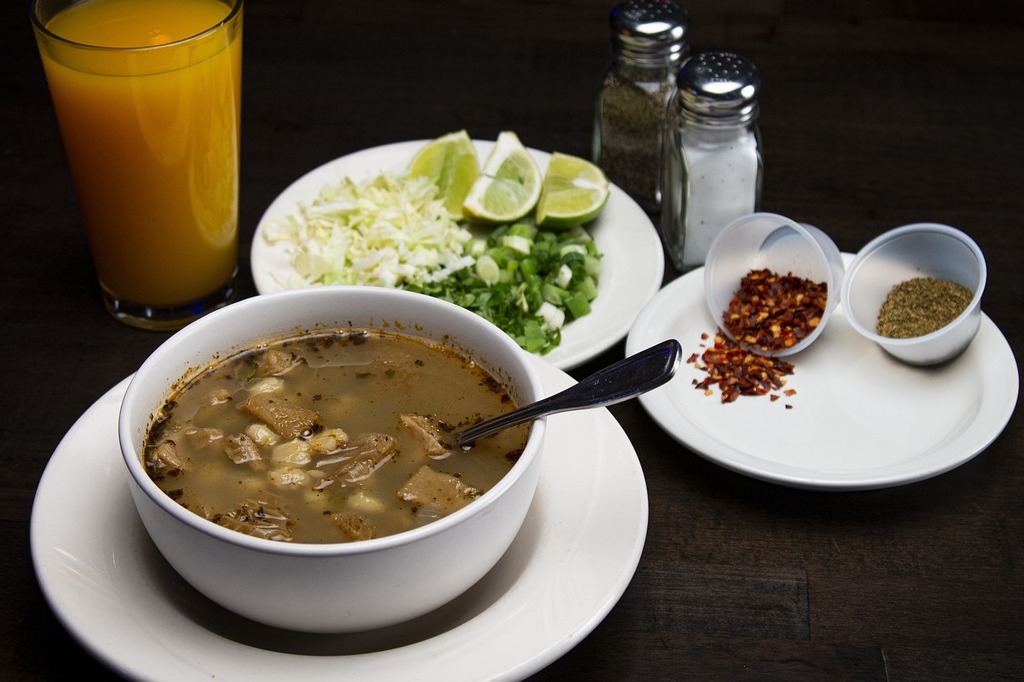 Honorific mentions: Tequila
An emblematic drink of the whole state and country, a Mexican symbol from Jalisco to the world. In 1942, Mr. Julio González had an idea and launched the first tequila with the name Tres Magueyes. Currently, the name of its creator is the now-famous "Don Julio Tequila".
Have you tasted it already? You should try some tequila in a 'cantarito' (a tequila-based highball, paloma-like cocktail, with more ingredients: orange juice, lemon juice, and lime juice). They are very popular in Jalisco!
A shot of tequila with fresh lemon is perfect to warm the chest and relieve flu symptoms. Anytime you travel to Jalisco and eat any of the dishes we showed you, don't forget to take a tequila shot. You will feel like you are living in Antonio Banderas and Salma Hayek's Desperado movie.
Check out our tour: Tequila Tour Guadalajara (Tequila and Distillery)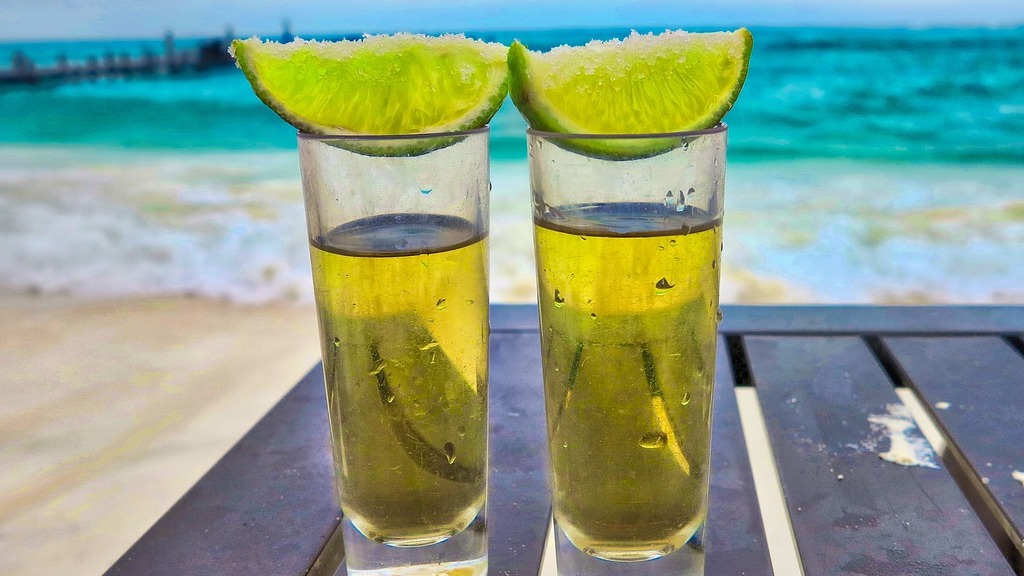 Tepache
Tepache is a drink made from corn, and its name comes from the Nahuatl word 'tepiatli' which means: a drink made with corn.
Currently, this drink is prepared by fermenting fruits, the most common is pineapple, and piloncillo (unrefined sugar especially when molded into cones or sticks) is added.
The alcohol level of tepache is very low since it only contains only 1%.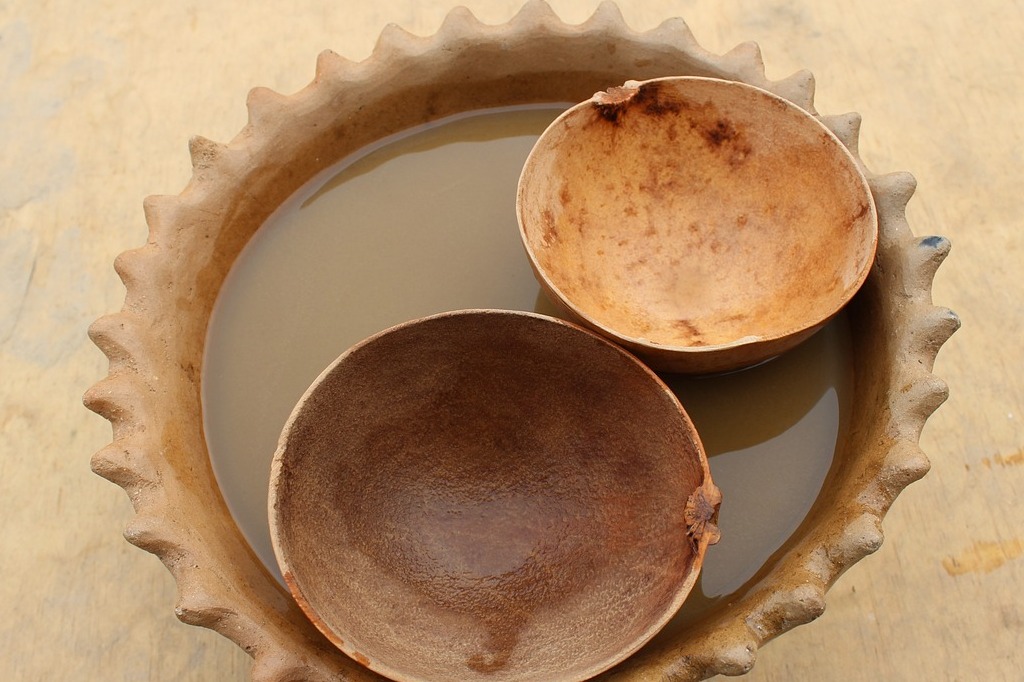 Conclusion
We know that the first words that come into your mind when you hear Jalisco are tequila and mariachis. But not anymore!
Jalisco is one of the most emblematic places in Mexico and it is one of the cornerstones of Mexican culture.
May interest you: The Mayan Food and the Ancient Secrets of its Gastronomy
Jalisco's gastronomy is one of the keys to really enjoying Mexico and appreciating the diversity of the country and the magic of its food.
You will never regret the experience of having a beer in your hand while you are watching the sunset.
For instance, you can imagine eating some pregnant shrimp after swimming all day. Finally, do you still think tequila is the only delicious thing you have to try in Jalisco?