Overview
The Cuernavaca Tour will take you to explore the area's rich history and natural beauty. You'll start in the capital, then venture to Lagunas de Zempoala National Park, known for its scenic lakes and pine forests. Next, discover Tepotztlán, a town that blends ancient traditions with modern life. Explore Xochicalco, a UNESCO World Heritage Site, and relax at Las Estacas Parque Natural, a stunning natural attraction. Your adventure wraps up in Tlayacapan, where you can unwind and explore the town's unique charms. This trip offers a blend of history, culture, and natural beauty in Mexico.
Highlights
Enjoy gorgeous views of the lakes and surrounding mountains in Lagunas de Zempoala National Park.
Feel Cuernavaca - "the city of eternal spring", flanked by imposing hills and festive atmosphere all year round.
Visit Xochicalco - the 4th most visited pre-hispanic site in Mexico declared a UNESCO World Heritage Site.
Swim in crystal-clear waters of Las Estacas Natural Park.
How is this tour different?
Read more
Itinerary
Day 1: Mexico City
Start the Cuernavaca tour in Mexico City, a large city in Latin America where ancient and modern coexist in harmony. Arrive at any time before meeting your group and Tour Leader at your accommodation at 2 pm. After a short welcome meeting, go for a walking in the historic center, followed by a guided visit to the National Anthropology Museum. In the evening, join an optional dinner and get-together in one of the local restaurants.
Accommodation

: conveniently located, locally-own hotel/B&B/guest house in Mexico City.

Activities

: Walking in Mexico City's Historic Center; guided visit to the National Anthropology Museum.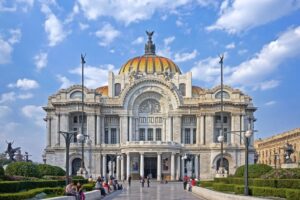 Day 2: Lagunas de Zempoala National Park – Tepotztlán – Cuernavaca
In the morning, after breakfast, head to Lagunas de Zempoala National Park – a hidden natural gem where you can hike around its seven lagoons surrounded by picturesque hills and pine forests.
After a picturesque hike around the lakes, free time, and optional lunch we'll leave to Tepotztlán. Located at the foot of Tepozteco Mountain, this "Magic Town" is the result of the combination of the unique ancient traditions and wisdom that enrich its many cultural expressions, such as esotericism, pre-Hispanic and vice-regal treasures, the counterculture, ecotourism or the simplicity of its everyday life.
Then, we'll have a walking around the historic center visiting the town's impressive Dominican church, the adjoining monastery, and the traditional market. In the late afternoon, we'll move to Cuernavaca.
Accommodation

: conveniently located, locally-own hotel/B&B/guest house in Cuernavaca.

Activities

: visit and hiking tour in Lagunas de Zempoala National Park; walk in Tepotztlán; visit San Antonio Waterfall; walking in Cuernavaca.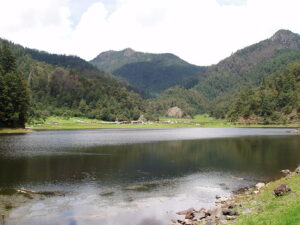 Day 3: Cuernavaca – Xochicalco – Las Estacas Parque Natural – Tlayacapan
In the morning, head to Xochicalco – a UNESCO World Heritage Site and the 4th most visited pre-hispanic site in Mexico. Afterward, we'll continue to Las Estacas Parque Natural, undoubtedly one of the most beautiful natural attractions in Morelos.
After spending the rest of the day in the park (snorkeling, exploring, swimming, etc.) we'll go to the "Magic Town" of Tlayacapan. Being there is like stopping time and enjoying a break in your life, while observing the majesty of perfectly carved murals in the Former Convent of San Juan Bautista, with walls that seem to form a celestial vault to guard the recently discovered mummies.
After an evening walking tour, opt to join a farewell dinner and get-together in one of the local restaurants/bars.
Accommodation

: conveniently located, locally-own hotel/B&B/guest house in Tlayacapan.

Activities

: guided visit to Xochicalco Archaeological Zone; visit to Las Estacas Parque Natural; walking in Tlayacapan.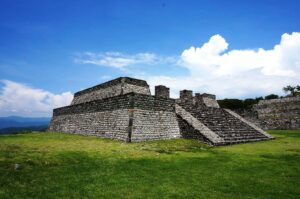 Day 4: Tlayacapan – Mexico City
Last day of the Cuernavaca tour, take breakfast, check out, and transfer to Mexico City arriving there around noon.  If you decide to extend your vacations, we can always book you extra nights, or even take you on our next adventure.
Transportation

: private vehicle.

Meals

: breakfast.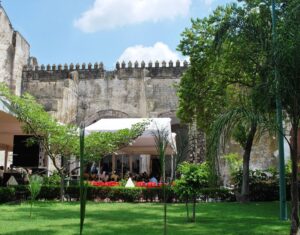 Prices
This tour is private: only your group will participate.
The price per person is variable and depends on the size of your group (please choose the number of participants in the booking calendar ➡️ to see the final price).
Inclusions
Included

✅
Local Expert Guides
English/Spanish Tour Leader service
Accommodation
3x nights in conveniently located hotels/B&Bs
Transportation
private vehicle
Activities
Walking tours: Mexico City, Cuernavaca, Tepoztlán, Tlayacapan.
Activities/guided visits: National Anthropology Museum (entrance & explanation); Xochicalco Archaeological Zone (entrance & explanation); Las Estacas Parque Natural (entrance); Lagunas de Zempoala National Park (entrance & hiking); San Antonio Waterfall
Excluded

❌
Personal expenses
Insurance
Travel insurance is not included: find insurance tailored for you.
Tips
Details
Minimum number of participants

Automatic confirmation (your departure is automatically confirmed and 100% guaranteed).

Meeting Point
Exact time and location to be specified in the trip notes that are sent 1-2 weeks before the tour.
Departure Time
6:00 PM
Languages
Suitability

Couples 🫶
Kid-friendly 👨‍👩‍👧‍👦
LGBT+ 🏳️‍🌈
Senior 👩‍🦳
Solo 🎒
Women Only 🧘‍♀️
Youth 🎉

What to take with you?

Comfortable clothes and shoes; swimming suit and slippers; a smaller backpack for daily tours; hat/cap, sunglasses and sunscreen; travel insurance, personal ID, some cash; good mood and curiosity.

Accesibility
🛑 Not wheelchair accessible.
Pets
🛑 Not permitted.
Things to know before booking

ARRIVAL AND DEPARTURE: This tour does not include airport pick and dropoff. The best way to arrive at our accommodation in Mexico City is by taxi/car-hauling services like Uber or public transport (more information on this topic will be sent with trip notes).
ACCOMMODATIONS: An exact list of accommodations is sent together with trip notes 2 weeks before the departure date. All accommodations are centrally located, tourist-class, locally-owned properties with private facilities in each room. We can arrange pre- and post-tour accommodations but not earlier than 2 weeks before the departure when we send you final trip notes.
ROOM TYPES:

Shared Twin Room: Single bed in a twin room shared with another co-traveler of the same gender. This option is specifically designed for solo travelers and applies just to group departures.
Double/Twin Room: Private room for 2 people. You can choose between 1 double bed or 2 single beds.
Triple Room: Private room for 3 people. It normally has 1 double bed for 2 people and 1 single bed for 1 person.
Quad Room: Private room for 4 people. It normally has 2 double beds for 2 people each.

If none of the room types above fits you, please contact us and we will send you a personalized quote.

TRANSPORT: The type of vehicle depends on the size of the group and may include car, 7-seater, minivan.
PHYSICAL CONDITION: This tour involves a decent amount of walking. Therefore, travelers should have moderate physical fitness condition.
ACTIVITIES: Participation in all activities is optional – just be sure to be in time for daily departures. Extra activities, if needed, can be booked by your Tour Leader for an extra fee.

GROUP VS. PRIVATE

: Our multi-day tours offer both group and private departures (see pricing at checkout). Group tour – take a scheduled trip with other travelers. Private tour – take a trip on your own, with friends or family. Private tours are customizable (you can depart any day and we can add additional stops and activities on your request) and thus may cost more than group tours.

VISA: All foreign visitors, regardless of their nationality, traveling to Mexico for tourism, business, or in transit to another destination, are exempt from presenting a Mexican visa as long as they have a valid visa issued by any of the following countries: Canada, Japan, the United States of America, the United Kingdom or any of the countries comprising the Schengen Area (more info).
Customization

?

The way how tour organizer can customize this tour for you
We can do the following customizations on your request (subject to availability and needs to be confirmed before the tour):
1. Adjust the starting time of the tour.
2. Adjust the time you spend at each destination of the tour.
3. Add extra places of your choice (e.g. attractions, restaurants, etc.) to the itinerary on a complimentary basis if those visits.
(1) fit the default duration of the tour, (2) don't involve a significant change of the route and extra fees (e.g. entrance tickets, tolls, parking, etc.).
Changes other than those will involve an extra fee and must be communicated to the tour organizer at least 72h before the tour (e.g. in the "Special Requirements" field during the booking or via email).
Cancellations
Most of our 1-day tours can be canceled up to 48 hours prior to the departure.
Please see our Cancellation Policy for more info.
Frequently Asked Questions:
| | |
| --- | --- |
| How to book? | To reserve the tour, please choose the date and complete the booking form. Once finished, you will receive a booking confirmation in your email. |
| How can I contact the tour organizer? | You can find the contact phone number and email of the tour organizer in the confirmation email. |
| What are the booking terms? | Except for the information on this page, you can see full terms & conditions from each tour organizer before completing your booking. |
| Liability | Unless expressly stated otherwise, the tour and activity providers ("Organizers") listed on vibeadventures.com are independent third parties and are not agents or affiliates of Vibe Adventures. Therefore, Vibe Adventures shall not be held liable for any injuries, sickness, accidents, delays, neglect, fraud, poor weather conditions, negative consequences, or expenses arising from or associated with the Organizers, their tours and activities, or those of their affiliates. If the tour does not include insurance, the travelers are responsible for obtaining travel insurance, as well as passports, appropriate visas, and necessary vaccinations. |
| Cancellations & Modifications | To cancel or modify your booking, please contact the Organizer directly using the email or phone number provided in the booking confirmation. Cancellations and modifications are subject to availability and the approval of the Organizer in accordance with their booking terms and conditions, which are made available to you during the booking process. |
If you have any other questions please contact us.