Museums Mexico City: Top 8 Museums & More (Updated-2023)
Are you looking for museums Mexico City where you can admire the city's art?
Good news! Mexico City has 136 museums where you can appreciate the before and after of the Mexican community.
Wars, revolutions, and dictatorships led to the awakening of great artists and the creation of beautiful museums.
Keep reading this article and get ready to learn, explore, take some awesome pictures for your Instagram, and marvel your eyes!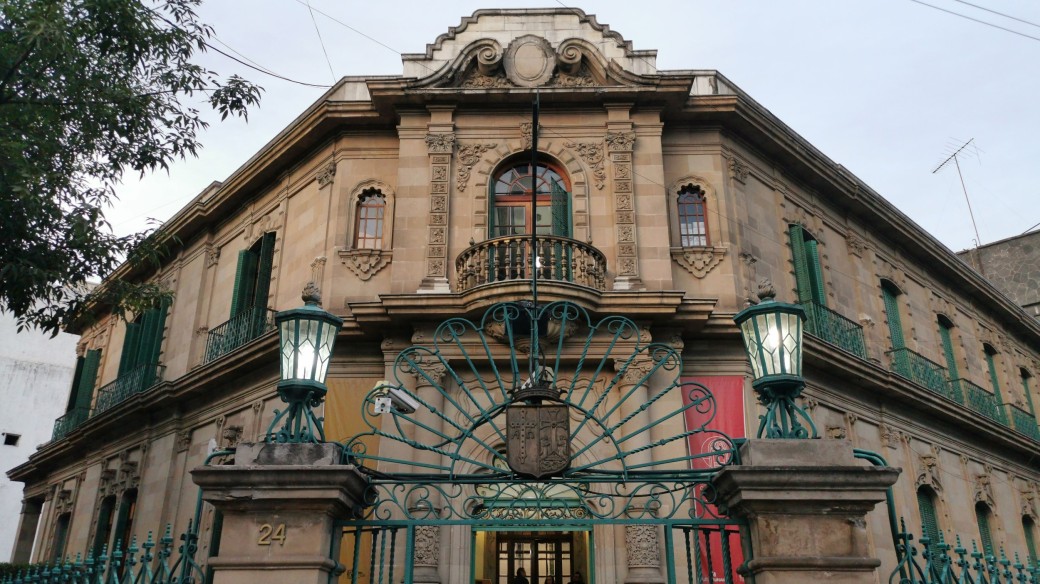 Today, we are going to show you the top 8 museums where you can see the very best of Mexico City art!
In fact:
Most of the adventurers that come to Mexico City, come due to the plenty of beautiful museums that are in this city. Check out this review of our Trustindex profile: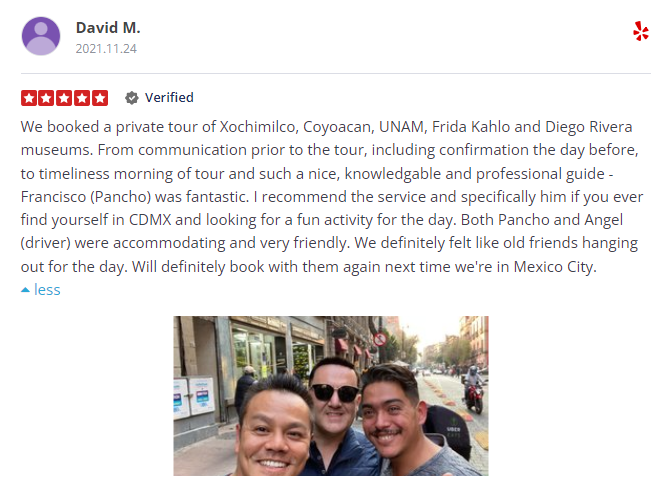 Without further ado, let us show you our updated list of the top 8 museums in Mexico City.
Click a section below to be taken right to one of the museums.
MUNAL National Museum of Art
There are many museums in Mexico City as it is a place full of history and culture. One of the most outstanding museums in Mexico City is this one.
By the way, we are only going to mention the museums in Mexico City, but actually, Mexico is one of the countries that has more than 1,500 museums in Latin America all over the world!
Let's continue…
This museum opened its doors in 1982 but the building dates from around 1900. The building of this museum suffered deterioration until the end of the last century.
Therefore the MUNAL project repaired the installations as well as paintings, sculptures, and designs. During the process, they used the latest technology for the preservation of artistic works.
There are different paintings from different eras…
For instance, there are paintings from novohispanic, neoclassical, and realism art and beautiful sculptures.
Definitely, this museum is pretty as a picture. Also, it shows how Museums in Mexico City are one of the best ways to get to know the enormous interest in sculpture and painting that this country has.
See some gallery pictures on the Oficial website of the MUNAL
National Museum of Anthropology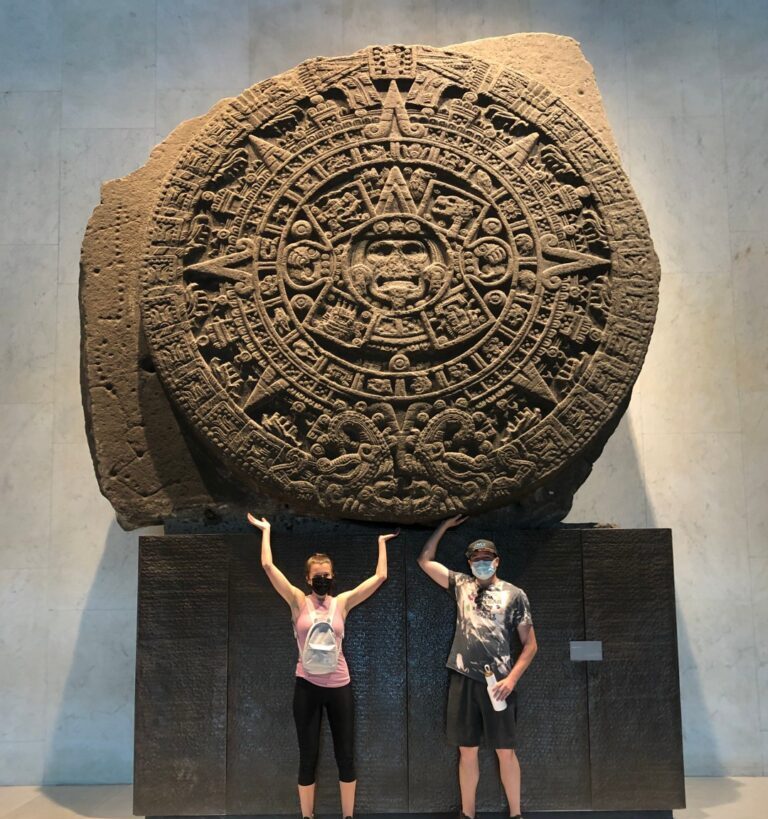 This was the 1st Mexican museum and it is located in Chapultepec. The museum displays in many halls the fine legacy of pre-Colombian civilizations.
For instance, the museum exhibits relics of Teotihuacan, Central Highlands, Gulf Coast, North, and West. Toltec, Maya, and Mexica cultures are also relevant to this section.
The collection consists of more than five million ethnological pieces and accommodates more than seven million archaeological pieces.
For example,
some of the attractive relics are the Stone of the Sun, giant stone heads of the Olmec civilization, and beautiful masks of the old civilizations.
In addition, every season there are special exhibitions about the particularities of representative pieces. One of the highlights is a gallery of rituals and ancient beliefs concerning death. These facts were very popular in Mesoamerica times.
You can see how the art of Mexico City is in every corner of its monuments and buildings. And indeed, the Museum of Anthropology is not far behind.
Check out our Tula Tour (Teotihuacan & Anthropology Museum / Private / 10h)
The architecture of this museum had to move away from the European standard of large galleries and corridors that ended up overwhelming the viewer.
Instead, architect Pedro Ramirez Vazquez decided to design the museum in such a way that it would be perceived as a rhythmic experience.
In fact,
the museum is shaped like an antique necklace. Where the basins of the necklace are the rooms of this place. Something like poetry in motion.
Almost all visitors highlight the architectural value that the museum represents and how its design exalts in its volumetry the historical heritage that great civilizations such as the Mayan or Aztecs left in Mexico.
Visit it with us in Mexico City: Mexico Museums (Chapultepec & Anthropology / Private or Small Group/ 6h)
Museum of Memory and Tolerance
One of the museums in Mexico City that is really different from the average is the Museum of Memory and Tolerance.
In fact, this museum has the main purpose of commemorating the massacres and genocides our ancestors lived.
The museum focuses on the Holocaust in Europe and other, lesser-known genocides committed in Latin America. Certainly, this Mexican museum reminds our events are never again repeated.
Additionally, many sections are dedicated to Holocaust, the Armenian Genocide, and similar events in Cambodia and Guatemala.
Do you still think that museums in Mexico City are not that impressive? This is only the begging!
Chapultepec Castle
One of the most important Mexican museums is located in the Chapultepec Castle, whose construction began in 1785.
To clarify, it was a period of the Viceroyalty edge when the King had a representative in each conquered country. At that time the Spanish Crown ordered to suspend the works and the City Council of Mexico City acquired it in 1806.
Consequently, it became public property. President Porfirio Diaz decorated the building with arts of the age to exhibit it to his foreign friends.
Check out our tour Private Tour Mexico City (Chapultepec Castle & Zocalo / 9h)
Firstly 12 permanent exhibition halls feature successively the history of Mexico. Since the Spain Crown fought against the great empire of Tenochtitlan until the Mexican Revolution.
The History section has 5 rooms,
divided into Franciscans, Viceroys, Spanish Conquers, Conquest, and Independence periods.
In addition, 22 rooms hold the Alcazar area which shows the rooms that Maximiliano and Porfirio Diaz remodeled with comfort.
If you want to truly enjoy museums in Mexico City like a king or queen, this unique castle in all of Latin America is a great option!
Frida Kahlo Museum
Of course, this museum could not be missed. A must-visit for admiring museums in Mexico City. La Casa Azul is one of the five museums dedicated to Frida Kahlo and her husband Diego Rivera that exist in Mexico City.
These are the Museo Anahuacalli, the Museo Casa Estudio Diego Rivera y Frida Kahlo, the Museo Dolores Olmedo, and the Museo Mural Diego Rivera.
Check out our tour: Coyoacan Museums (Frida Kahlo, Trotsky, Folk Culture / Private / 6h)
From the moment you are outside the blue house, you can appreciate the colorful aesthetics of the building.
It is a house that contains the most intimate part of Frida and some of her most popular works:
Retrato de mi padre (My Father's Portrait)
Naturaleza Muerta: Viva la Vida (Still Life: Viva la Vida)
Frida y la cesárea (Frida and the Cesarean Section)
Retrato de la Familia de Frida (Portrait of Frida's Family).
In 1958, four years after Frida's death, Rivera donated the home and everything inside it, turning it into the Museo Frida Kahlo we see today.
Check out our tour: Xochimilco Boat Ride (& Teotihuacan, Frida Kahlo, UNAM / Private / 12h)
Universum Museum of Sciences
Museums in Mexico City also involve a lot of science and knowledge. Because everything related to math and science can become more fun when we involve dynamic games and unique sensory experiences in the world.
Shout out to the Papalote Museo del niño (Papalote Children's Museum in English).
Known as one of the most endearing cultural venues for the Mexican population, this museum was inaugurated in 1992 and belongs to the National Autonomous University of Mexico (Spanish initials: UNAM). It holds 13 different sections, each one with a different topic.
In this museum,
you will find entertaining temporary exhibitions of all branches of science, where people, especially children, tend to be fascinated and have the most fun while they are learning.
There is also a small planetarium, with very enjoyable features that will arouse your curiosity and bring out the child in you to play.
Universum also hosts student seminars, film presentations, and conferences, all related to science and technology while involving the arts.
Templo Mayor Archaeological Site and Museum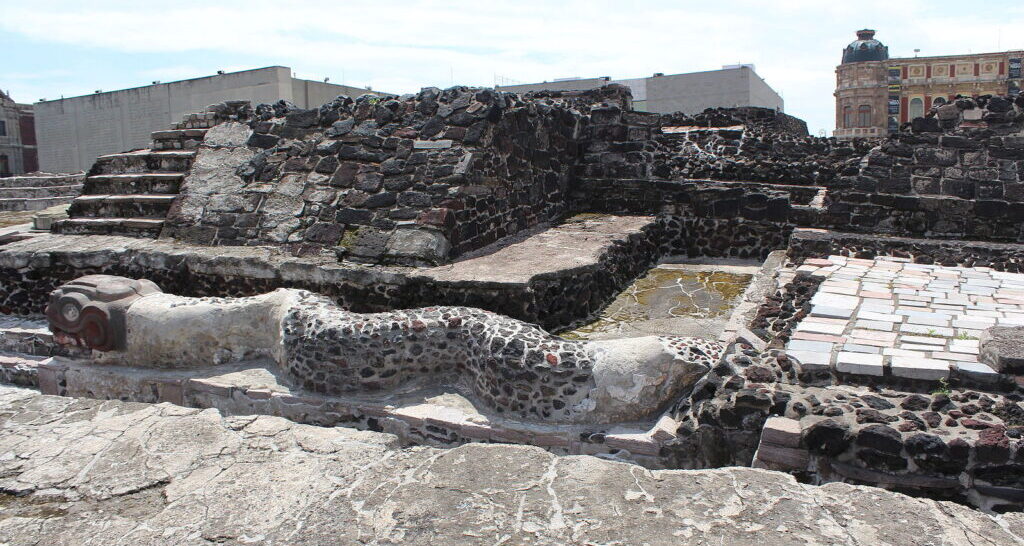 If you want to travel back in time and feel the museums in Mexico City art-vibes but with a warrior mood, this museum is a must-visit for you!
Templo Mayor was the most important sacred site in Mexico – Tenochtitlan and it is currently an archaeological zone in the center of Mexico City.
After the Spanish colonization,
it was destroyed and built over. And it wasn't until 1978, that the temple dedicated to the Aztec gods, was found underneath some buildings in the historical center of Mexico City. Until this day, it serves as a really popular attraction and archeological site.
Check out our post: A Quick Guide to Mexican Aztec Pyramids' History
The museum was created to exhibit the 7000+ objects found during the archaeological excavations carried out between 1978 and 1982.
Its building was designed and constructed by the architect Pedro Ramirez Vazquez and it is located on the same site as the Templo Mayor, the most important ceremonial center for the Mexica people.
Check out our tour Virtual Tour of the Historic Center in Mexico City
Geology Museum
The Geology Museum holds all kinds of fossils in profiling, glass, and wood cabinets: stalactites, precious stones, minerals, meteorites, and different skeletons of ancient animals.
It is a "Mineralogical heaven" and its located in one of the most traditional neighborhoods in the north of Mexico City, Santa Maria La Ribera.
The building's construction was carried out from 1901 to 1906 in a Renaissance style, designed by the architect Carlos Herrera Lopez.
In the architectural work, a quarry brought from the "Los Remedios" park in the state of Mexico was involved, and in the impressive façade, there are various decorative elements based on figures with paleontological, botanical, and zoological themes. Definitely a must for science and earth lovers.
Bonus Museum: Soumaya Museum
The Soumaya Museum is in the luxury Mexican neighborhood, Polanco.
It was inaugurated on March 29, 2011, by former President Felipe Calderon Hinojosa, with the attendance of Colombian writer Gabriel Garcia Marquez and many other personalities.
It was designed by Mexican architect Fernando Romero, with the advice of Ove Arup and Frank Gehry (the Casassa Building at Loyola Law School in Los Angeles, and Maggie's Centres in both Scotland and Hong Kong). The work cost approximately 47 million euros.
The style of the building…
has been compared to the Selfridges Building in Birmingham, and to that of the Guggenheim Museum Bilbao.
In this museum, you can see different exhibitions ranging from the sacred art of the seventeenth century to contemporary art.
Some famous works you can find here are some sculptures by Renoir and paintings by French impressionists Renoir, Monet, and Degas among other gems.
Check out or tour: Virtual Tour of Polanco in Mexico City
Bonus: Street Art in Mexico City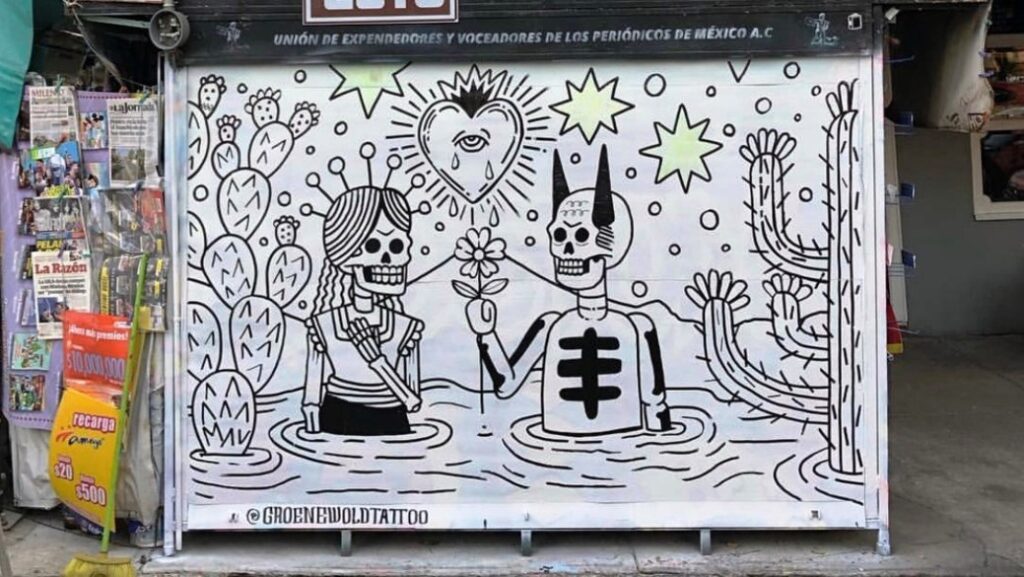 Mexico City is a vibrant and enchanting hub of creativity, and its street art scene is a testament to the city's artistic spirit.
In neighborhoods like Roma and Condesa, the fusion of eclectic charm and bohemian energy creates the perfect canvas for Mexico City art to come alive.
As you can see, museums in Mexico City are not only inside a beautiful building!
The streets of La Roma have captivating murals, vibrant graffiti, and captivating artworks.
You are going to feel immediately…
the transformation of the area into an open-air gallery. In addition, there are also underground and secret places where you can witness amazing paintings by anonymous Mexican artists!
Check out our Art Virtual Tour: Inside a Market in Mexico City
You can discover the collective behind the documentation of local street art and their efforts to highlight the talented creators behind these expressive pieces.
In fact, if you want to admire these works of art from the comfort of your home, you can be on a virtual tour with us.
Join a live experience and virtually wander through the scenic streets with us, immersing yourself in the modern Mexico City art scene.
Check out our Virtual Street Art Tour in Mexico City
Conclusion and Honorific Mentions
Oscar Wilde once said "Life imitates art", and we are sure that Mexico City is a masterpiece in terms of culture, art, and tradition. Such as the biggest works of art that are all around the world.
Indeed, when we think of the word museums and art, European countries such as France, Italy, Spain, and Germany come to mind. But Mexico City is definitely an excellent choice for all lovers of fine arts.
The art in Mexico City is worth exploring in its architecture (buildings, cathedrals, shopping malls), museums, paintings, and even gastronomy!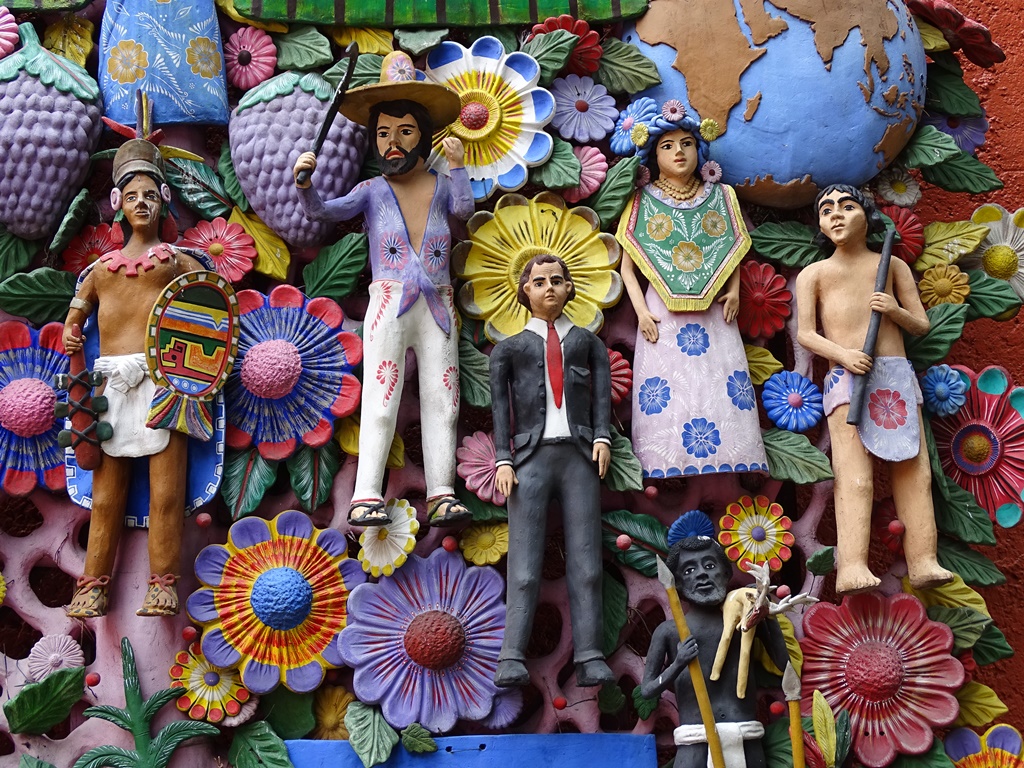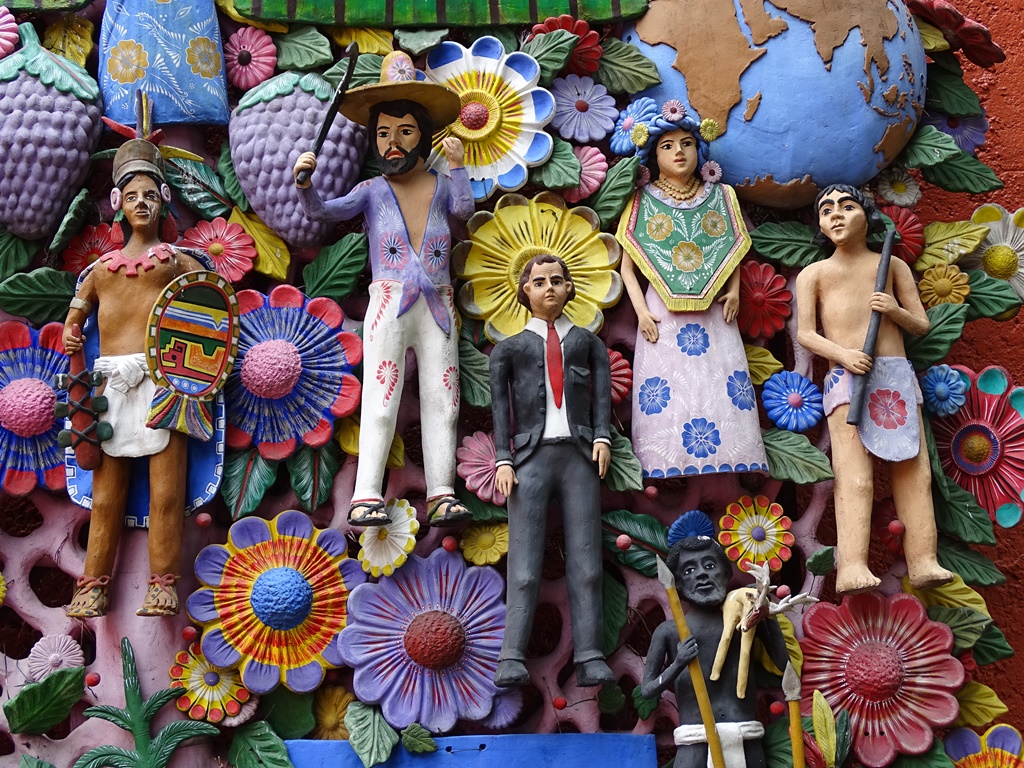 From cinemas like the Cineteca Nacional (National Cinematheque) to museums, interactive spaces, and parks, among others, Mexico City art will never cease to amaze you.
Definitely, there are much more options to acknowledge, as this city's cultural offer is huge.
Mexico City is one of the cities with the largest museum list (over 150) from Art Museums to Anthropology, Geology, Science, and Technology museums, but these past will surely not disappoint.
Finally, let us mention and share with you an honorific mention to the following museums:
Chocolate Museum
Ripley's Museum
Franz Mayer Museum
Kaluz Museum
Basilica de Guadalupe Museum 🌟 (Guadalupe Shrine Museum)
Natural History Museum (Museo de Historia Natural in Spanish)
The Professed: Temple of San Felipe Neri
---
Wow, thanks for getting here. It is clear that you are a lover of art and culture. Congratulations!
This was just a little bit of what art means in Mexico City and the country in general.
Actually, we do not count temporary exhibitions, more interactive museums such as MUFO, art galleries, free music concerts, book fairs, and much more…
---
Tell us which museum in Mexico City you have already visited. Which one was missing from this list? Tell us in the comment section below!
What are you waiting for to have a joyful experience with us?!
Check out the section Mexico City Tours