Tolantongo Mexico: The Ultimate Destination for Nature Lovers
Looking for the ultimate destination to immerse yourself in nature's beauty? Look no further than Tolantongo, Mexico!
This Mexican gem is a must-visit for all nature lovers. Breathtaking landscapes, mountains, rivers, hot springs, waterfalls, hiking, camping, zip-lining, and delicious local food await. If you're looking for an unforgettable experience, Tolantongo is the destination for you.
Keep reading our complete and updated guide of this destination, pack your bags, and get ready to be captivated by the natural beauty of this Mexican paradise!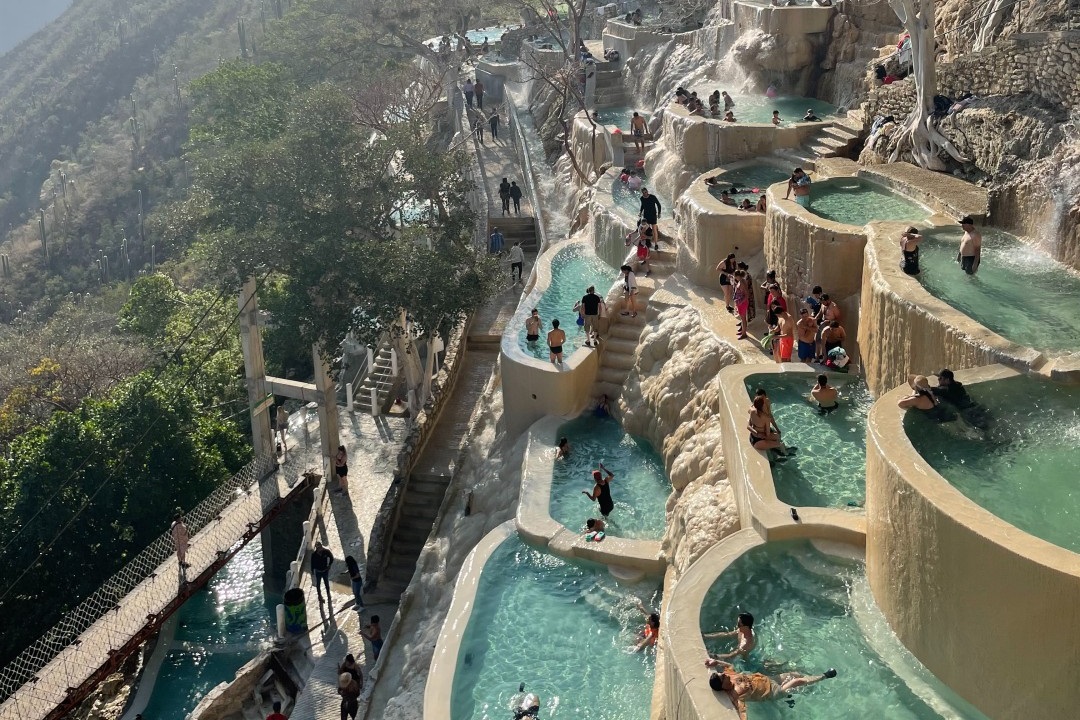 The Hot Springs of Tolantongo
The state of Hidalgo has a lot to offer to satisfy the tastes of its visitors – beautiful "Magical Towns", rich mining history, diverse culinary traditions, and, of course, its incredible natural landscapes. One such landscape is Grutas Tolantongo – a canyon and set of natural caves, 3.5 hours away from Mexico City.
The state of Hidalgo is very famous in Mexico for having spas with unique thermal waters. Before, this place was a completely secret Eden, but since 1975, a famous magazine called these caves Tolantongo instead of Tonaltongo (this was its official name). After this, the name Tolantongo remained forever.
To say that Tonaltongo means "place where you feel the warmth" is incorrect because Tonaltongo appears as the element "Tonal" in the original word. In the Nahuatl language, the word Tonal is used to refer to the Sun God and not to heat.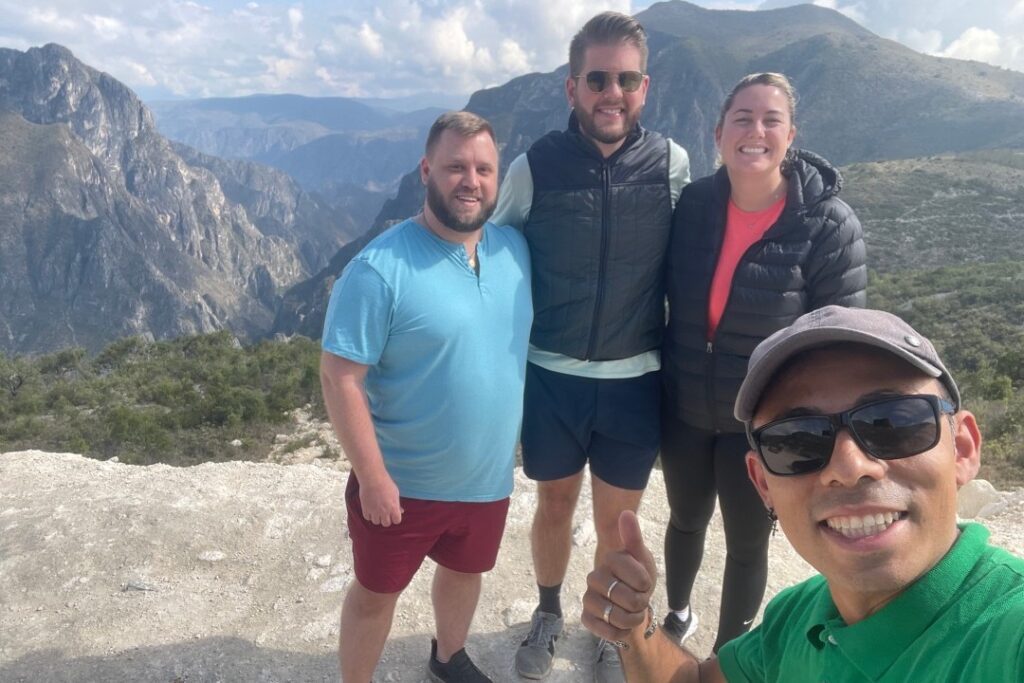 It is formed by the main grotto where waterfalls and springs with volcanically heated water drop and a smaller tunnel of approximately 15 meters, both located in the wall of the same-named canyon.
Exiting the main grotto,
thermal waters create a river. On its banks, visitors can find camping sites, swimming pools, restaurants, hotels, grocery stores, and the largest zip line in Hidalgo, about 2 km long.
Many people, even Mexicans, are surprised that Tolantongo is already at a high level of tourism like Cancun, Acapulco, Los Cabos, San Miguel de Allende, etc.
Millions of tourists come to Mexico for its enchanting beaches and towns full of color and tradition. In this case, Tolantongo is one of the places that offer a spiritual connection with Mother Nature that goes beyond all charm. You can feel enormous harmony and peace the moment you observe the famous little pools and their surroundings.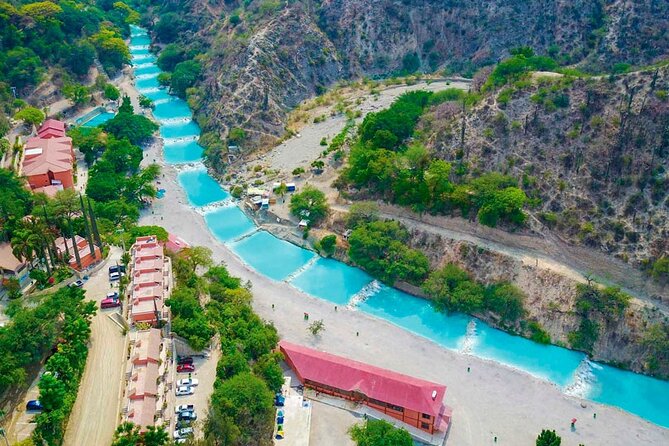 To emphasize,
it is to be in a place away from all the disturbances of the city. It offers a spectacular view, very Instagrammable from any angle. Many world travelers have stated that here is like looking at paradise and the landscapes of Santorini itself, in Greece.
Indeed, this place has a lot of spots for taking lovely pictures. For example, there is a suspension bridge where you can appreciate the sunrise or sunset. And why not, also you can be there stargazing as if it was a living dream.
It is such a magical place…
that you will want time to stop. Also, you are going to wish your eyes to be photographic cameras to be able to have forever the incredible postcards that this place offers you.
It is always a pleasure to receive people in this place. Therefore, people that live there also emphasize being respectful of nature. Please, do not throw the trash into the river or to any part, if we want to keep enjoying these incredible places, we should take care of them. Let's be grateful to Earth for the marvelous things that it offers to all of us!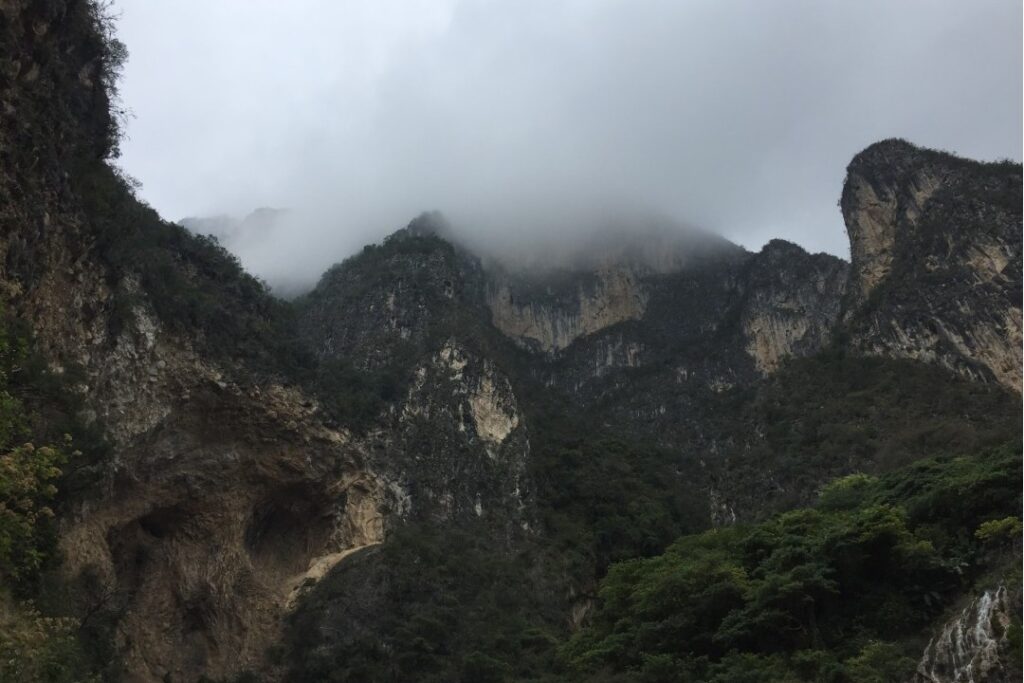 Where is Tolantongo?
Tolantongo, Mexico is a beautiful destination in the heart of the Hidalgo Mountains. Located about 200 kilometers north of Mexico City, this natural wonderland boasts crystal-clear rivers, lush vegetation, and towering cliffs that offer stunning panoramic views.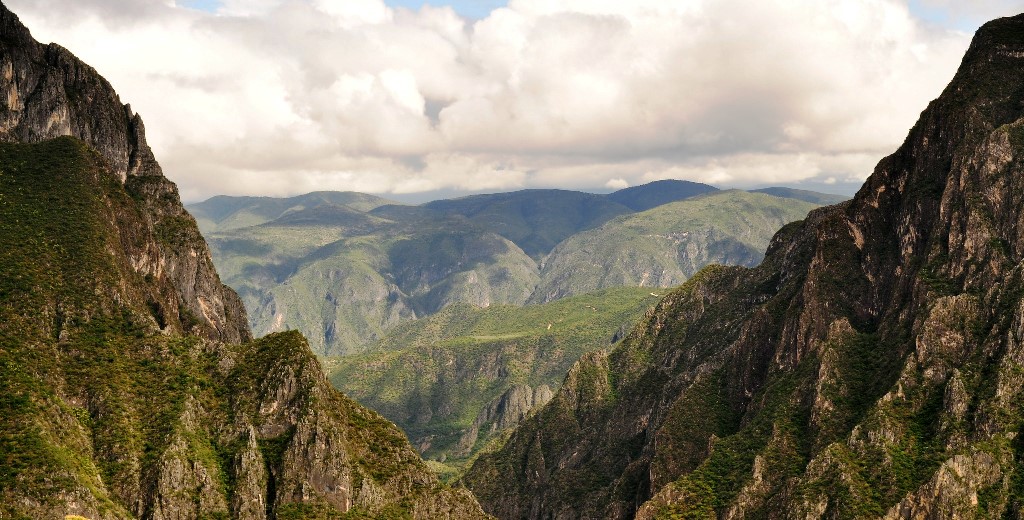 How Far is Tolantongo from Mexico City?
Approximately, from Mexico City to Tolantongo are 3 h 43 min. Depending on the route the driver wishes to take. You can only enter by car, motorcycle or bus. In fact, there are no airports around, so you should look after your way of transportation.
It is a relatively long trip. However, it is worth the wait and patience. From the moment you see the wonders that this place offers, you will not regret anything.
As you arrive, you can appreciate the mountains and the entire landscape. Definitively, the best artist in the world is nature, and this place is a great example of it.
Do not worry about anything, we are happy to take you to this wonderful destination. Check out our Tolantongo Tours!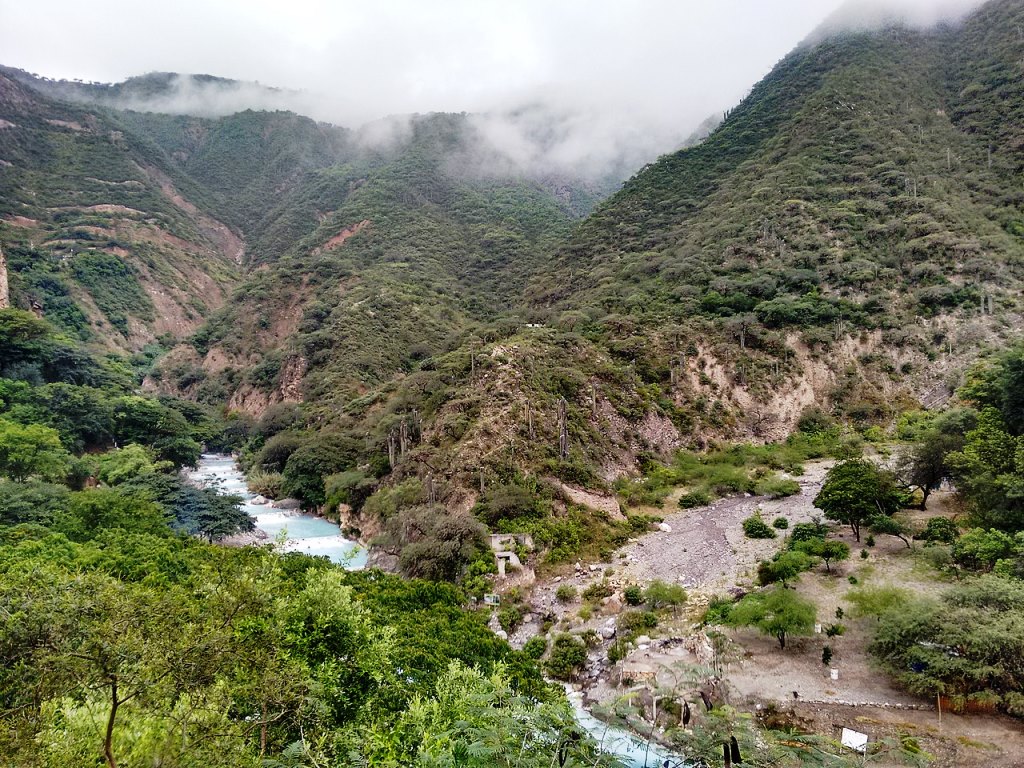 Ticket Price and Lodging
Tolantongo Entrance Price: $180 pesos ($10 USD).
Parking Ticket: $30 pesos ($1.72 USD).
Camp: for camping, you will have to pay at the ticket office the daily tickets for the days of stay in the park, with that you can have a camping space and also visit all the natural attractions (Grotto, Tunnel, River, etc.), in addition to the use of dressing rooms and showers in all areas.
The entrance ticket: it gives you access to all the attractions (Grotto, Tunnel, River, Pools, Thermal Pools, Hiking) and to certain services (Doctors, Bathrooms and Showers in all areas day and night, 24 hrs. security, etc).
Tolantongo Lodging in Paradise Hotel (Hotel Paraiso): from $900 pesos ($51 USD) to $2800 pesos ($160 USD).
What to do in Tolantongo? Top 5
As you can see, there are different activities that you should try with your friends, your family, or even alone in this magical paradise.
This place is a must-visit destination due to the variety of things that you can enjoy. Maybe you are a water person and want to go to the waterfalls or swim in the river. Or maybe, you are an extreme adventurer and want to try the zip line and enter the mysterious and mystical grottos.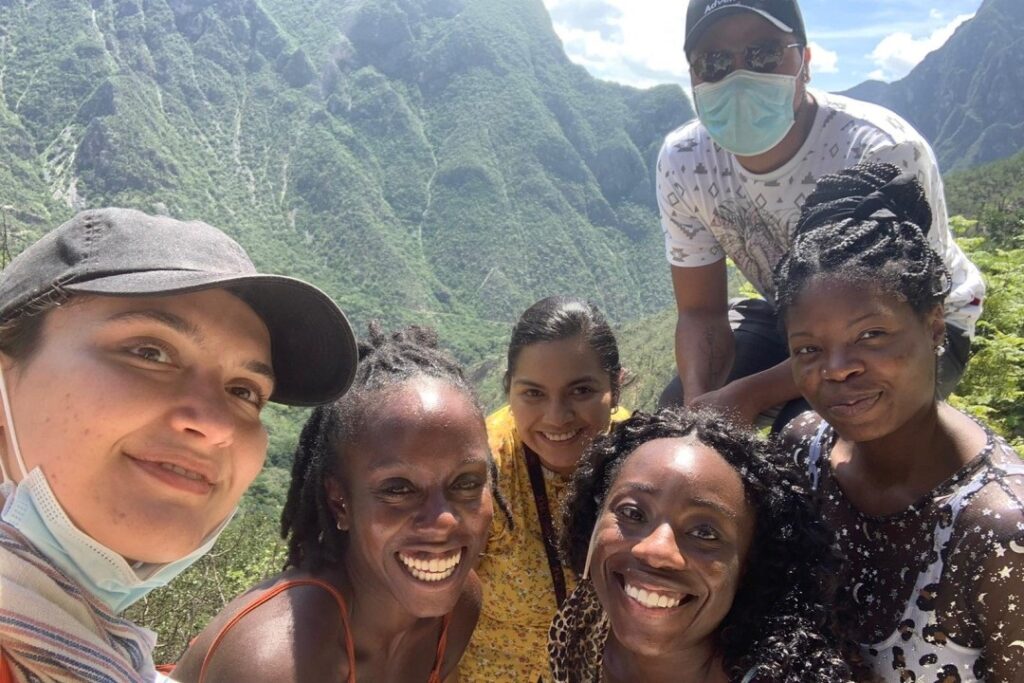 Also, if you are looking for peace and relaxation with nature, you can simply enjoy the little pools or have a back-massage directly from the waterfalls in the beautiful caves. Let us show you more!
1. Relax in the thermal pools 💧
There are 40 pools built into the walls of an astonishing canyon; its natural setting is worth admiring and you will not be able to resist its beauty.
The uniqueness of these pools is in their mineralized turquoise water that comes from thermal springs and has an ideal temperature to relax which ranges between 35° and 39° C.
The views of Tolantongo are impressive but the peacefulness of this place is its best part. Waterfall-type springs will relax you in the pools, while the views of the canyon will leave you speechless.
2. Whip down the zip lines 🤠
For adventurers that love the extreme, jumping off a zip line is always an adrenaline-pumping experience. Once you go up and feel vertigo and air on your face, you will see the landscape around you and realize that it is totally worth it.
Fly through the air at full speed and enjoy the natural beauty of the mountains. In this natural gem of Hidalgo, you can make up to four launches and whip 1,890 meters!
3. Admire the waterfalls 💦
To delight your eyes, visit the impressive waterfalls of La Gruta. The fall of the water will relax your ears offering a beautiful background to contemplate and experience Tolantongo in its full beauty.
Tolantongo is characterized by its many water spots. Some of them are lagoons, others are wells, rivers, or streams. But it also has several waterfalls that you can not miss. Some of them are cold water and others hot water.
The Cola de Caballo (Ponytail) Waterfall is located in the La Gloria complex. It is very visited due to its impressive height of 150 meters. Its fall, just like a ponytail, begins compact but then expands in the shape of a trapeze. It is surrounded by vegetation, natural rocks, and tempered water. On cold days, it gives off fumes. It is quite a natural spectacle.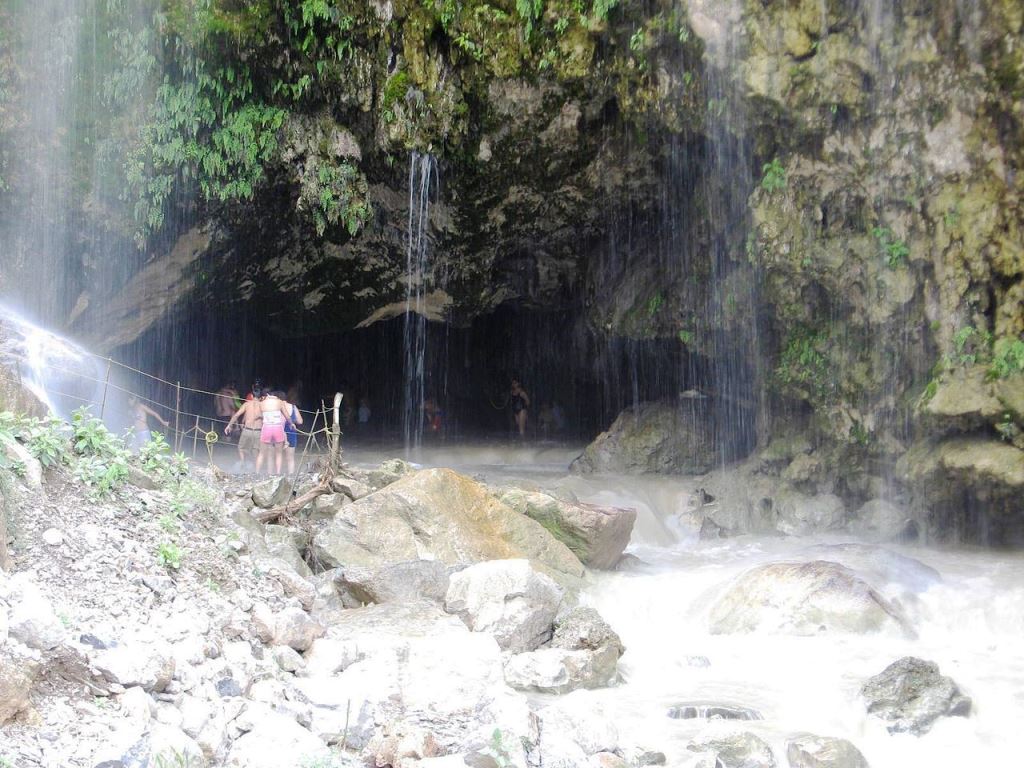 The waterfall over the caves is one of the most visible attractions. It is located at its end, near the source of the river. To get to it, you can get there directly by a path that leaves from the Hotel La Gruta. You can also access the stairs at the end of the camping area.
You will also be able to see lush vegetation, rock formations, and warm waters falling towards the canyon; choose the place you like the most and take your new best profile picture.
Check out our tour: Tolantongo tour (Exclusive Guide & Driver / Private or Small-Group / 14h)
4. Take a natural steam bath 🛁
The grottos are a great attraction since the currents that come out of them feed the pools and the Tolantongo River.
Taking a thermal bath in its 38° C water means relaxing your body to the maximum. This experience feels even better in the secluded environment of the cave whose entrance is hidden from the outside by thermal waters falling from the ceiling.
The first vault where you can swim and relax has a height of up to 40 meters. Its ceiling is beautifully decorated with stalagmites and stalactites made up of minerals that are in the same water.
The temperature of the water allows you to spend hours inside it and contemplate the beauty of the landscape that you have in front.
5. Enjoy local food 🌮
Barbacoa: this exquisite dish is unmissable in Grutas de Tolantongo or in any other nearby town, you won't find this flavor anywhere. Hidalgo is the paradise of barbacoa, pulque, and waterfalls.
Check out our post about the Traditional Food of Mexico (Top 20 Dishes)
There are many eating options, and each hotel has its own restaurant, in addition to that, there are inexpensive kitchens close to the areas of interest. There are also grocery stores that sell fast food.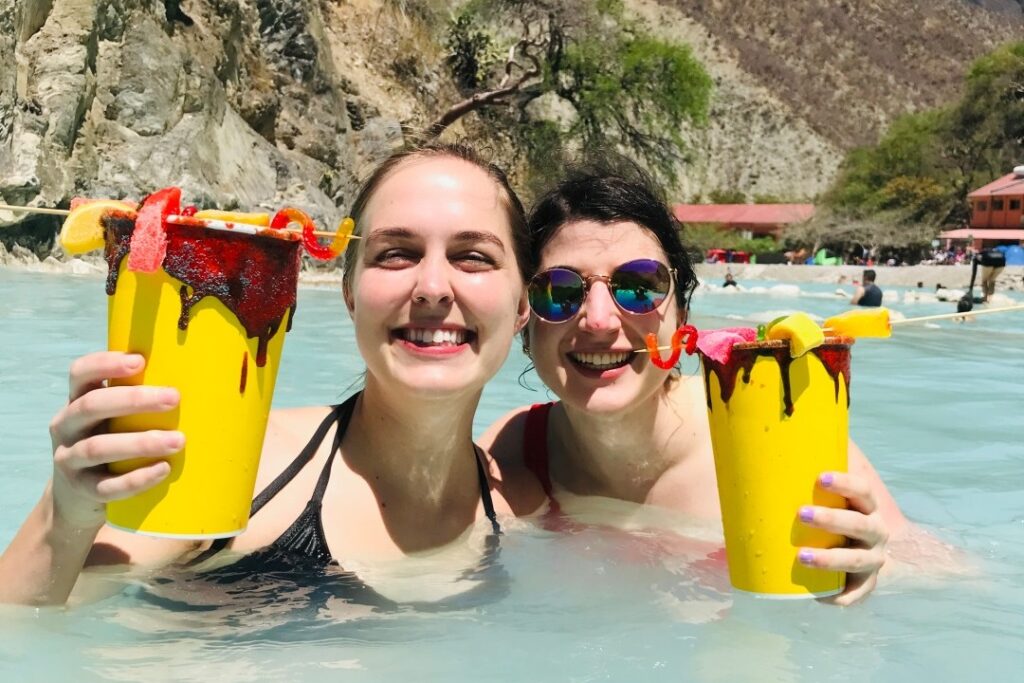 Recommended tour: Gastronomic Adventure (Grutas de Tolantongo, Ocampo, Pachuca / Group / 3Days)
Best Season to Visit Grutas de Tolantongo
Let's be honest here, Tolantongo is nowadays a very popular place all over the world. Therefore, at any season and on any day, you can find a lot of people. Especially, when is vacation season in Mexico!
Nevertheless, from Monday to Thursday, you can find out that there are not too many people around. In that case, you can have a whole paradise for yourself and your beloved ones.
In addition, you can come from October to November since is kind of a low season. Take advantage of it and enjoy it the best you can!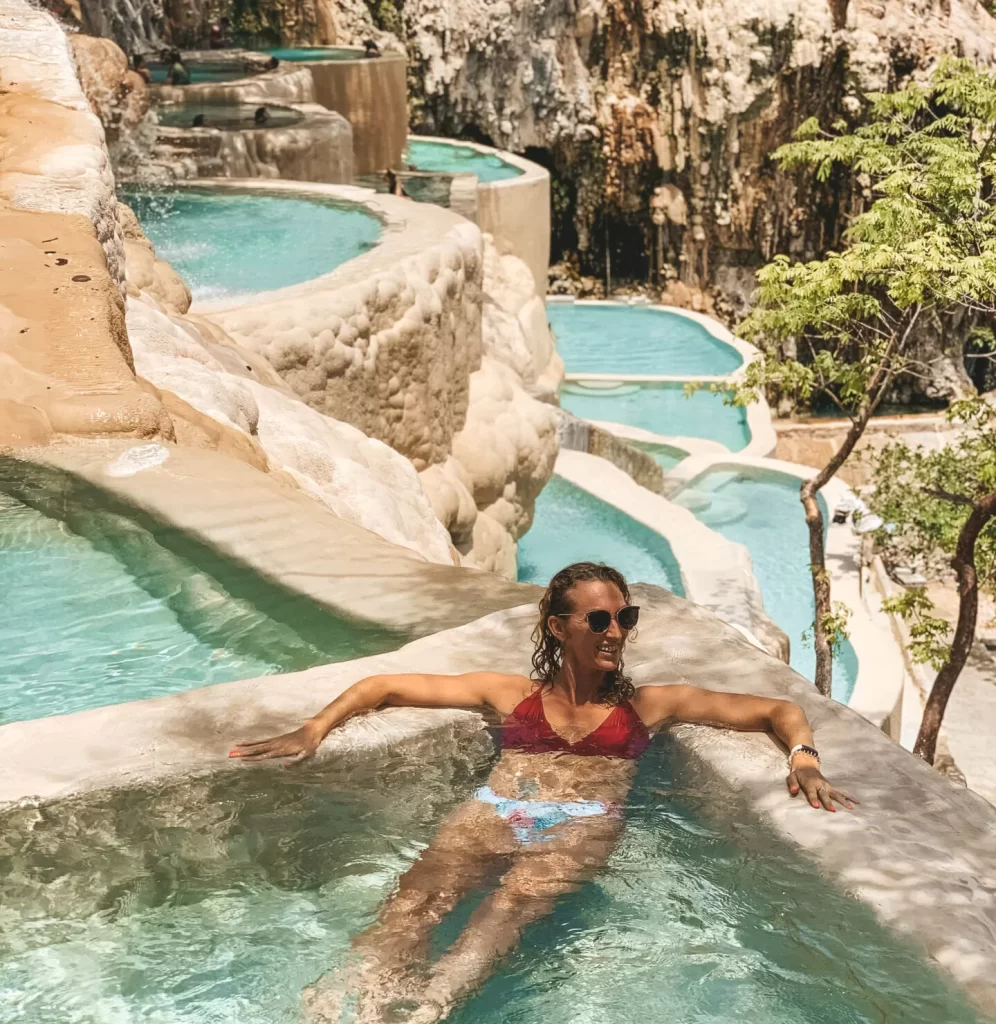 Conclusion
In conclusion, Tolantongo, Mexico is an extraordinary destination that captivates the hearts of all who visit. Surrounded by inspiring landscapes, this Mexican paradise offers a sanctuary of natural wonders.
With its majestic mountains, meandering rivers, rejuvenating hot springs, and enchanting waterfalls, Tolantongo presents a visual feast that leaves visitors in awe. The diversity of activities available is unparalleled, captivating adventurers and nature enthusiasts alike.
From exhilarating hikes to camping under thousands of stars, Tolantongo immerses visitors in a world of boundless exploration and serenity.
The magnificence of Tolantongo…
is not limited to its breathtaking landscapes. It also embraces the vibrant spirit of Mexican culture and hospitality. The local community warmly welcomes travelers, providing an authentic and enriching experience. Immerse yourself in the local traditions, savor the flavors of the region, and allow the warmth of the people to touch your soul.
Tolantongo, Mexico, truly offers an unforgettable experience. Whether you seek tranquility, adventure, or a combination of both, this destination has it all. With its untouched natural beauty, it serves as a sanctuary to stay away from the hustle and bustle of the city. Your mind, body, and spirit will thank you for it.
The therapeutic hot springs and waterfalls provide moments of serenity and reflection, allowing visitors to reconnect with nature and themselves.
As you explore Tolantongo,
be sure to capture every moment, every view, and every interaction. Make Tolantongo, Mexico, your next travel destination, and unlock the treasures it holds. In summary, Tolantongo, Mexico, offers a symphony of nature's grandeur, cultural immersion, and unforgettable experiences.
From the majestic landscapes to the warmth of the local community, Tolantongo captures the essence of Mexico's beauty and hospitality. This place awaits your arrival, ready to share its splendors and create lasting impressions that will resonate with you for a lifetime.
Is it worth the hype?
Definitively, yes. In Vibe Adventures we are always looking for the best recommendations for travel lovers. Saying this, we guarantee that being here and living it is an experience that you will carry in your heart and your adventurous spirit for life.
Come and get to know this wonderful place with your friends, family, partner, or alone, you will never regret it!
Check out this video!