Destination Video
Overview
Tulum, located on the eastern coast of Mexico's Yucatan Peninsula, is a stunning beachside destination renowned for its pristine white sand beaches, turquoise waters, and ancient Mayan ruins. This charming town has gained popularity in recent years, attracting travelers from around the world seeking a unique blend of natural beauty, cultural heritage, and relaxation.
Tulum's main attraction is its archaeological site, perched atop cliffs overlooking the Caribbean Sea. The ruins date back to the 13th century and offer a fascinating glimpse into the ancient Mayan civilization. Visitors can explore the well-preserved structures, including El Castillo, the Temple of the Frescoes, and the Temple of the Descending God.
Aside from its historical significance, Tulum is known for its idyllic beaches. Playa Paraíso, with its soft sand and crystal-clear waters, is a favorite spot for sunbathing and swimming. The beach is dotted with boutique hotels, eco-friendly resorts, and beach clubs offering a relaxed atmosphere and stunning views.
Getting there &amp around in Tulum
When it comes to arriving in Tulum, there's no better option than Cozumel's National Airport. Situated just a short distance away from Tulum, this airport offers a convenient and efficient gateway to this tropical paradise.
There are many ways to get around Tulum and explore nearby areas, but when it comes to convenience and variety, taking a bus is always a great option. With a wide range of destinations, schedules, and different types of buses to suit your needs, it's a reliable choice for transportation.
Where to stay in Tulum
Budget
Located in the center of the city of Tulum, our little paradise is only 5 km from the beach. We love coffee, food, nature and our team is always looking forward to providing a place to connect with others through a unique, immersive and purposeful experience.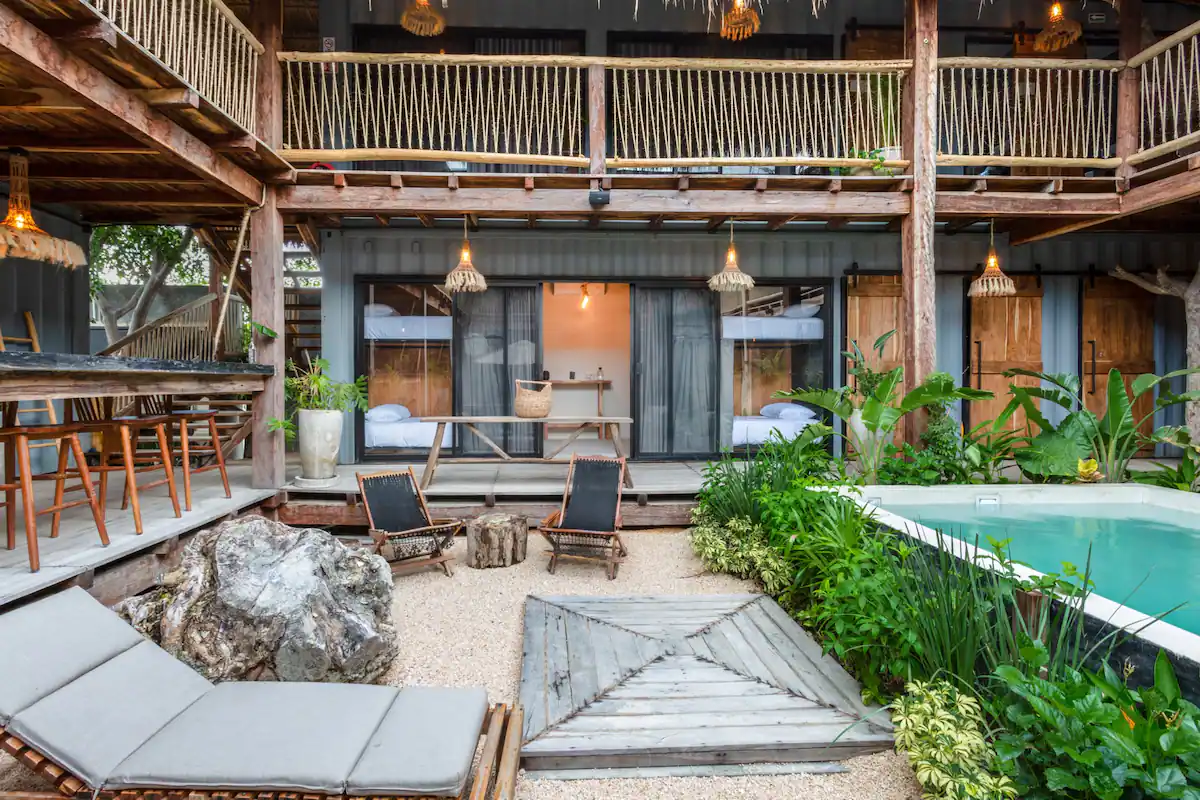 Beautiful place
Mid-range
The best place to enjoy a dream vacation. The place has nice facilities, two swimming pools in the common areas, rest areas, a small gym, a grill, and more. Ideal for a relaxing holiday.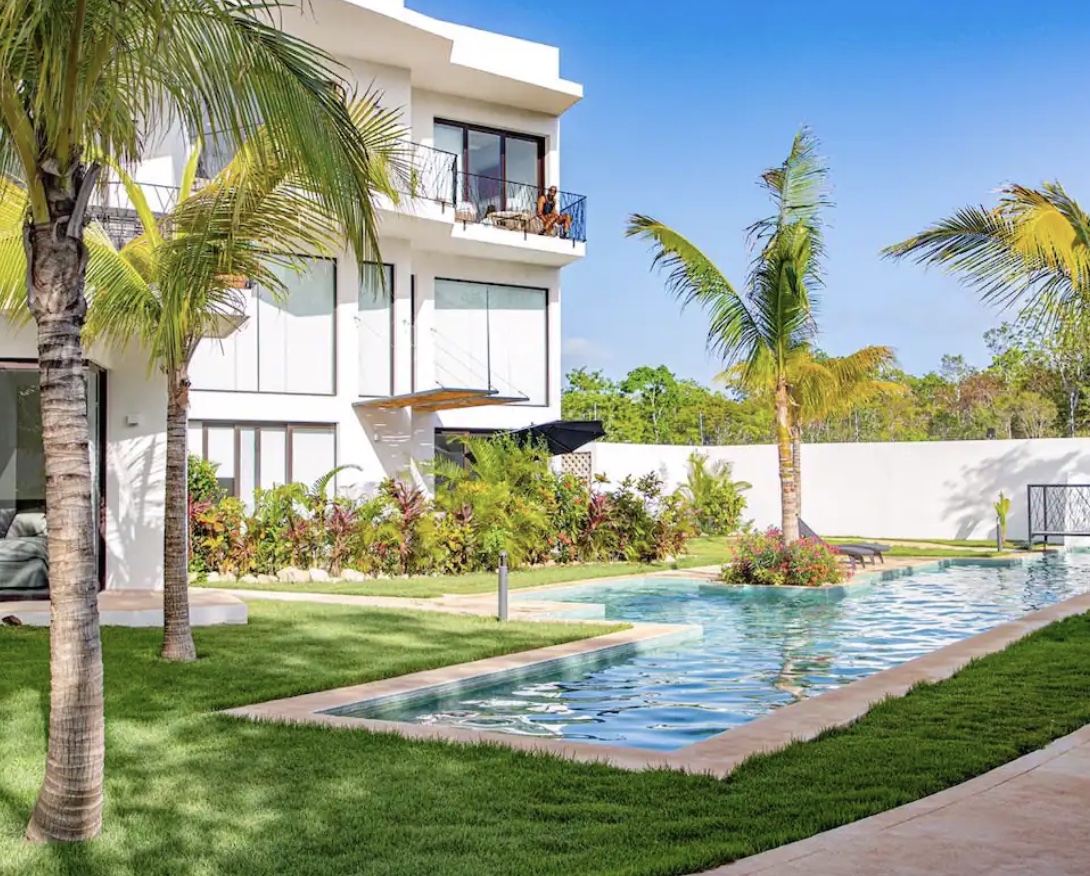 Amazing place for relaxation
Splurge
Surrounded by the beauty that nature offers, your days will be painted in their colors and the sounds of birds, all this in a beautiful boho environment, full of style, comfort and privacy, just 5 minutes driving from Tulum's town and 15 minutes from its aquamarine coastline.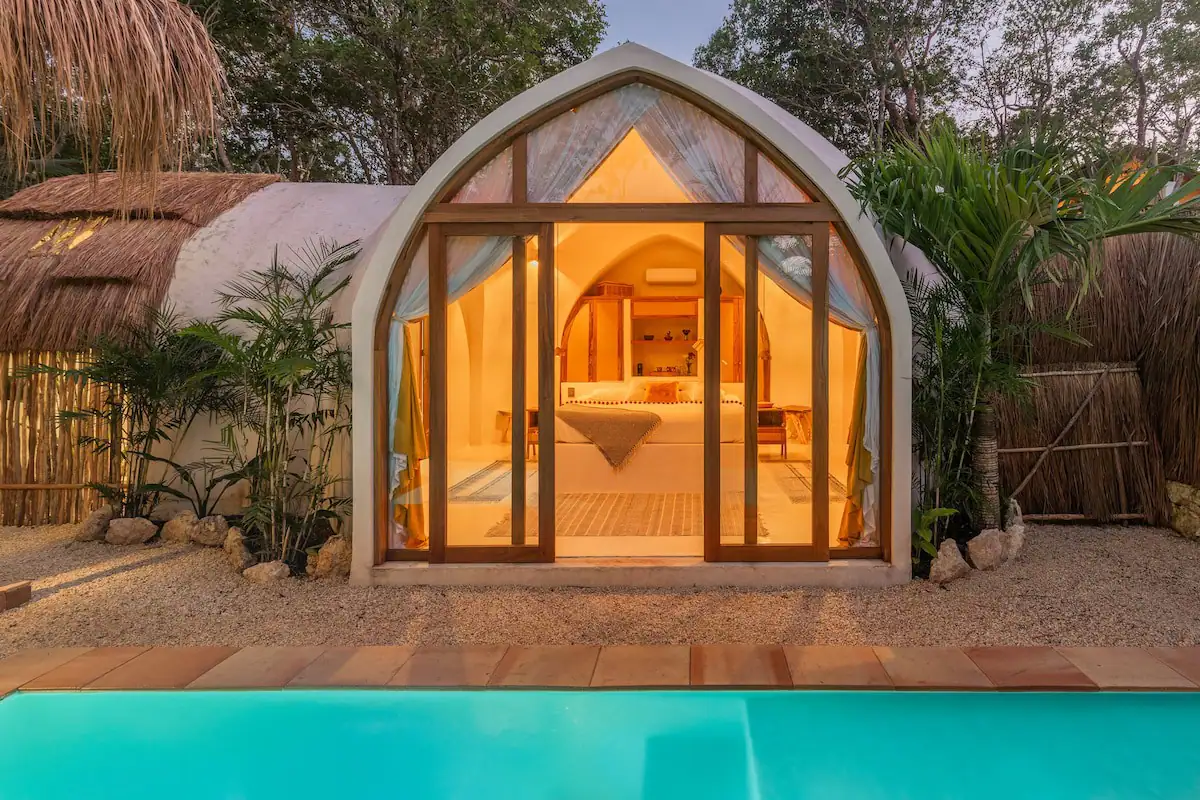 Cozy and calm place
Attractions in Tulum
Visit the archaeological site of Tulum
From these Ruins, you will be able to enjoy the majesty of the sea. Certainly, the ocean and the monumental ruins around are worth admiring. Moreover, its walls keep excellent stories and anecdotes that represent the essence of the Maya civilization and their experiences.
Check out this tour Tulum Coba tour (Mayan Ruins & Cenote / Private / 10h)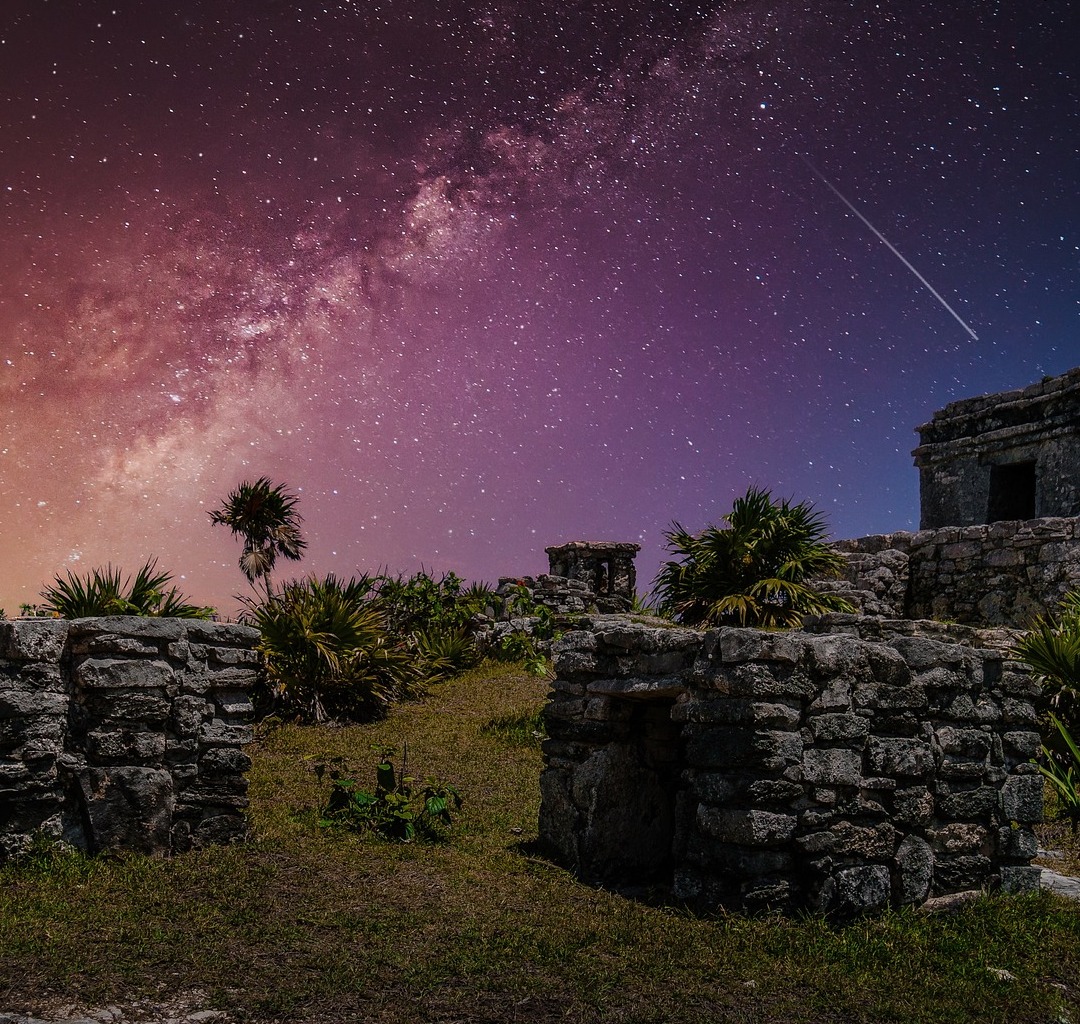 Practice scuba diving in mystical cenotes
Discover underwater treasures of an impressive cenote with hundreds of little and bigger fish. This activity is ideal for fans of underwater life. Indeed, Tulum cenotes are famous for having crystal clear waters and myriads of little (guppies, platys, and mollies) and bigger fish (tarpans particularly) which you can see when swimming between its mangrove roots and rocks.
Check out this tour Scuba Diving Tulum Beginners (Cenote / Private / 5h)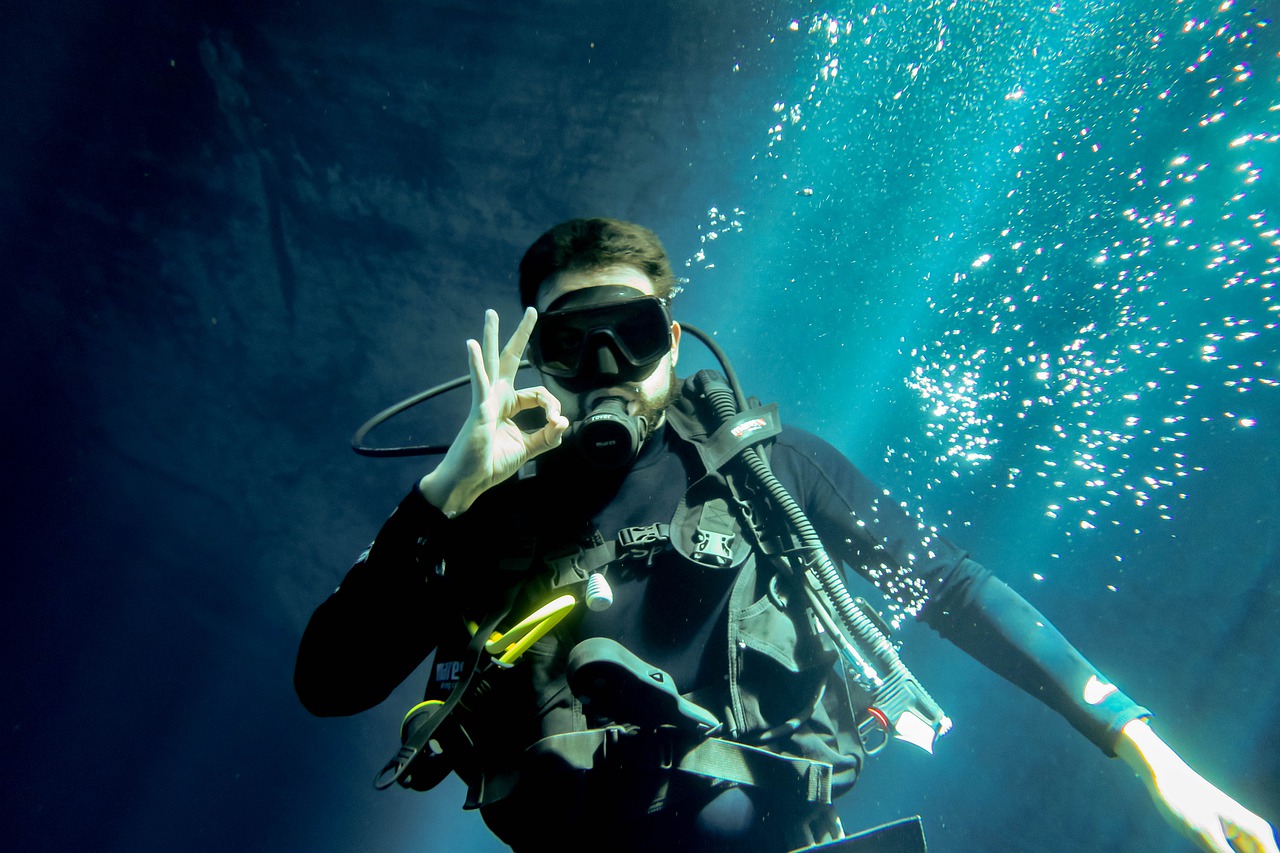 Take a picture in the Mother Nature wooden sculpture
Also known as "Ven a la luz", by the artist Daniel Popper, this wonderful and gigantic sculpture used to be located on Tulum's highway. Since it was relocated just a couple of months ago, now you will be able to find it in Ahau Tulum's new sculpture park. Inside the hotel, you will also find the sculpture garden area and its own food and beverage service.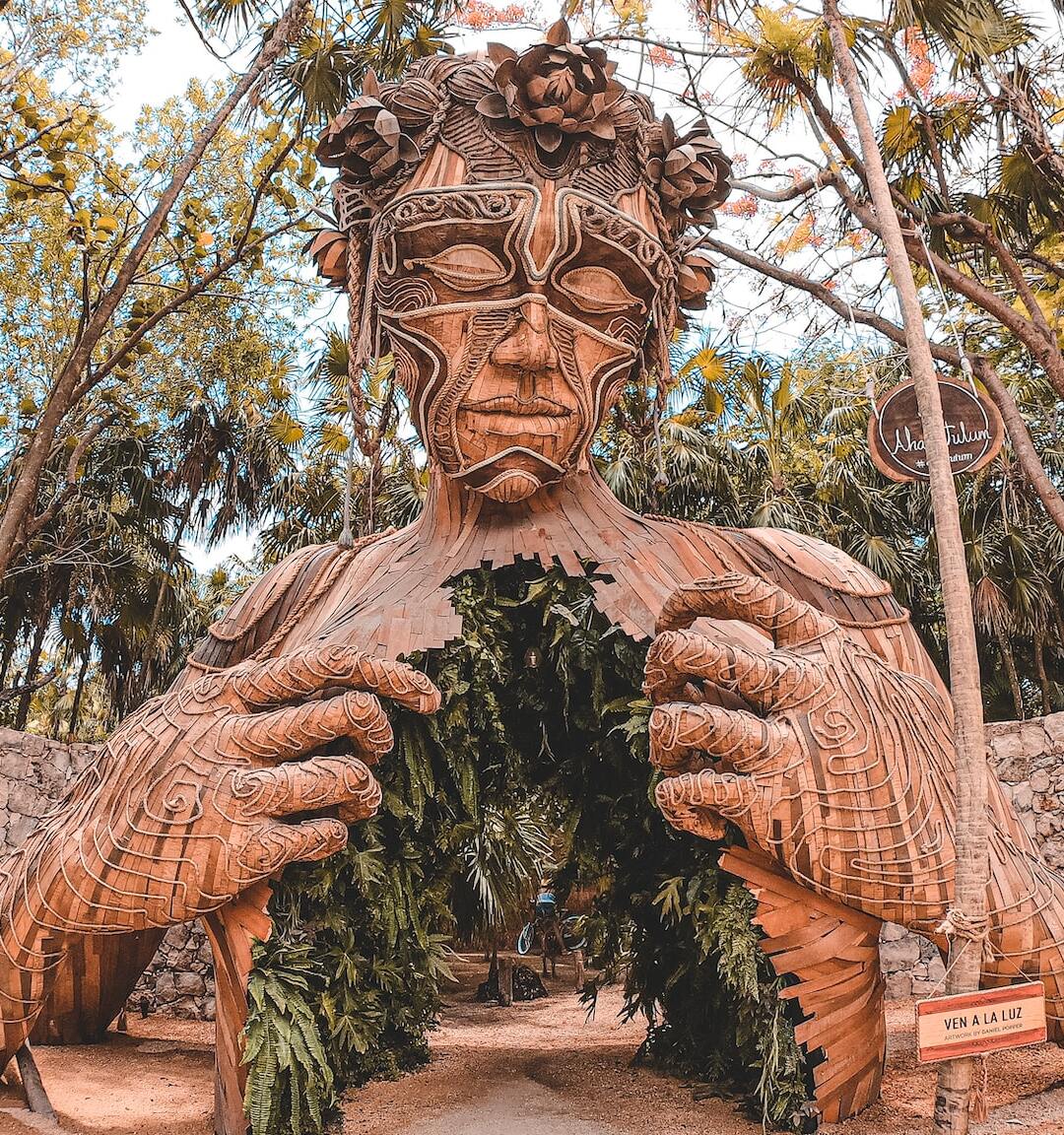 Relax at Paraiso beach
Paraiso beach is an essential spot to snap a photo and drink delicious beverages in Tulum. The best to do here is to relax on the beach while enjoying the beautiful landscape. It is a like if you were dreaming with your eyes wide open when you appreciate how the colors of the sky are painted in the sea of Tulum as if it were a painting and Mother Nature was the artist.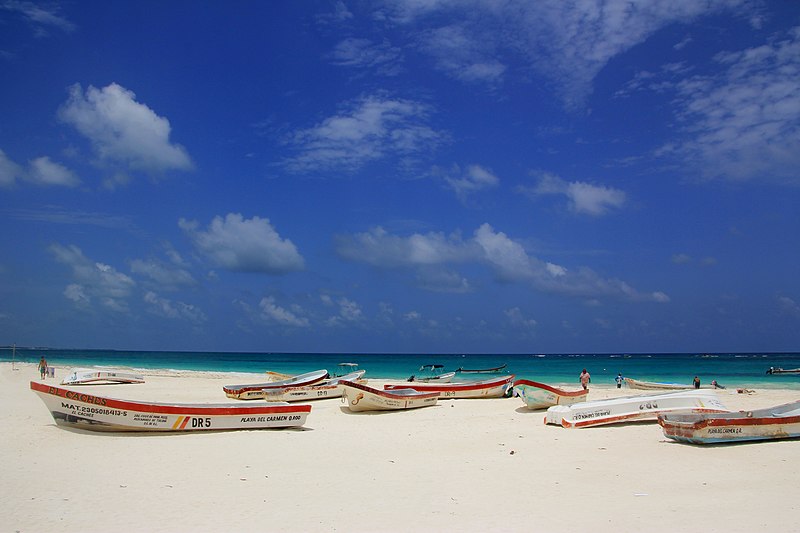 Swim and enjoy the Kaan Luum lagoo
This lagoon is like a giant pool, since it is shallow, the water looks super crystalline and there is no current. Its main photo attractions are the wooden docks, as well as the swings and hammocks that are in the middle of the water. It is only a 15-minute ride away from Tulum and you can relax, have a transcendental meditation and taste some local dishes near this enchanting place. It seems that to discover and see heaven with your own eyes is not necessary to depart from this world. Without any doubt, Tulum is paradise on earth, discover and explore it with us!
Check out this tour Unique Cenotes Tulum Tour (Snorkeling & Caverns / Private / 8h)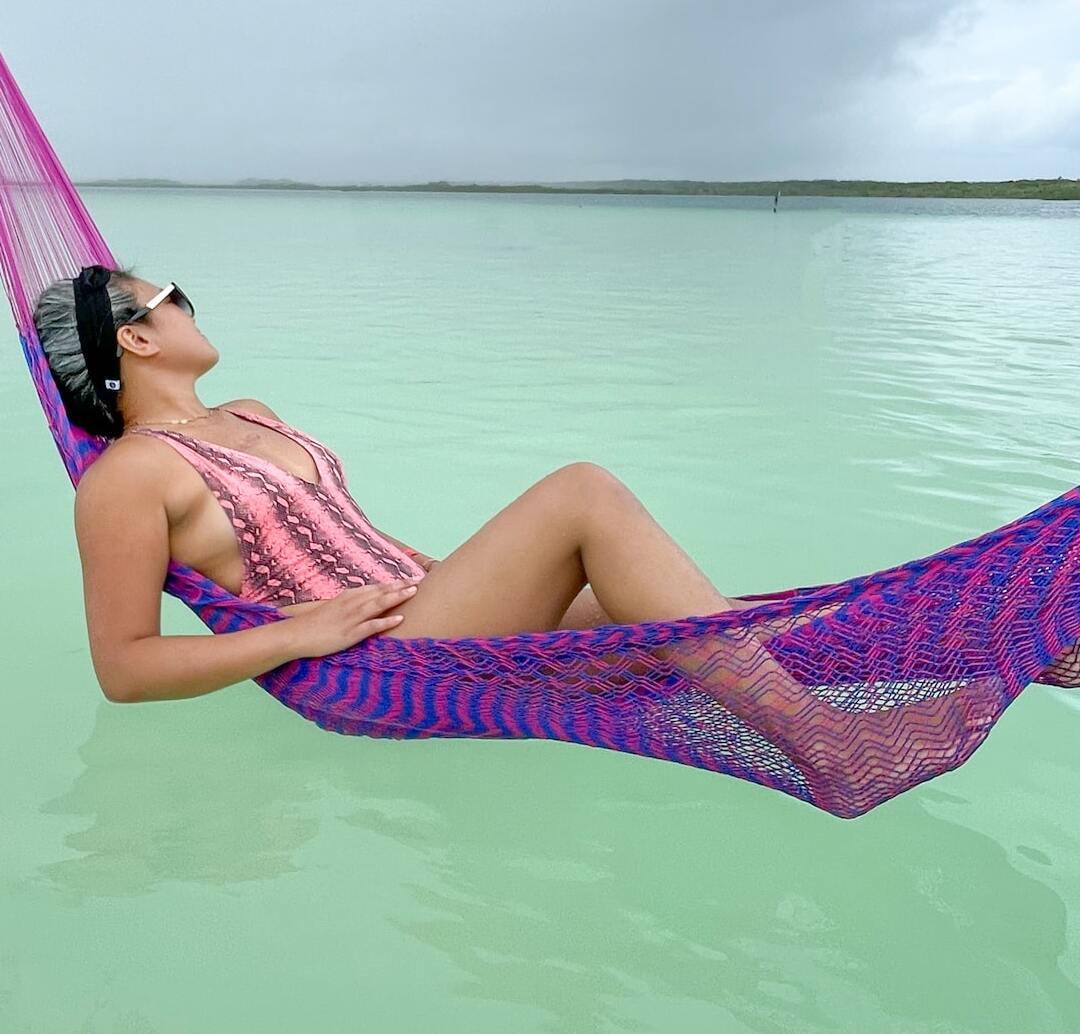 Tours &amp activities in Tulum
Dinning &amp cuisine in Tulum
Khyra Tulum
Dine in the Tulum Mayan Jungle and savor the greatest cuisine. Allow a relaxing atmosphere filled with enjoyable music, a large selection of mouthwatering foods, and first-rate service to engulf your senses. While dining at our recognizable "nest" tables and taking in the unusual architecture of the space, you could get the feeling that you are in Tulum.
Amazing cuisine
Taboo Restaurant
Taboo beach Club & Restaurant is born as a meeting point with nature and the true meaning of life. Inspired by the customs and traditions of ancient cultures, but keeping that bohemian and rustic Tulum style that reminds us of a past full of mystery and magic; strongly tied to nature, earth and the elements that constitute the universe.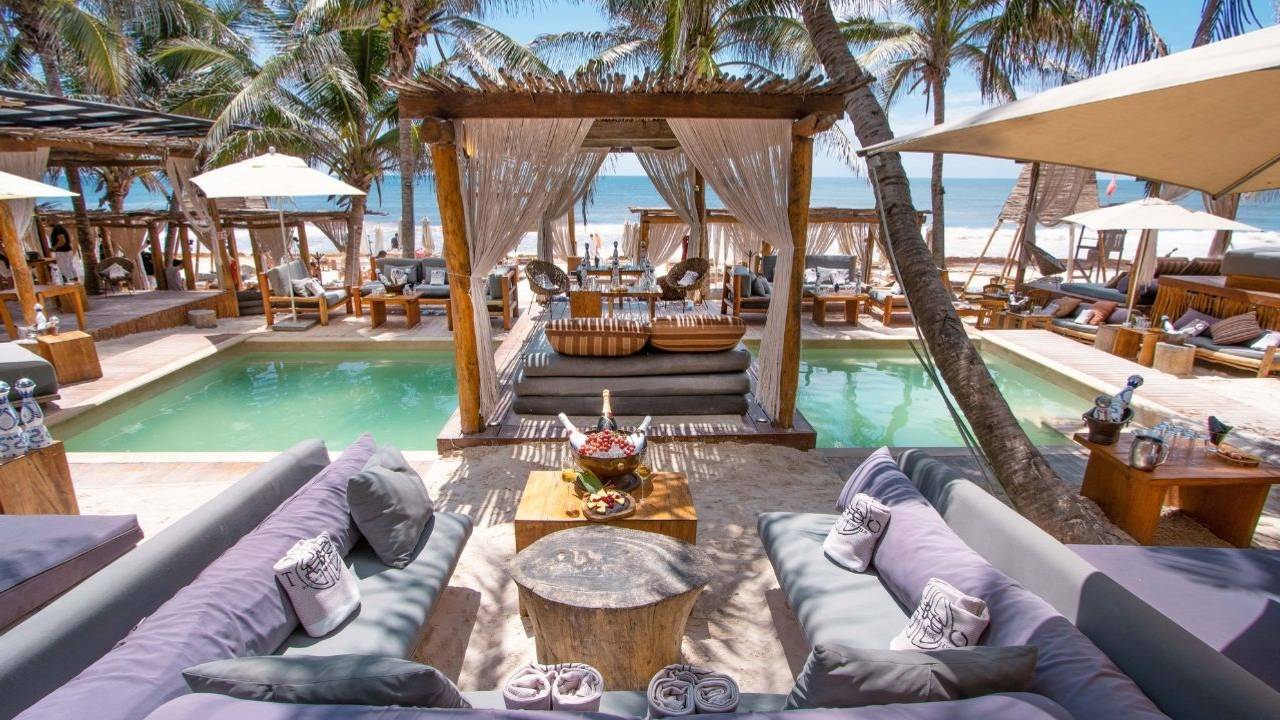 The best for chill days
La Zebra
La Zebra's vibrant dining room frames one of the best beachscapes in Tulum. This quintessential establishment is a longtime favorite for many; from locals to travelers, couples to families, everyone will find their spot here. Our Chef Eleazar Bonilla brings you authentic Mexican flavours with menus that evolve from day to night and highlight the bountiful ingredients available throughout Mexico.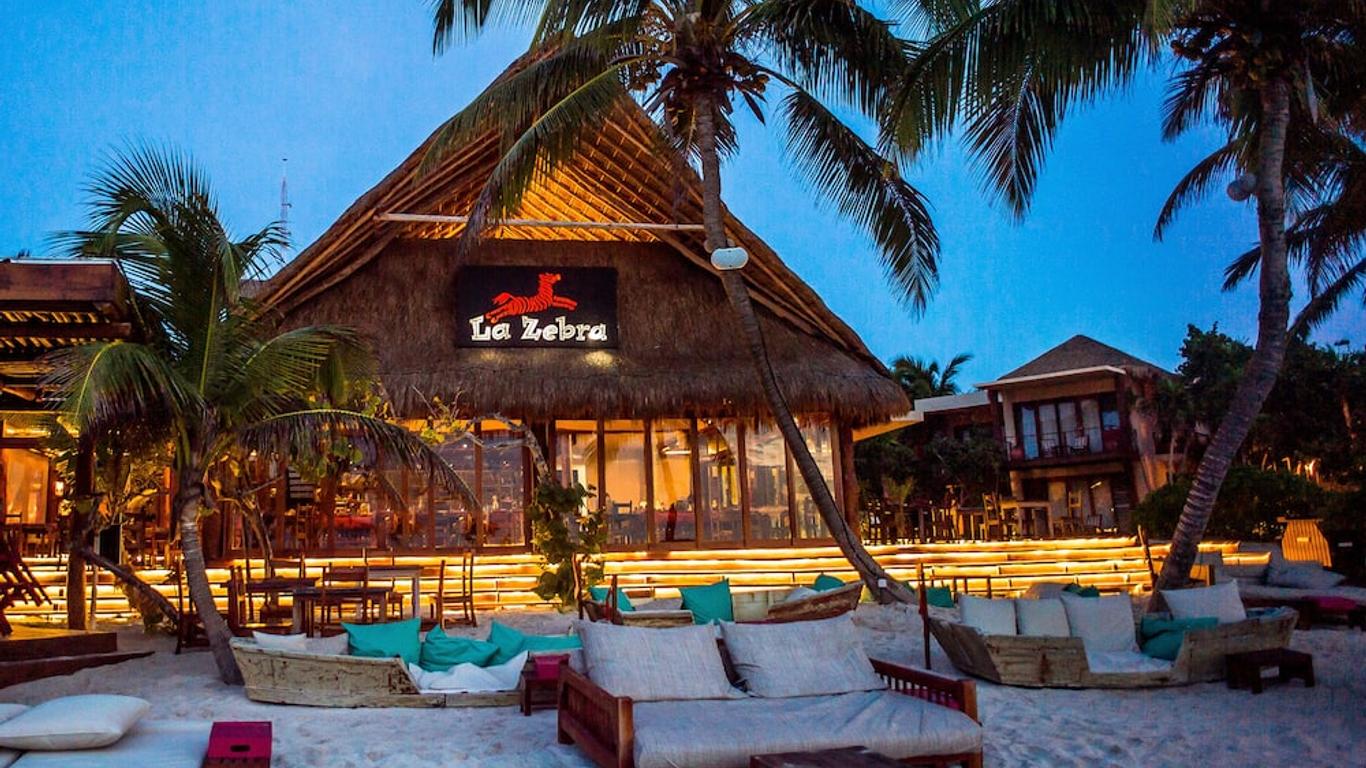 Amazing food always
Shopping in Tulum
Casa Hernández Gallery
A high-quality selection of hand-painted Mexican pottery, as well as folk art and crafts are available at Casa Hernandez. It's one of the best places to shop in Tulum. The pottery is special, authentic Talavera – which means that it can usually be found only in Puebla and can only contain certain colors.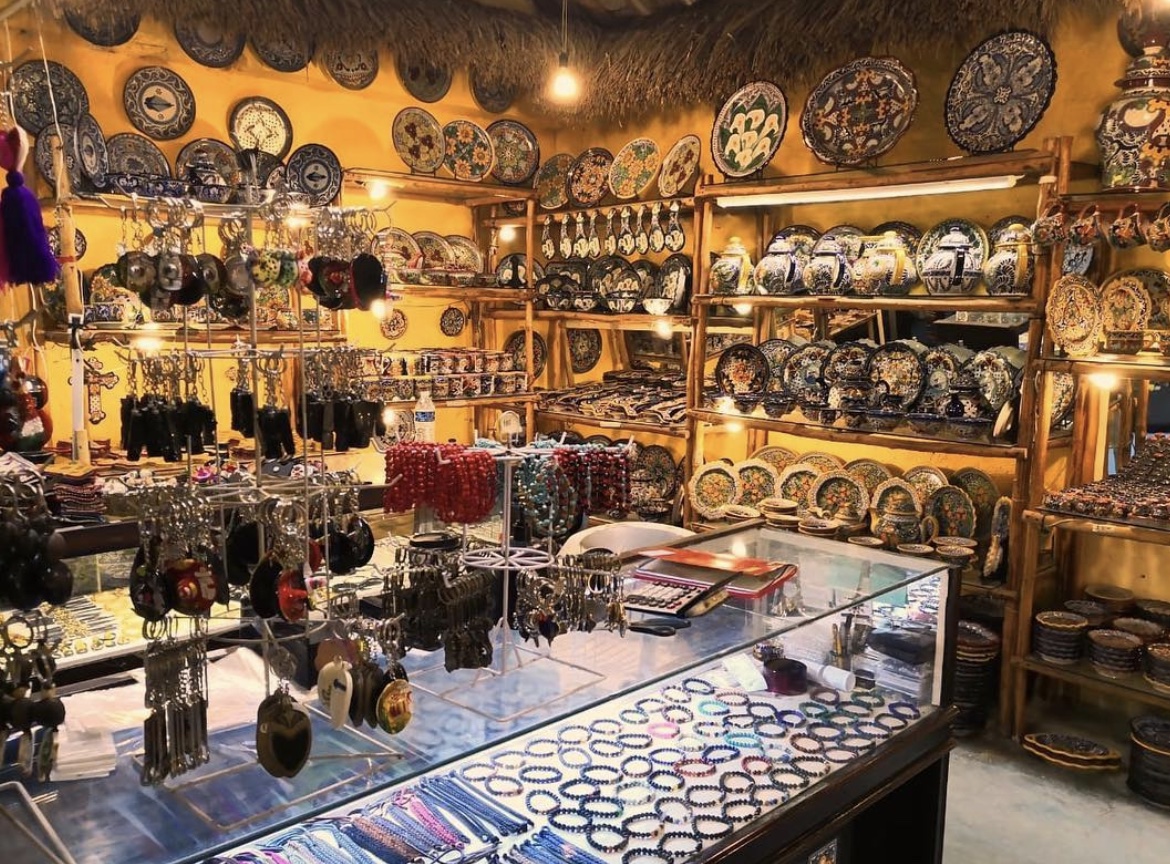 The best for traditional stuff
Mr. Blackbird
Each item is hand-crafted by local artisans using precious stones and high-quality metals. Expect to find necklaces, earrings, bracelets, and men's jewelry, alongside a smattering of shoes and ceramics available to purchase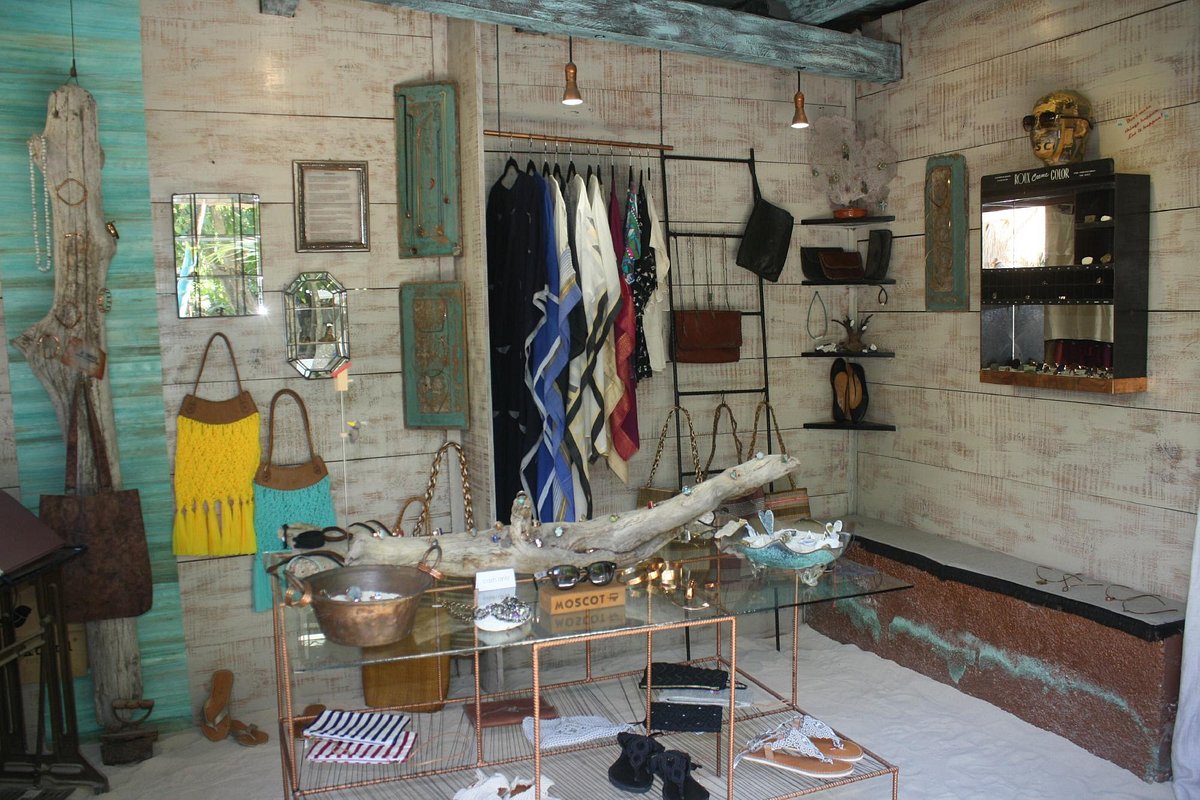 High quality and handmade
FAQ's about Tulum
Why visit Tulum? 🧐
Tulum is a place that every traveling person needs to visit once in a lifetime. Its beaches and its magnific history collide in a place where nature is one of the main characters in this scenery where everything seems unreal due to its beauty. Nevertheless, it is the most real thing you will experience in a long time.
Definitely, Mexico offers places where you can discover thousands of beautiful spots while you get immersed in fantastic landscapes and exquisite gastronomy. Tulum is proof of all of this, for every budget and for every traveler that wants to fall in love with the magic of the Mexican Caribbean Ocean.
What to do in Tulum? 🤿
Tulum is internationally recognized as a top-tier destination. Therefore, it needs to have interesting and super cool activities. Surprise! It has.
First, there are beach clubs where you can spend a wonderful evening or watch the sunset while listening to excellent music and drinking delicious drinks. The atmosphere surrounding the beaches of Tulum are for all tastes, for example, it goes from party and restaurants to have a lot of fun, to beaches where you will be relaxing to the extreme. You will only be listening to the sound of the waves.
Then, there are ecological parks and attractions in order to live the extreme version of this paradise. For instance, there is the LabnaHa Cenotes & Eco Park where you can enter the cenotes for having an unforgettable experience. In addition, you can also do some kayaking and venture out on the zipline, Tulum is a box full of surprises that you have to experience now!
Why is Tulum so popular? 🏖️
As mentioned above, Tulum is highly recognized in every part of the world. In fact, it goes from being a luxury destination to a mythical place to discover the ancient past that still remains in its ruins and street.
Furthermore, with its breathtaking beaches, trendy restaurants, clubs, natural amenities, and memorable photo ops, Tulum shows up to the world as a destination where every wonder you ever imagined is present at every corner you walk to.
Where Tulum is located? 🗺️
Tulum is part of the Riviera Maya, specifically, in the south. Quintana Roo is the state where Tulum is. Also, it is located halfway between Playa del Carmen and the Sian Ka'an Reserve.
How far is Tulum from Cancun? 🛫
By bus or car, it takes 2h 8m. The distance between Cancun and Tulum is 125 km (77,6714 miles). The distance by road is 132.7 km (82,4559 miles).
How to get to Tulum? 🚶
There are different airlines departing from the U.S. to Cancun and Chetumal. From there, you can take a bus, or cab or rent a car to go directly to Tulum. Avoid taking cabs outside the airport, as they charge much more expensive than those further away from the airport.
Which are some tours to Tulum Mexico with Vibe Adventures? 🚌
At Vibe Adventures, we have different options for Tulum tours for you! Check out this to choose the tour you would love the most to experience with us.